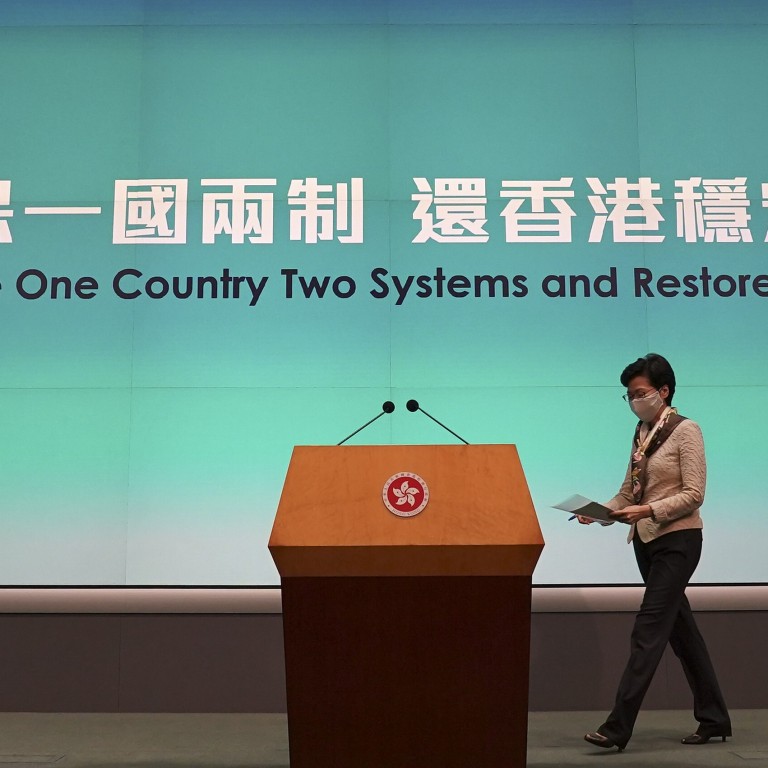 Opinion
Editorial
by SCMP Editorial
Editorial
by SCMP Editorial
Confidence in 'one country, two systems' remains crucial for Hong Kong
The fate of pro-democracy groups under the national security law has raised fears for legitimate rights and freedoms that must continue to be protected and exercised under the Basic Law
That the national security law has instilled sweeping changes across Hong Kong's political landscape is a reality to be reckoned with. With two key opposition-leaning groups – the Professional Teachers' Union and the Civil Human Rights Front – having already decided to dissolve, it would seem that the fate of the Hong Kong Alliance in Support of Patriotic Democratic Movements of China has long been sealed.
Whether the alliance has violated the law is a matter for the courts to decide. Seven members have been charged with various offences, including inciting subversion and failing to provide details on suspicion of acting as an agent for foreign forces. The group's museum commemorating the Tiananmen Square crackdown in 1989 was raided last week by police, who seized exhibits as part of their investigation. Separately, officials are taking action to revoke the company registration of the alliance on national security grounds.
The 32-year-old body survived reunification, with largely no legal action taken by the authorities against its activities. To many Hongkongers, the alliance's operation, in particular the annual June 4 candlelight vigil, is a manifestation of the freedom enshrined in the Basic Law. But Beijing clearly sees otherwise. From its goals to many of its dealings behind the scenes, the alliance is facing an array of legal minefields following the passage of the national security law. Its vision of "ending one-party dictatorship" is seemingly in conflict with the country's constitution.
Questions have also been raised over its role in Operation Yellow Bird – where activists were helped to flee the mainland – and its close links with overseas bodies and exiled dissidents involved in promoting democracy over the border, which Beijing condemns as interference in its political system.
The existence of the alliance and the vigil has been seen as evidence of Hong Kong being different from cities on the mainland under the governance model of "one country, two systems". The recent fate of groups critical of Beijing has inevitably affected the perception of the city's freedoms. The government has repeatedly stressed that the national security law will be resolutely enforced, and it would not be surprising if other groups are next in line.
There have been concerns over the action taken under the company ordinance when the alliance and its members have yet to be convicted of any national security crime. No less important is the confidence in the implementation of one country, two systems. Whether there will be any more large-scale June 4 commemorations and demonstrations remains to be seen. It is to be hoped that legitimate rights and freedoms enshrined in the Basic Law continue to be protected and exercised.