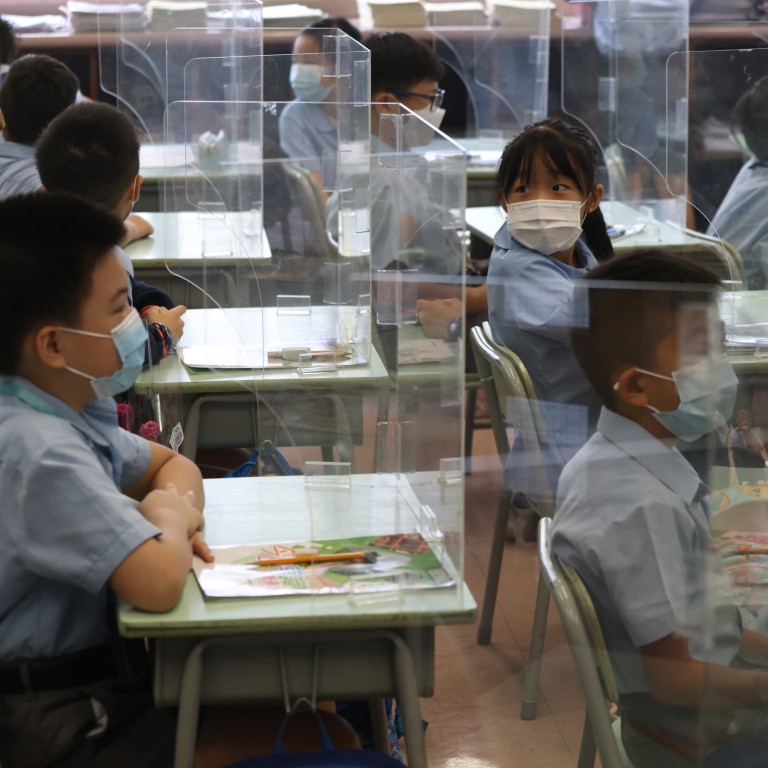 Why Hong Kong children need to return to normal school days
The EDB's 70 per cent vaccination rule for school reopening seems neither scientific nor is it being applied equally
Most students have not had a full day of school since 2020, but private schools can fully reopen as their facilities are deemed suitable for social distancing
We're nearly two years into the global pandemic and, in many ways, life in Hong Kong looks fairly normal. There have been almost no local Covid-19 cases for months. Our bars and restaurants are full. Our malls host
throngs of screaming boy band fans
. Children pack into Legoland and indoor trampoline gyms.
But there's one area that's conspicuously – and bafflingly – not normal. Schools. Most Hong Kong students have not had a full day of school since early 2020.
According to current Education Bureau rules, schools must achieve a 70 per cent vaccination rate for all students and staff before resuming full-day classes. So far,
only five schools
have hit the necessary threshold.
And, since under-12s aren't eligible for vaccination yet, full-day sessions for kindergarten and primary school pupils "remain off the table for now, with no indication of when they might resume", the Post reported.
The reasoning behind these rules is frustratingly opaque. The dangers of Covid-19 exposure during lunch are often mentioned as a reason for dismissing students at midday.
Yet, some are still allowed to eat at school, as long as their food is designated a "snack" rather than "lunch". At many schools, including my children's, this rule is interpreted to mean children can eat finger food, but are not allowed to use utensils. This hardly seems rational or scientific.
The rules are also unequally applied: many
private schools
have been allowed to resume full-day education on the grounds that their facilities are more suitable for social distancing. This means children of wealthy families get full-day school, while children with fewer resources do not.
Children suffer when not allowed a full school day. Data shows us that full-day school is more effective for learning and child development than half-day school. The EDB's own website touts the benefits of full-day school, including more diverse learning experiences, better peer interactions, and stronger student-teacher relationships.
Reduced school time
may also harm students' mental health
– as a local primary school principal recently told the
Post
, students are showing signs of increased anxiety and stress. Parents are suffering too: a full school day is critical for working parents, many of whom don't have domestic helpers or nearby family to rely on for childcare.
Our children need school. Covid-19 is not going away. Thus, we must ask the EDB: what is the plan for full reopening?
It seems that there are two possible changes to be made. First, the EDB could repeal the 70 per cent vaccination rule. Vaccines are critical. But they are not yet available for young children, and it's not clear when they will be.
Hong Kong's low contagion rates, combined with the generally low risk of Covid-19 for children, means schools could still operate safely without students being vaccinated.
Plus, data from other countries suggests that schools are not high-risk environments when certain basic precautions are taken, like masking and ventilation. This is true even in places where transmission rates are high and vaccination rates are low.
Second, the EDB could make vaccination mandatory for school staff. The data is clear: the best way to keep kids safe is to vaccinate all adults around them. While schools seem to be doing fairly well on this front – more than 90 per cent of teaching staff have had at least one vaccine dose – a mandate would take care of any outliers, as well as non-teaching staff like bus nannies, who have far lower vaccination rates.
The EDB could also consider making vaccines mandatory for students aged 12 and up. The vaccines are safe, free and easy to access. Schools elsewhere are starting to make Covid-19 vaccination mandatory for eligible students, along with other routine childhood vaccinations like those against measles and polio.
The EDB might also consider the kind of simple yet innovative changes to school infrastructure undertaken in many countries: improving ventilation or building outdoor eating areas to reduce the potential of lunchtime transmission. These could make schools safer, even in the event of a new wave of Covid-19 in Hong Kong.
Whatever choices the EDB ultimately makes ought to be made in an environment of transparency and clear rationales. Rules that keep children out of full-day school indefinitely – especially in a setting of near-zero Covid-19 – are unscientific, inequitable and harmful. Returning our children to a normal school day after nearly two years needs to be an urgent priority.
Emily Matchar is a writer and educator based in Hong Kong and Pittsboro, North Carolina