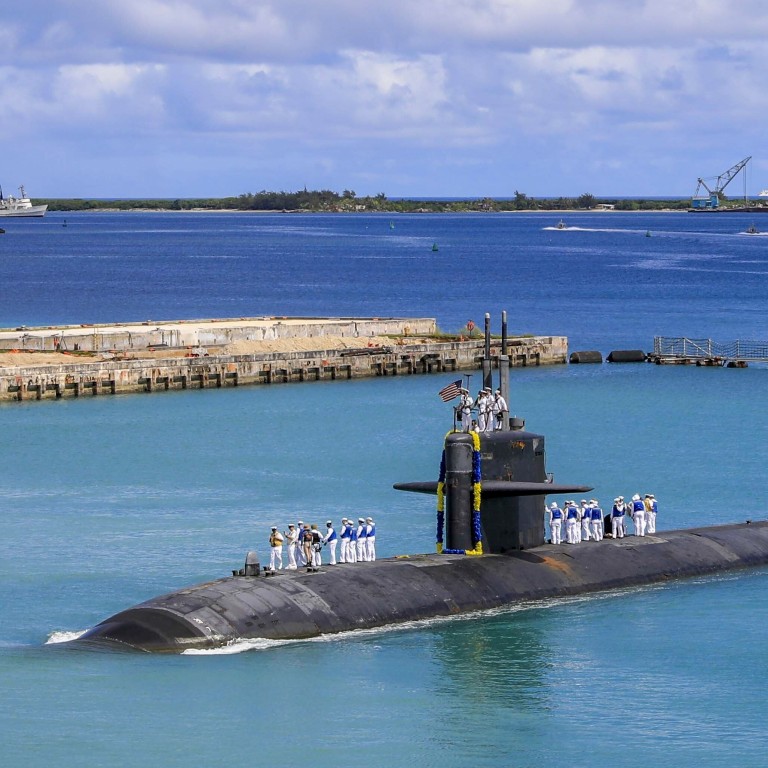 Opinion
Editorial
by SCMP Editorial
Editorial
by SCMP Editorial
New Aukus alliance yet another threat to peace and stability
American, British and Australian security defence pact aims to counter Beijing's growing regional influence and strength, but is more likely to trigger an arms race
The mutual trust and cooperation essential for Australia to have good diplomatic relations with China have been all but dashed by its prime minister, Scott Morrison.
There is little chance of President Xi Jinping taking up his offer of talks after his joining with American and British leaders
Joe Biden
and Boris Johnson to form a new security alliance aimed at countering Beijing's growing regional influence and strength.
The deal means a sharing of technology that will enable Canberra to have its first nuclear-powered submarines and long-range Tomahawk cruise missiles and formally acknowledges a perceived Chinese military threat.
Ensuring peace, safety and stability in the Indo-Pacific were cited as the reason for the pact, although it could have the opposite effect; it is more likely to trigger an arms race and perturb some neighbouring countries.
Biden stressed the submarines would be nuclear-powered, not armed.
The partnership is momentous for Australia, amounting to the country's most significant shift in defence and strategic direction for decades. Known as "Aukus", the grouping seeks to strengthen the military capabilities of the three nations in the Indian and Pacific oceans region in the face of growing rivalry with Beijing.
The deal comes ahead of the first in-person White House meeting of the leaders of the Quad countries, an informal alliance that on Friday will bring the United States, Australia, India and Japan together for what they contend are common regional challenges – again, with Beijing at the centre.
Not surprisingly, Beijing's response to the announcement was harsh. As with the Quad, it accused the three nations of having a cold war mentality and ideological prejudice.
There is good reason for such a reaction; military alliances throughout history have caused more instability than safety. That will be especially so should Australia acquire nuclear-powered submarines, which are stealthier and faster than conventional ones and will boost the strength of its security alliance with the US.
In turn, China and Russia could perceive a greater threat and boost their military capabilities and perhaps even form their own bloc.
The US and its allies claim China is being more aggressive and assertive. Chinese are increasingly nationalistic, but their military is modernising to protect sovereignty and interests.
Beijing prefers to use diplomacy to resolve problems with other countries. State Councillor and Foreign Minister Wang Yi made that clear during his latest trip to the region, saying during his stop in Singapore that the US needed to view China's development "in an objective and rational way".
Countries need to cooperate with China, not see it as a danger. Aukus, the Quad and similar alliances pose a threat to stability.