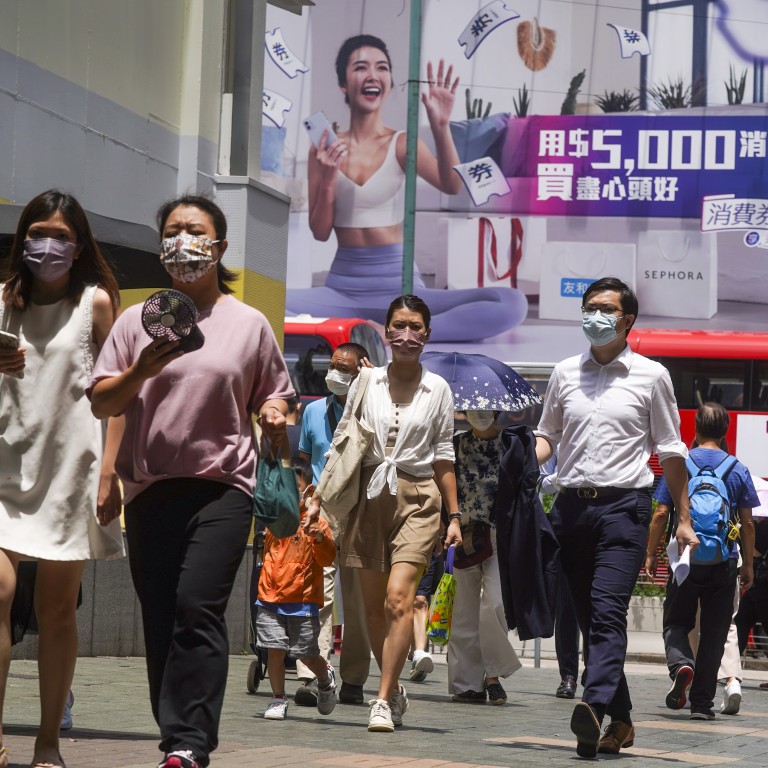 Opinion
Editorial
by SCMP Editorial
Editorial
by SCMP Editorial
Economy will remain under pressure until business bounces back
Shopping centres and restaurants may be crowded and city life gradually returning, but the figures tell a different story with companies struggling and travel restrictions still in place
Crowded shopping malls, jam-packed restaurants, congested roads – they are signs of the pandemic gradually stabilising. While city life is gradually returning, the economy, battered by Covid-19, has barely picked up again. The road to full recovery still hinges on the resumption of travel to the mainland and overseas.
The consumption data released by the government shows the real picture. Retail sales may have risen by 2.9 per cent year on year in July, but that was the lowest increase in six months. Compared with the June figure, sales even slipped by 3.2 per cent, and were still 30 per cent down on the same period in 2018, according to the Hong Kong Retail Management Association.
The lower than expected performance, analysts believe, may be partly down to delayed spending ahead of the launch of the government's HK$36 billion electronic consumption voucher scheme.
With the first batch of HK$2,000 vouchers already distributed in August and earlier this month, officials expect the stimulus to benefit retail and other sectors. Depending on the payment tools, more than 6 million people will receive the remaining HK$3,000 in the coming months.
But the scheme may only have a short-term effect on the economy. This is, after all, an extraordinary measure in extraordinary times. Having dished out cash allowances for all on a few occasions, the government has nurtured public expectations for regular handouts.
In fact, no sooner had the first vouchers been disbursed than
politicians began calling for more
to further boost spending. This is hardly justified from the perspective of fiscal prudence and careful consideration must be given to any more handouts.
Chief Executive Carrie Lam Cheng Yuet-ngor has expressed confidence in a strong rebound, saying the city should make use of its strengths for further growth amid a stabilising economic and political environment. True as it may be, economic recovery is still fragile.
Meanwhile, many businesses are still struggling. Recent decisions by Lam's cabinet to extend fee waivers, rent concessions and loan guarantee schemes, some of which stretch until the end of next year, show the government is well aware of the difficulties facing the community. Tourism and related sectors are severely hindered by health restrictions and there is still no road map and timetable for border reopening. Until business and travel are back to normal, the economy will still be under pressure.