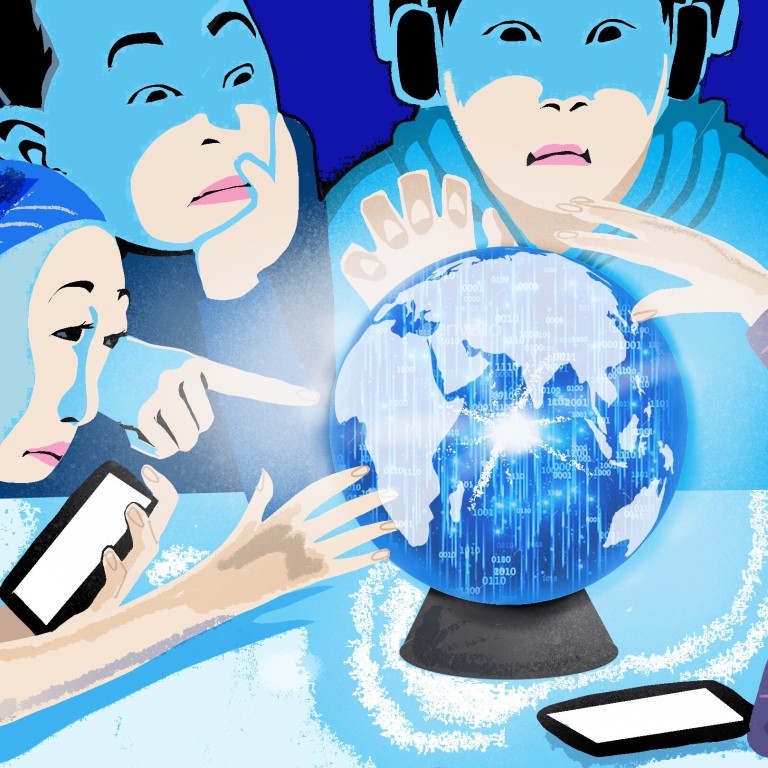 Young and liberal, China's post-90s digital natives are a force for change
Internationally exposed and more liberal than older generations, they are changing established social structures, creating new social spaces, and using social media to bargain with the party-state
China's digital revolution has affected most profoundly the lives of its post-90s generation. These digital natives, like their counterparts elsewhere, were born when the commercial use of computers was becoming widespread and grew up alongside mobile phones and the internet.
As Chinese sociologist Li Chunling, author of the new book China's Youth, points out, the internet has become "enmeshed within every aspect of young people's lives". In turn, this massive post-90s cohort of more than 175 million people has fundamentally changed China's social structure, social space and social connections.
The distinct characteristics of China's digital natives not only reflect these extraordinary changes but will also reshape the country's trajectory. For the outside world, a better understanding of this group is an urgent task – China has more influence on the global economy and regional security than at any other point in modern history.
The post-90s generation's prominent role in the digital domain has altered Chinese social relationships which, for thousands of years, were based on strict kinship hierarchy and shared geographical origins.
Before the internet, there were two public opinion fields in China: the official and the private. The former dominated because of the ubiquitous nature of official media. But, with the overturning of traditional media by the internet, the expansion of the field of public communication and public opinion is accelerating.
The post-90s cohort makes up 78 per cent of webcasters and more than 80 per cent of the audience. Webcasting, with its distinct features of personal expression, interactivity, low barriers to entry, absence of hierarchy, and its spontaneity and randomness, has turned the post-90s generation into a social force.
For them, the centre of public life and social interaction has shifted from large public spaces (such as squares, parks and auditoriums) to small, private spaces which can be entirely imaginary virtual spaces.
Many Chinese students have attended online programmes offered by American universities, and some have studied in the United States. Last year, before pandemic restrictions hit, 34 per cent, or more than 360,000, international students on American college campuses hailed from China.
In 2013, there were more than 30,000 Chinese students enrolled in high schools in the United States, accounting for 46 per cent of the total number of foreign high school students in the country. Unlike ever before in Chinese history, young people are more integrated, both online and offline, with the world.
The internet has reduced distances between people and reshaped interpersonal communication and engagement. The social circles of urban professionals are 10 times larger than before social media, according to a Chinese Academy of Social Sciences study. Meanwhile, social identity and group sentiment shared in the virtual space can be a new way of networking or a trigger in inciting mass incidents.
A growing acceptance of different lifestyles and sexual orientations has also emerged. According to a 2016 UN Development Programme report, less than 9 per cent of post-90s respondents said they could not accept if their children belonged to a sexual or gender minority. This percentage was 13 per cent for the post-80s, 28 per cent for the post-70s, and 35 per cent for the post-60s and older.
China's digital natives, with their intragenerational differences, intriguing relationship with the Chinese authorities, anxieties and ambitions, and views of China's role in the world, reflect an important evolution that should attract the attention of observers of this rapidly changing country.
Cheng Li is director of and a senior fellow in the Brookings Institution's John L. Thornton China Center. This article is an adapted excerpt from his introductory chapter, "China's Millennials: Navigating Socioeconomic Diversity and Disparity in a Digital Era," in the forthcoming book by Li Chunling, "China's Youth: Increasing Diversity amid Persistent Inequality"