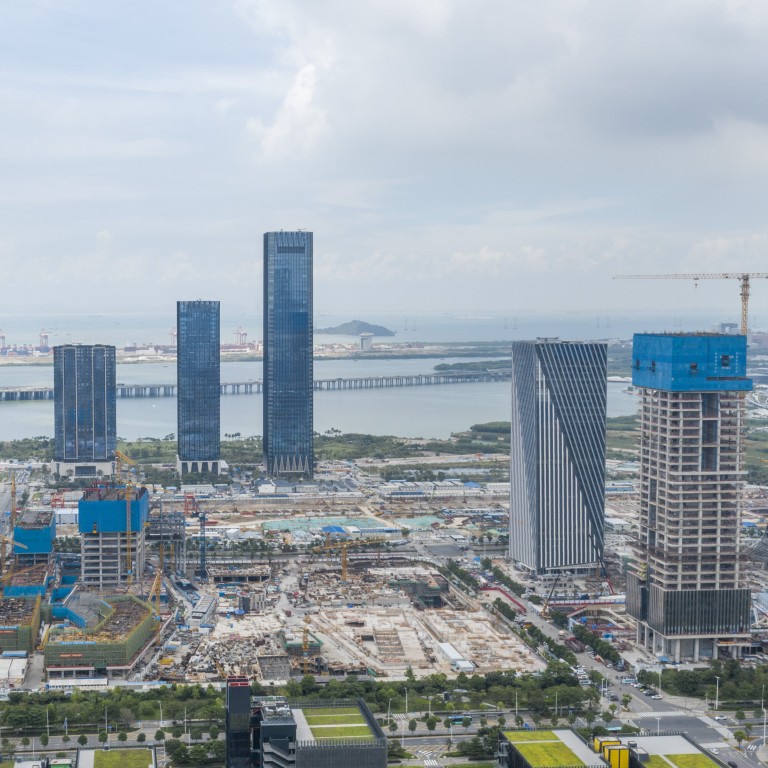 Hong Kong-Qianhai rail link is vital to realising the Greater Bay Area's potential
Convenient, efficient rail access to Qianhai from Hong Kong will be an essential part of fostering integration and economic growth
Despite concerns about construction costs and engineering challenges, it is logical and pragmatic for Hong Kong to forge closer ties with Qianhai and Shenzhen
Chief Executive Carrie Lam Cheng Yuet-ngor is reportedly planning to unveil a proposal to build
a rail link
, connecting Hong Kong with the Qianhai economic zone in Shenzhen, during her policy address on October 6.
At present, there is not even a direct, road-based transport connection, let alone a rail link. This is despite the fact that ideas for rail networks linking Hong Kong and the western part of Shenzhen were floated in the early 2000s, when proposals to connect Hong Kong International Airport with the Nanshan district of Shenzhen and Shenzhen Baoan International Airport were raised.
After more than two decades, the idea of using railways for better connectivity between Hong Kong and Shenzhen has been resurrected.
Initially envisioned in 2011 under a review and update of the Railway Development Strategy 2000, the railway was expected to provide a seamless connection between the airports in Hong Kong and Shenzhen. The project was shelved in 2014 due to the high estimated costs of HK$110 billion (US$14.1 billion).
If the projected costs of that project are any indicator, and taking inflation into account, a new Hong Kong-Qianhai rail link could end up costing much more.
Of course, many factors can affect the construction costs of a rail project, such as how and where the tracks are laid, whether the line goes underground and so forth. In general, an underground rail link (including lines below the water) would be more costly and complex.
Connectivity is another crucial matter for the Hong Kong and Shenzhen governments to consider and collaborate on.
Also, would the rail link be a light rail or for high-capacity trains? This would partially depend on passenger traffic volume, and further study would certainly be needed.
Despite the challenges, I have no doubt that easy transport accessibility to Qianhai would benefit Hong Kong, given the importance placed by the central government on this plan.
Ken Chu is group chairman and CEO of Mission Hills Group and a national committee member of the Chinese People's Political Consultative Conference