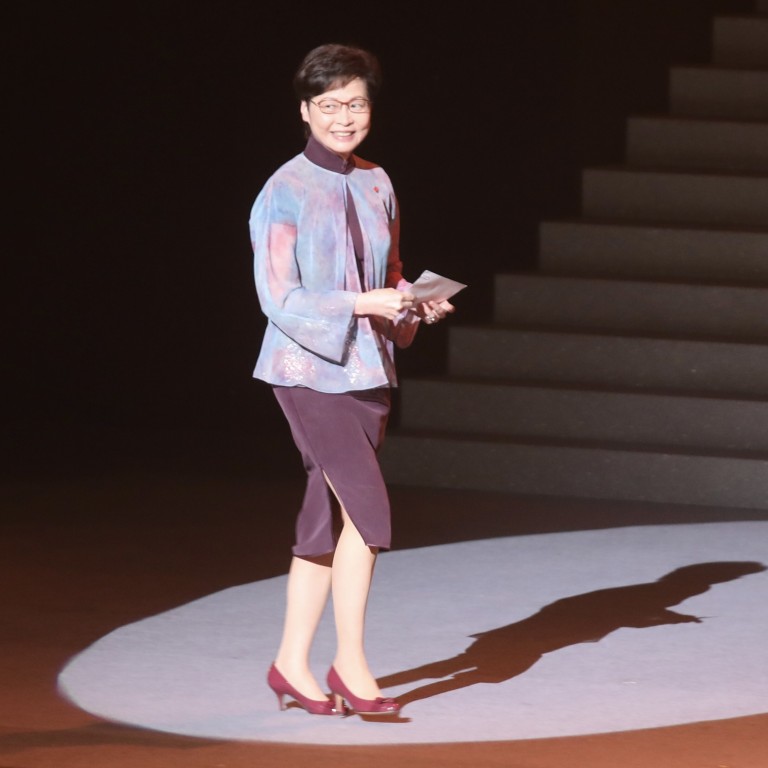 Opinion
Editorial
by SCMP Editorial
Editorial
by SCMP Editorial
Carrie Lam should follow day of reflection with push for better city
Following National Day praise for the 'double safeguards', Hong Kong's leader needs to ensure her upcoming policy address helps create a stronger sense of belonging to both city and country
There was much room for reflection on Friday when the city marked the 72nd anniversary of National Day. Last year, the full impact of the national security law enacted in the wake of the 2019 social unrest was still relatively unclear. Today, its reach has been increasingly felt, with more people arrested, organisations disbanded and politicians removed from elected office under the law. The city, thankfully, is no longer gripped by protest violence. Political anxiety, however, continues to prevail, and many livelihood issues remain unresolved, prompting Beijing to become more involved in local affairs.
Unlike two years ago when protests fuelled by the unpopular extradition bill forced officials to stay indoors and watch a live broadcast of the flag-raising ceremony, Chief Executive Carrie Lam Cheng Yuet-ngor on Friday proudly announced that
"one country, two systems" was "truly on the right path"
following what she called the "double safeguards" of the national security law and the recent electoral revamp. "We should reassure the country by taking a firm stance in safeguarding national security and implementing the principle of 'patriots administering Hong Kong'," she said.
Whether the city is truly in the best position remains to be seen. But the unusually strong presence of police and reports of national flags and celebration displays being vandalised illustrate that the political situation remains unsettled. On one hand, patriotism and national identity are still a work in progress and, on the other, the city is constitutionally bound to legislate against more national security offences under Article 23 of the Basic Law, which is a new challenge for the government.
Separately, the need to tackle an array of livelihood issues has been underlined by Luo Huining, director of Beijing's liaison office in the city, at the start of
a week-long community outreach
. He said his "heart sank" after meeting those who lived in a so-called cage home and reflects not only Beijing's care for the people, but also serves as a reminder that inadequate housing is just one problem facing the city. The promise of further public engagement by the liaison office means Beijing will keep its finger on the pulse of the public rather than confine itself to the views of the local government and elites.
Lam has yet to make it clear whether she will seek re-election. The Covid-19 pandemic has not fully subsided and, with at least nine months left in office, she has to deliver more regardless of whatever she decides. The policy address on Wednesday, the last of her current term, will give her the chance to push ahead with any proposals that are outstanding and to provide a blueprint that puts Hong Kong on a stronger footing for development. This could help foster a stronger sense of belonging to the city and the country.