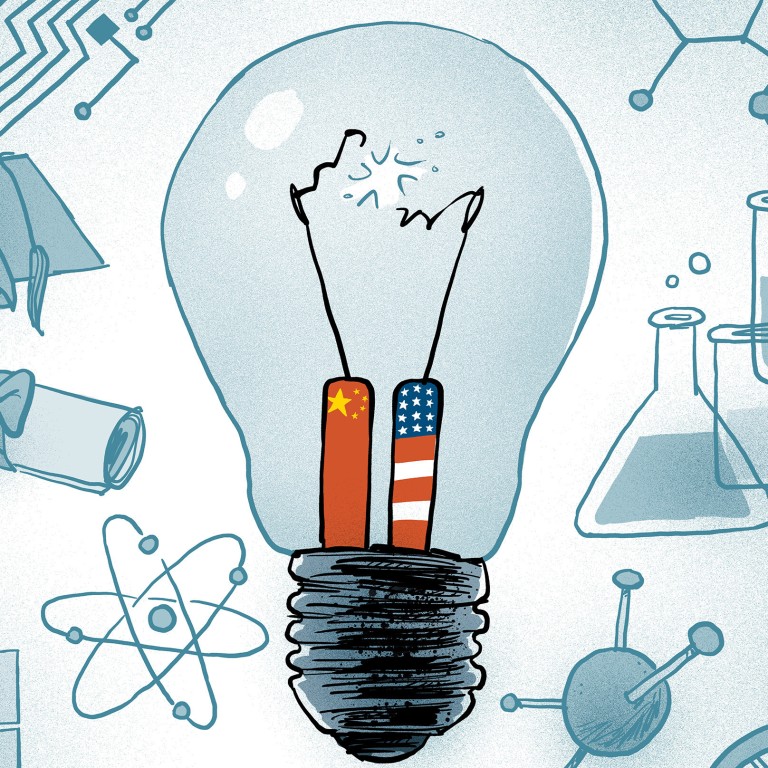 Under Biden, US-China tech and educational links remain regrettably weak
The people-to-people exchanges between the two countries have been in jeopardy since the Trump administration's trade and tech wars against China
So far, Biden has shown no sign of easing the situation, which threatens to harm both sides and hamper international cooperation in addressing major challenges
Historically, science and education have played a large part in bridging the divide between China and the United States. In the 106 years between 1872 – when the Qing government sent the first batch of students to the US – and 1978, only some 140,000 Chinese students had studied abroad. Since then, the number of Chinese students studying all over the world has reached 6.56 million.
Yung Wing, the first Chinese who graduated from an American university – Yale – and who later proposed sending youngsters to the US, hoped that such initiatives would enable Chinese to absorb Western academic ideas and make China civilised and prosperous.
In the early 20th century, Chinese returnees from America contributed to the institutionalisation of high education and scientific research. They were also involved in the development of China's strategic weapons programmes including atomic bombs, missiles and satellites.
China has been the
largest source of international students
in the United States for 11 years in a row. The 2020 Open Doors Report on International Educational Exchange, by the Institute for International Education (IIE), shows that in the 2019-20 academic year, 372,532 Chinese international students were enrolled in American universities, accounting for 34.6 per cent of the total number of international students.
Over the past 10 years, Chinese students have accounted for around a third of international students in American universities.
This positive and critical people-to-people exchange is in jeopardy after the trade war launched by the Trump administration against China was extended to technology and talent.
Undoubtedly, the US view of China has changed from an "economic and strategic competitor" to a "strategic rival".
Many Chinese educated in the US work at American universities and hi-tech companies, making important contributions to American academic research, economic development and other fields. While scientists in China have published many academic papers in key areas such as artificial intelligence, US-based ethnic Chinese scientists may well contribute more towards scientific advances.
Meanwhile, China's rise in science and technology can be attributed in large part to international academic exchanges and cooperation with developed countries, especially the US. In 1978, a group of 52 Chinese students went to the US, signalling the start of China's "open door" policy.
In 1979, China and the US signed an Agreement on Cooperation in Science and Technology. American-educated Chinese scientists have also returned to China in increasing numbers to contribute to nation building.
However, prolonged US-China tensions on technology and talent will only see both sides lose out, with wider repercussions.
China's ambition to become an innovation-driven country and a scientific superpower may lose momentum. For the US, decoupling in science and education could also prove detrimental – for one thing, the loss of international students means financial hardship for some American universities.
Currently, Chinese students contribute around US$14 billion annually to the US economy. However, an increasingly unwelcoming atmosphere could push more Chinese students and scholars away.
Deteriorating Sino-US relations are already encouraging Chinese experts and scholars to return home. Their exclusion from top US universities, along with China's current policy of absorbing Chinese students and scholars from hi-tech fields, may lead to a serious outflow of talent from the United States.
The rancour between China and the US will have far-reaching consequences. Comprehensive decoupling may eventually result in the emergence of two distinct digital and technological jurisdictions.
A lack of effective cooperation among major players in science and education may lead to delays in many global projects in science, technology and innovation, which would eventually harm all countries, not just the US and China.
While we should encourage competition in science and technology, we should not turn it into a zero-sum game that hampers international cooperation. Most importantly, we should not let the narrow mindset of national competitiveness blind all countries to the common vision of sustainable development.
Cong Cao is a professor in innovation studies at the University of Nottingham Ningbo China. His research has focused on science, technology, and innovation in China. This is an edited summary of a recent speech he gave at the Eurasia Institute