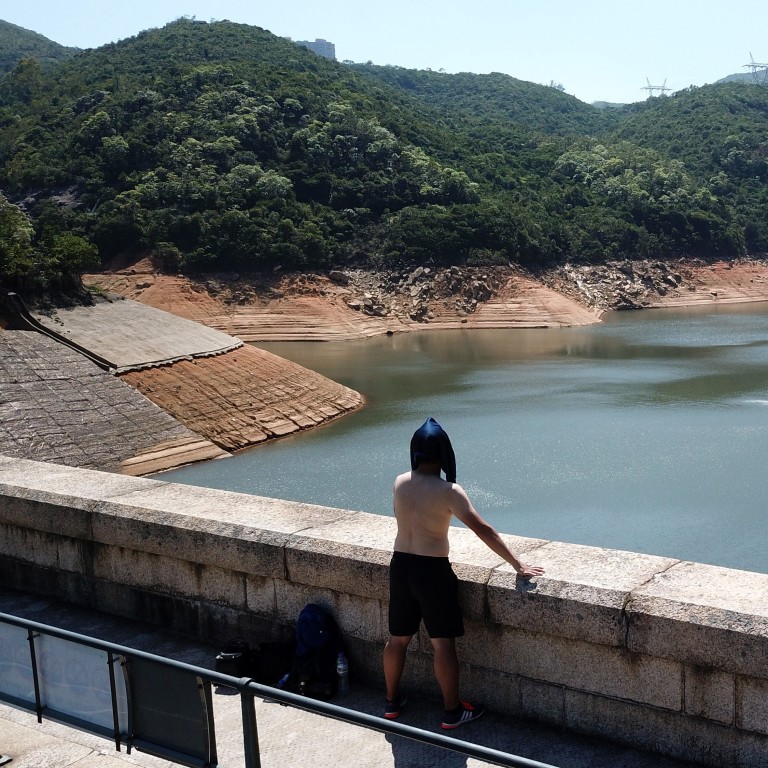 Opinion
Akash Sahu and Aanchal Sahu
Akash Sahu and Aanchal Sahu
How AI can be key to water security in China's Greater Bay Area
Shenzhen and Hong Kong, the Greater Bay Area's most important economies, both face serious water issues, which could impact business and daily life
Artificial intelligence, cloud computing and big data could provide solutions to the area's water supply management problems
The world is moving towards large-scale urbanisation. China's
Greater Bay Area
is likely to become the world's largest-ever urban agglomeration as the Chinese government plans to link 11 cities in the Pearl River Delta region.
The development zone, home to financial and tech hubs like Hong Kong and Shenzhen, could have a combined gross domestic product of
US$1.5 trillion
. The total population will probably exceed 70 million as economic opportunities attract more people. Exactly how sustainable is this mega project?
One has to wonder if such a huge urban cluster can even function as a unit, considering problems that could arise, such as long commutes to work, resistance to gentrification and lack of buy-in, especially from the youth. But a more formidable concern is water security.
Shenzhen and Hong Kong are the zone's most important commercial regions but both face serious water issues. In 2017, Hong Kong was already using 1,250 billion litres of water a year, of which more than 320 billion litres went to waste due to leakage and theft. And Shenzhen, despite developing its waste water treatment capacity, may face a water shortage of 890 billion litres by 2030.
The Central Leading Group on Hong Kong and Macau Affairs and the Ministry of Water Resources have jointly released a plan for water conservation in the Greater Bay Area, which entails transforming Shenzhen into a model city of water governance. It stresses the achievement of goals such as high-quality drinking water availability and flood prevention by 2035.
In Hong Kong, the Water Supplies Department has been developing the Water Intelligent Network to resolve issues like faulty metering and water loss. In an effort to ensure greater citizen participation, the department has launched an app, which allows customers to monitor their water consumption through near real-time data.
Initiatives like the Water Intelligent Network and the smart metering app could be a precursor to improved water governance, with much greater use of AI, cloud computing and big data. Pressing problems such as water theft and loss could be tackled through the use of state-of-the-art AI algorithms that can continuously monitor water flow.
Through such a system, blockages in water pipelines can be identified and bursts can even be predicted. Currently, large amounts of water are lost every year because pipeline bursts are not identified in time. AI and the internet of things could also be helpful in mitigating the impact of urban floods.
Sensors, for example, could be used in flood-prone areas to transmit real-time data to disaster control units. This may allow more timely measures, including evacuation, to be implemented depending on water levels. A more synchronised alert system could be developed to warn cloud users such as hospitals, businesses and schools.
The challenges of using AI relate to lack of uniform standards, information-sharing mechanisms, and accessibility of data. In an expansive setting like the Greater Bay Area, data must be managed efficiently to avoid any mishandling. Data on water can be standardised to streamline data-sharing among a city's departments, and to allow effective handling of emergencies.
Chinese cities like Shenzhen have seen unequal access to water among residents. At the Indian Institute of Science, associate professor Yogesh Simmhan has been working to reduce inequality of water access, with regard to cities with populations over 10 million, through data analytics and machine learning. AI algorithms could be used to improve water scheduling and manage supplies. In the case of the Greater Bay Area, equitable distribution of urban water and proportionate pricing can prevent wastage by the wealthy, and improve the living standards of millions.
There are a variety of areas where the use of AI could help improve water security in the development zone. But this could require policy support at the municipal level. Since developing economies across the world will be urbanised, the Greater Bay Area's water policies could set the norm for judicious and sustainable use of water, and for prevention of destruction from disasters like drought and flooding.
Akash Sahu is a researcher in Indo-Pacific geopolitics and urban water studies working as a research analyst at the New Delhi-based Manohar Parrikar Institute for Defence Studies and Analyses. Aanchal Sahu is a researcher in artificial intelligence and graduating BTech candidate at Kalinga Institute of Industrial Technology, Bhubaneswar