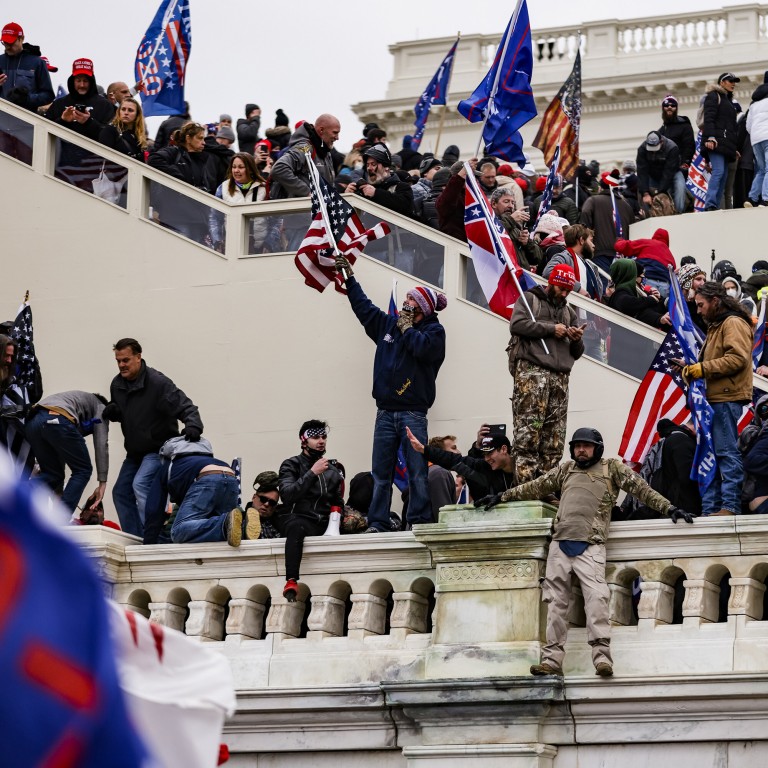 US Capitol attack was the beginning, not the apogee, of dark days for American democracy
The attack on the US Capitol on January 6 did not unite the nation
Instead, the protagonists involved have doubled down on their falsehoods, further creating tension and ushering in an era in which political violence is seen as a viable last resort
"I hope you're all Republicans," Ronald Reagan joked as he was wheeled into an operating theatre after the attempt on his life in 1981. "Today, we're all Republicans," a doctor replied.
Moments like these, of a nation coming together in times of crisis, are a thing of the past in America.
January 6
should have marked a detente between the left and the right, a disarmament of the overheated rhetoric of US politics.
Instead, the protagonists involved have doubled down on their falsehoods, further creating tension and ushering in an era in which political violence will inevitably become an ultima ratio for those who believe their country is under attack.
Norms weakened by politicians such as Pat Buchanan, Newt Gingrich and Sarah Palin were shattered by the Trump presidency. Once the US president was able to speak of Mexicans as "drug dealers" and "rapists" and refer to political opponents as enemies and traitors with impunity, all bets were off.
Words do have consequences. On the one hand, the conduct of our leaders can inspire. Take Patrick Henry's "Give me liberty, or give me death!", a speech that is credited with having swung the balance in convincing the Virginia Convention in 1775 to pass a resolution delivering Virginian troops to the Revolutionary War.
On the other hand, words can also motivate the wrong people to engage in egregious acts, particularly in a country that accounts for 46 per cent of the world's civilian arms.
In 2020, the FBI announced the arrests of 13 men suspected of orchestrating a domestic terror plot to kidnap Gretchen Whitmer, governor of Michigan. Whitmer had become a poster child for stringent Covid-19 measures – that is, lockdowns – and a prominent target for Trump during his rallies.
Some people outside the US rightfully wonder, how do voters still believe this theory? After all, various recounts were conducted, and the Justice Department and the various state and federal courts tasked with looking into alleged fraud dismissed these accusations.
The answer is pretty straightforward. In the United States, two media echo chambers exist. One for the left, one for the right. And the right, or rather, various political quacks, have continuously been promoting the idea that the election was indeed stolen.
A look at Fox News these days tells the whole story. Its opinion hosts have been engaging in revisionist history, rewriting the events of January 6.
Already, the thinking on the siege on the Capitol has evolved, according to The Atlantic writer David Frum, who identified four stages: "January 6 was not Trump's fault", "January 6 was less bad than Democrats say", "January 6 was understandable", and "January 6 was good, let's do it again".
However, even Frum couldn't foresee how preposterous the far right's revisionism would get. On November 1, Fox Nation, the streaming service operated by Fox News, started airing Tucker Carlson's Patriot Purge, a documentary that delivers the following message to viewers: American democracy is under attack. Not by foreign actors, but from within, by government agents orchestrating a "false flag" operation.
They have reached the mainstream, and thus far more Americans than ever before. Carlson's opinion show on Fox News, Tucker Carlson Tonight, where the Patriot Purge trailer has been running ad nauseam, is viewed by an average of 3.02 million Americans each day.
Unsurprisingly, a staggering 66 per cent of Republicans continue to insist that the election was rigged and stolen from Trump.
All this raises one crucial question: how much longer will Americans who genuinely believe that their democracy is being taken away from them and that their president was cheated out of office accept this status quo?
If people were sufficiently furious to storm the Capitol on January 6, imagine what another four years of alternative facts will do to their minds. How many Americans will genuinely think of themselves as patriots who must save the republic? All of a sudden, violence becomes a viable resort and Henry's "liberty or death" speech a credo.
Sadly, January 6 was not the apogee but only the beginning of very dark times for America's democracy as the divide, and most importantly, the lies, continue.
Thomas O. Falk is a UK-based independent journalist and political analyst