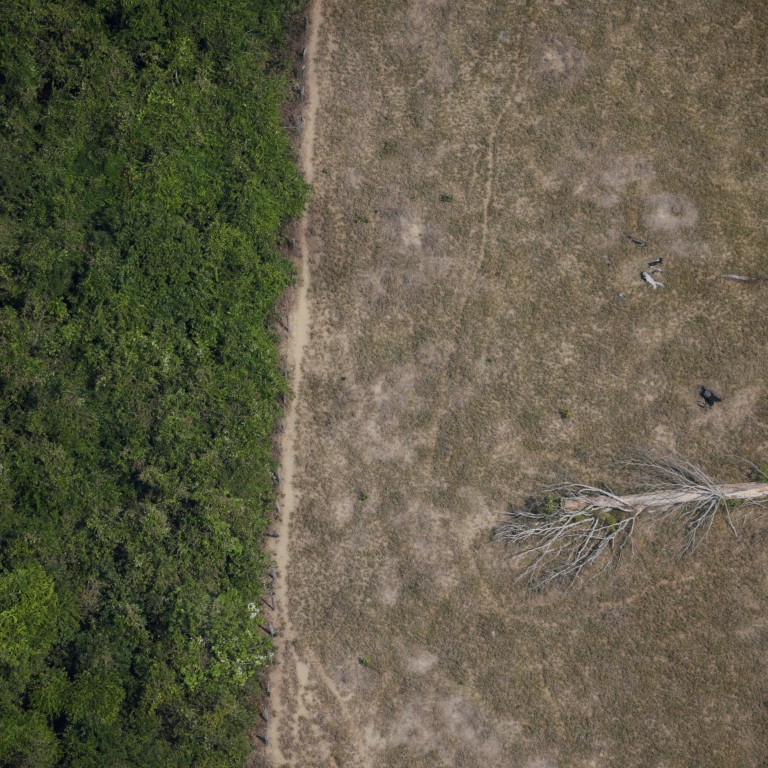 Opinion
Editorial
by SCMP Editorial
Editorial
by SCMP Editorial
Thinking that forests worth more dead than alive must end
More than 100 world leaders who have signed up at crucial climate change conference to end deforestation and land degradation by 2030 should keep their word for all our sakes
A political pledge from more than 100 world leaders to
end deforestation and land degradation by 2030
is the first major outcome of the United Nations
climate change
conference in Glasgow. Trees help to mitigate warming temperatures by absorbing carbon emissions. The farming and mining that takes place when they are removed leads to increases in greenhouse gases.
But promises are empty without action, and success of initiatives can only be gauged through delivery and monitoring.
The countries that have signed the declaration account for more than 85 per cent of the world's forests and include the biggest polluters, China and the United States, and nations with significant endangered tree cover, among them Brazil, Indonesia and the Democratic Republic of Congo.
They have committed to "working collectively to halt and reverse forest loss and land degradation by 2030 while delivering sustainable development and promoting an inclusive rural transformation".
01:24
First COP26 pledge: world leaders agree to end deforestation by 2030
First COP26 pledge: world leaders agree to end deforestation by 2030
The pledge includes almost US$19 billion in public and private funds to protect and restore forests. CEOs from more than 30 financial institutions have committed to eliminating investment in activities linked to deforestation.
This is the cooperation
President Xi Jinping was referring to in his written address
on Monday to the 26th UN climate conference, known as COP26, which is widely perceived as a final chance to ensure temperatures are capped at 1.5 degrees Celsius above pre-industrial levels as agreed in the 2015 Paris accord.
He called on developed countries to "help developing countries do better" and urged governments to take stronger action to "jointly tackle the climate challenge".
That desire was on show in the pledge by leaders, but climate experts worry that the necessary will could be lacking. A similar promise made in New York in 2014 failed to slow the removal of forests, which some estimate are now disappearing at the rate of the size of a football pitch every two seconds.
Forests form a huge carbon store and help regulate weather and climate. More than half the world's species live in them and billions of people need them for food, livelihoods and shelter. But they are being cleared at a relentless pace to grow crops such as palm oil, soya and cocoa, create pastures for cattle and other livestock, and mining.
Many scientists believe halting deforestation is crucial to keeping temperatures in check. Signing an agreement is only the start; there has to be commitment, resolve and for those involved in deforestation, disclosure of activities and reporting on progress.
Policymakers and regulators have an important role. Until the thinking that forests are financially worth more dead than alive is reversed,
global warming
will worsen and all suffer.
This article appeared in the South China Morning Post print edition as: Thinking that forests worth more dead than alive must end