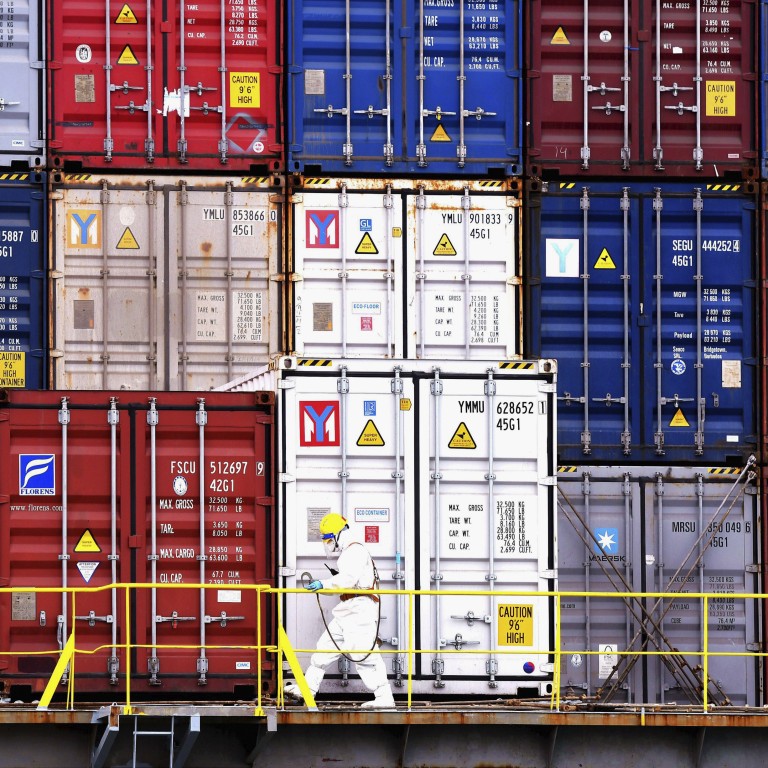 Opinion
The View
by Charlie Grahn
The View
by Charlie Grahn
Behind the global supply chain crisis is a simple case of hubris
While many claim to have identified the reason for the logistical disruptions, the true cause is that most human of errors – believing the past will simply repeat itself
Because today's supply chains are global, efficient and more perilously constituted than before, new risk mitigation systems are needed
We see it in the news nearly every day: container ships clog ports, Christmas decorations
unable to reach stores
in time, car dealers pace empty lots awaiting inventory. The breakdown of the global network of trade that supports manufacturing and consumer purchases has arrived. But from where?
Know-it-alls eagerly claim to have identified "the" cause – the pandemic, oil prices, inflation,
energy shortages
in China, or any of the policies being debated in national legislatures. These explanations are all self-deceptions.
Instead, the true cause is the most human of errors. We mistakenly believe that past experience will be repeated. Also, we like to take the most efficient path, even if that comes with greater risk.
Trading systems have circular dependencies that cannot be reliably anticipated, and are often only revealed after a sequence of usually mundane occurrences. These stress the system and are exacerbated by cunning middlemen, selfish hoarders and the clumsy material handlers. Only then does a crisis ensue.
A crisis always illuminates our need for change; in this case, how we have managed – or mismanaged – modern supply chains.
The supply chains of yesteryear were mainly products of proximity to resources. In the case of automobiles, this featured waterways, adjacent industrial suppliers and skilled labour pools. Before Detroit became the
Motor City
, it had to contend with rivals New York, Rochester, Indianapolis and Chicago. Over two decades, ending in 1920, these rival centres were closed.
In a similar period of time but a century later, information and communication technology extended supply chains beyond familiar clusters. Trading with nearly anywhere is considered doable. Meanwhile, material handling technology – mainly from the use of containers – has driven shipping costs down, increased speed and all but eliminated damage, even for perishables
"Globalisation" only became a policy after technology had made it possible, businesses had invested and supply chain personnel had made it a reality.
Each participant extended its gaze to distant sources for its own reasons. Cost was one, but so was opening new export markets, and access to materials, technology or know-how. However, each new pin in the map multiplied
geopolitical
and
transport
risks, among others.
Historically, manufacturers managed supply risk by maintaining inventories, concurrently sourcing the same thing from multiple suppliers, and making acquisitions or bringing aspects of the business in-house.
These traditional bulwarks were cast aside in favour of lean management philosophies like the "Toyota production system", just as globalisation ascended. These philosophies emphasised familiar suppliers, outsourcing of noncore businesses, lean processes and "just in time" inventories.
In time, sources began to consolidate and products themselves became more complex, requiring
semiconductors
, for example, that were common to a variety of products.
The result is extended supply chains that are global, efficient and more perilously constituted than before. Perhaps this is simply because we are human, and believe the good times will keep on rolling, although we have continued to add more risk to the system. This hubris has been our downfall.
Failures are now less avoidable and not easily managed, even if they are a management priority. Executives expect supply chains to be as reliable as daybreak but they seldom get attention until they are broken. Supply chain personnel know the system is unstable, but often management looks to them only for cost savings instead of risk management, which costs money.
One of the few safety features in place relies on information tools that, among other features, ply the internet, sniffing out notice of supply disruptions.
These early warning systems require a large volume of information to be analysed. But, too often, this is mismanaged, haphazardly maintained on the side by supply chain personnel.
The result can be an avalanche of banal information which is ignored because it mainly announces weather events in faraway places that don't obviously affect supply. Even if impeccably managed, these tools buy no practical advantage if every market player has access to them.
Any redesign of global supply chains will need to find a better way to manage risk. We cannot simply return to the approaches of the past – after all, past experiences are a poor indicator of the future.
But there is a more modern middle ground between the extremes of efficiency and resiliency. Just as companies have established dedicated "transformational" teams to drive organisational change or the adoption of new tools, supply chain personnel must be dedicated to planning resiliency.
New risk mitigation systems would encompass strategically holding bigger inventories of critical components or materials, and combine long-term fixed-price contracts with spot pricing. We need personnel prepared to fight fires before they break out, with preapproved action plans for the first sign of trouble, thereby avoiding the bumbling that often accompanies corporate decision-making in a crisis.
This would cost money, but, as circumstances are proving, not doing it also comes at significant cost – lost revenue from unfilled sales orders, increased expediting costs, and the premiums paid to supply crunch profiteers. Customer, supplier, shareholder and employee goodwill will be injured as well.
A fully fledged risk management team is budgeted. Like insurance, it's a measured expense, a hedge against a catastrophic occurrence. Any business finding itself in a panic due to current supply chain disruptions should consider whether these calculable expenses might be worth every penny.
Charlie Grahn is a supply chain veteran who lives in Vancouver, Canada. He also teaches this subject at Langara College and for Supply Chain Canada, and has been a guest lecturer at several institutions including the Banking Academy in Hanoi, Vietnam