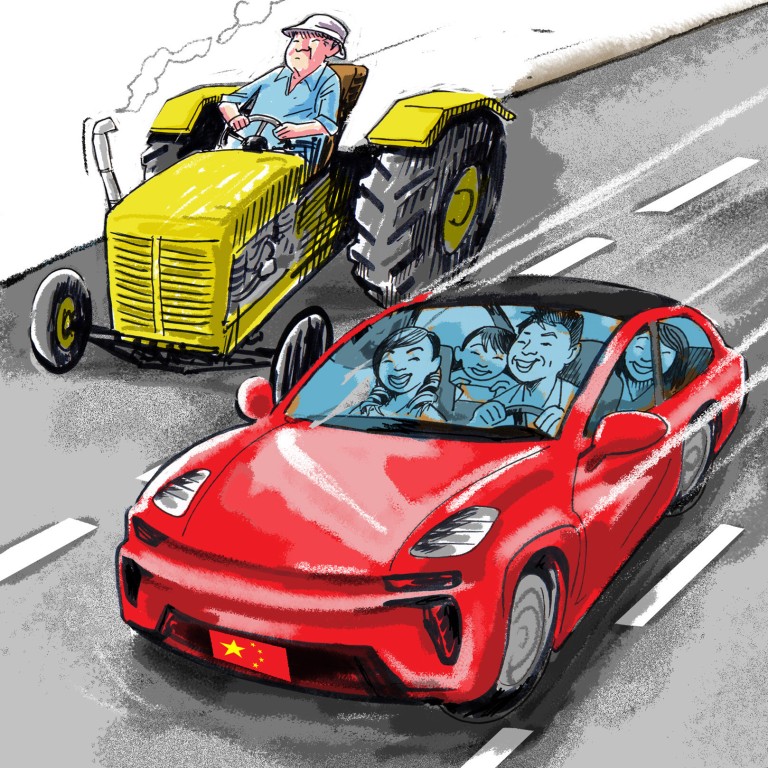 Middle-class nation: how China is rising to the challenge of common prosperity
Far from turning back the clock on capitalism, Beijing is using it to help socialism amid challenges including geopolitical tensions, an ageing population and an overheated property market
Founded 100 years ago, China's Communist Party has always branded itself as a party for workers and peasants. But it is also known for being flexible and pragmatic.
With rising wealth and improving social mobility, China is moving poorer people into the middle class, a process that the party has branded its
"common prosperity" programme
. The party is thus moving with its constituency and staking its brand on a successful outcome, transforming itself into a party of the middle class.
China, with a population of 1.4 billion, already has a middle class of at least 340 million, larger than the entire US population. (Some estimates put the Chinese middle class at more than
400 million
, using a looser definition of the term.)
Beijing's plans could increase the middle-class population to an estimated 500 million by 2025 and about 750 million by 2035. Put another way, it is looking for roughly half the mainland population to be middle class by 2035, from less than 30 per cent today, using a conservative definition.
To realise this, the
Chinese economy
will need to double by 2035, having just doubled over the past decade. Most Chinese people are still classified in the lower-income bracket although, in recent years, pockets of
extreme poverty
have been eliminated from the mainland.
Some investors seem to worry that common prosperity is a kind of
Robin Hood campaign
. This is simply wrong. One only has to look at the Zhejiang pilot programme announced last July to get a detailed picture.
Zhejiang province, with a population of nearly 65 million located in the Yangtze River Delta, has set 52 performance targets to achieve common prosperity. The government has said that Zhejiang is a "demonstration zone", intended as a model for the nation.
Investors can rest assured. The plan supports private enterprise, innovation, market development and small and medium-sized enterprises. It also takes aim at monopolistic business practices, supports a level economic playing field and targets the deflating of the real estate market.
As officials have repeatedly stated, the objective is to create a society that is
olive-shaped
, not pyramid-shaped.
The plan does not emphasise wealth distribution but aims to make society more productive and fairer, by promoting social mobility and better welfare. It confirms Beijing's commitment to "
state capitalism
" (the Chinese version of the "
stakeholder capitalism
" currently gaining support in the West). Clearly, the market-opening, pro-business reforms of the past four decades are irreversible.
The private sector (China has more than 40 million SMEs) provides 50 per cent of tax revenues, 60 per cent of gross domestic product, 70 per cent of patent filings and more than 80 per cent of urban employment.
China's main domestic stock markets, in Shanghai and Shenzhen, are the world's most active, with a combined daily trading volume that dwarfs that of second-place New York. Indeed, there is no turning back the clock on using capitalism to help socialism.
But the reality of common prosperity is that it is mainly about long-term structural reforms to create a more sustainable and inclusive society. President Xi Jinping himself has said the objectives will take decades to achieve.
Over time, stock markets and other capital markets are to be encouraged so that more savings can be channelled into manufacturing, innovation and green energy. China opened
a third stock exchange, in Beijing
, this week, underlining Xi's support for capital markets.
Property development is a different matter. The government is sticking to its restrictions on real-estate investments as housing seems overbuilt and bubbles have formed.
So, will it work? The Chinese public, it seems, is confident that common prosperity targets can be achieved, given the party's strong track record, with
800 million people
– roughly 10 per cent of the global population – lifted out of extreme poverty over the past four decades.
But the obstacles cannot be underestimated, ranging from geopolitical tensions to an ageing population and the overheated property market.
Undoubtedly, common prosperity represents a shift leftwards in Chinese politics, after decades of liberal policies that enabled a privileged few to make a lot of money.
Capital flight
could become a problem as the rich move money to offshore shelters.
Furthermore, for Beijing, real estate is a particularly difficult balancing act, as the property sector represents about 25 per cent of the
Chinese economy
and 40 per cent of household assets. In urban areas, an estimated 87 per cent of households already own their own property, and many have second homes. Home prices are up 50 per cent over the past decade.
The property boom is financed by heavy debts, putting financial stability at risk. Officials have been talking of introducing a national
property tax
. Also under consideration is a ban on property presales. Such a measure could cause the weaker developers to fail as they depend on selling uncompleted property to obtain financing.
China's ageing population is also a headwind. But the impact can be offset by improving productivity and innovation.
Here, China's great success in education is helpful. Each year, China produces
about 9 million university graduates
, exceeding the combined total of the United States, Britain, Germany, Japan and South Korea. The Chinese graduates are concentrated in the areas of science, maths and engineering.
Millions more complete vocational school each year with technical and trade skills. With China's talent market growing rapidly, many problems can be overcome.
Cheah Cheng Hye is the head of Value Partners Group, an asset management firm in Hong Kong, and an independent non-executive director of Hong Kong Exchanges and Clearing Ltd