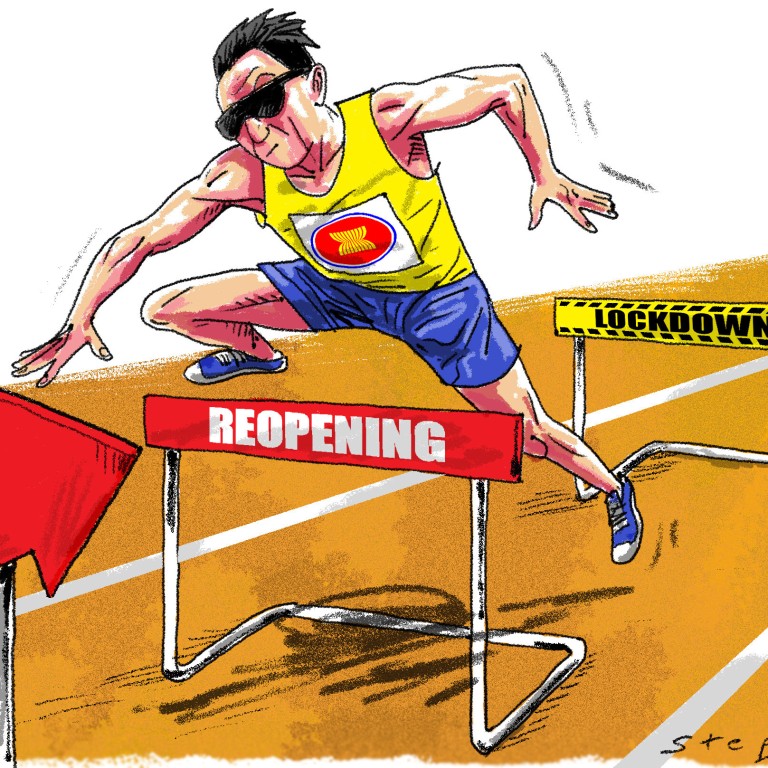 Covid-19: ready or not, Asean nations must reopen, reconnect and reform
With government finances stretched, there is an increasing recognition that the region can no longer afford economy-crippling restrictions and must return to trajectories that stimulate growth
While the region's pre-pandemic potential remains, reforms are needed to boost efforts to move up the value chain
Key Asean members are moving to restart their economies and
open borders
, in sharp contrast to shutdowns that tried to address the surges in Covid-19 caseloads from May to September from the highly infectious Delta variant. Asean initiatives also differ from mainland China, Hong Kong and other economies that are keeping borders closed and
aiming for zero cases
.
Activity and growth in the Association of Southeast Asian Nations are expected to rebound appreciably in the coming months. But, alongside the opportunities, real risks lie ahead. Not all countries have made the necessary preparations, and some are moving ahead more out of necessity. Infections could grow markedly after reopening, as is being seen in
Europe now
.
Some countries are also experiencing political and social strains that might cause further instability. Yet, fully ready or not, Asean governments must not only reopen but reconnect with each other and undertake reform.
No one should understate the human and economic costs of these past few months across the region, which has recorded over 13 million Covid-19 cases since the start of the pandemic, in contrast to the region's relatively good pandemic management record in 2020.
Indonesia has been the epicentre of the crisis with over 50,000 daily cases reported in July. Similarly, while Thailand and
Vietnam
were able to keep their infection rates low in 2020, numbers have skyrocketed in 2021.
However, by October, daily caseloads have plateaued across the region as vaccination programmes accelerated. This continues to be a work in progress, especially in countries with larger populations, such as Indonesia, Vietnam and Thailand.
Yet, most countries in Asean have begun reopening. In June, having achieved high vaccination levels, Singapore was the first to declare it would treat the virus
as endemic
. Thailand, Indonesia and others followed with similar plans.
There is a pressing need to return to trajectories that stimulate growth, trade and investment, jobs and consumption.
Asean's manufacturing sector declined for three consecutive months from June to August, and unemployment rose to unprecedented levels. With government finances stretched by earlier stimulus packages and limits in terms of monetary policy, there is an increasing recognition that the region can no longer afford the consequences of economy-crippling restrictions.
Reopening borders is the most obvious step. From November 1, Thailand
reopened
to visitors from over 60 low-risk countries without the need for quarantine.
Similarly, in October, Indonesia
reopened Bali
, where vaccination rates exceeded 84 per cent, to 19 countries, and plans to open more areas when vaccination targets are met. Indonesian President Joko Widodo called for expedited efforts for an Asean travel corridor.
Harmonising standards and processes to ensure travellers are Covid-19-free will take time. Although tourism is the first focus, reopening borders has larger implications.
Pre-pandemic, the region recorded one of the world's largest flows of people across borders. This included not only tourists but also workers. Restarting intra-Asean connectivity will facilitate the flows of goods, services and people.
The reopening will stir considerable apprehension among some segments of society, such as the upper-middle class and elite, who are more concerned with health than tourism revenues. In Thailand, a recent poll by the Suan Dusit Rajabhat University revealed that 60 per cent of over 1,000 respondents said it was not the right time to reopen.
In
Thailand
and Malaysia, even before the pandemic, there was strong political contestation, which could
heat up again
. When the surge hit this year, there was also anger because vaccination programmes were delayed, leaving many vulnerable. The risk of protests has increased with the end of lockdowns, especially if the reopening is not well managed.
Yet reopening and relaxing controls will not be enough. Pre-pandemic Asean was poised to grow quickly, and such potential remains. Reforms are needed to boost efforts to move up the value chain.
Perhaps the clearest statement of that intention comes from Singapore with its high-level Emerging Stronger Taskforce pushing strategies to position the country for growth as the pandemic recedes.
Vietnam, which has been a major recipient of foreign investment, has rolled out incentives to ensure that higher-valued industries would be anchored in the country. In Thailand, progress in terms of infrastructure has been emphasised even during the pandemic.
For Indonesia, omnibus legislation has been passed to help ensure entry easier for foreign investors. There are also efforts to upskill and train its large and young workforce, and initiatives to help small and medium-sized enterprises grow and link to global supply chains.
Particular sectors call for specific attention, especially the
digital economy
. The pandemic shutdowns increased reliance on technological solutions, such as
e-commerce
and social media, and underlined the region-wide rise in internet penetration and digital adoption.
According to a report by Facebook and Bain & Co, 80 per cent of consumers in Asean are expected to adopt digital technology by the end of 2021. But investments in digital infrastructure are needed as a foundation for more equal access.
Another area of focus will be climate commitments and
sustainability
. Businesses and supply chains in the region must align to sustainability standards not only in response to domestic consumers, but especially investors, and consumers in developed markets.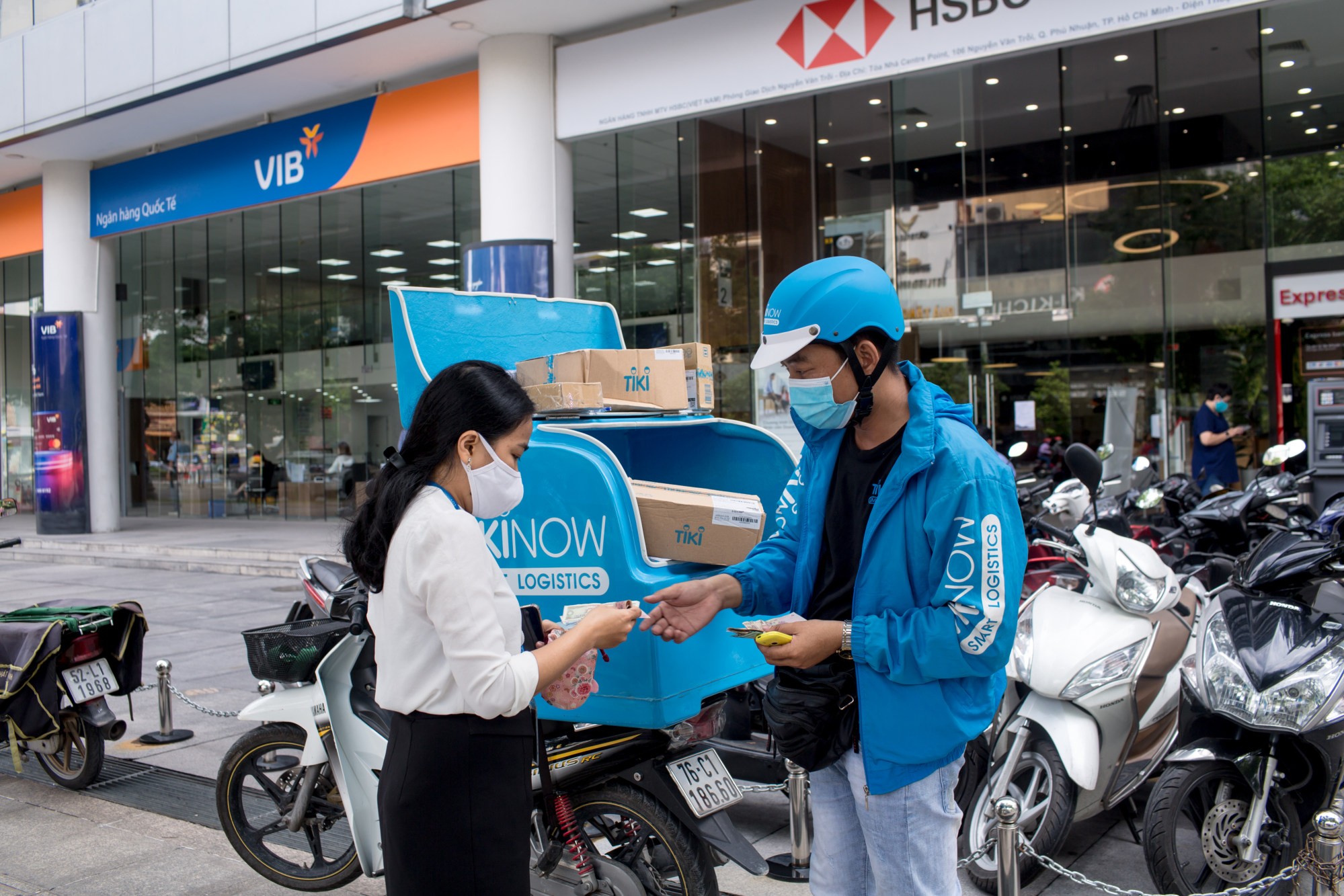 Many headlines about Asean in the preceding months were, understandably, negative. Looking ahead to the reopening, some risks remain.
The most proximate concern is over the efficacy of some vaccines currently in use and questions about whether health systems can cope if cases surge again. There are risks relating to politics and possible protests. And some countries will have to cope with budget and financial constraints.
But the region can also expect opportunities to increase. Global demand is rising and quite quickly. Supply chains are regaining momentum and investments numbers should recover, creating more job opportunities. The path ahead will not be without hurdles, but some will persist in pressing forward, and will succeed.
Simon Tay is associate professor at the National University of Singapore Faculty of Law and chairman of the Singapore Institute of International Affairs (SIIA). Sarah Loh is a policy research analyst (Asean) at the SIIA