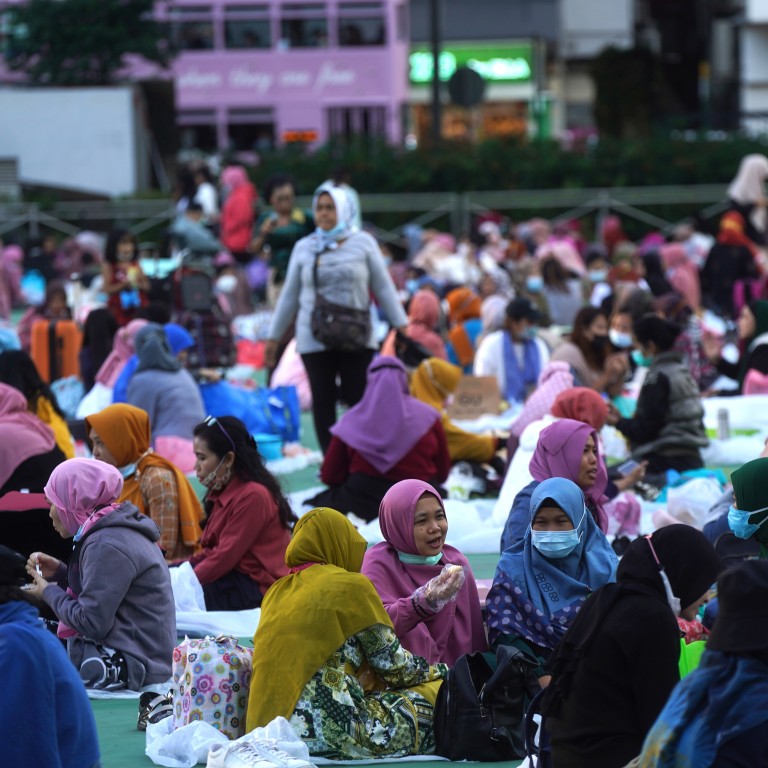 Opinion
Editorial
by SCMP Editorial
Editorial
by SCMP Editorial
Review the rules on foreign domestic helpers
There is scant recognition of their socio-economic impact on the lives of the city's people, including Hong Kong's birth rate
Much has been written about the rights and conditions of stay for domestic helpers in Hong Kong, and the inconvenience to local families of the disruption of supply by Covid-19 travel restrictions on the Philippines and Indonesia. By contrast, there is scant documentation and recognition of their socio-economic impact on the lives of the city's people. A study by Baptist University researchers has gone some way to filling that gap. It found, for example, that
couples who employ a helper after having their first baby
are more likely to have a second, and are able to devote more time to parenting than families without help. That may hardly sound surprising, but it bears closer attention in the context of a low birth rate, an ageing population and expensive, cramped housing.
The researchers spoke to more than 2,000 married couples and interviewed 25 of them in depth between March 2019 and March 2020. Forty-three per cent of one-child families with helpers went on to have a second within six years, compared with 30 per cent without helpers. It is debatable how much higher the figure would be if homes were bigger and/or helpers did not have to live with their employers.
Adam Cheung Ka-lok, an assistant professor at the university's department of sociology, who led the study, said fewer than five in 100 local families hired foreign helpers in 1991, compared with nearly 15 in 100 in 2011, rising to almost 18 in 2016. As of 2020, there were 374,000 foreign helpers in the city. Last year, the Court of Appeal upheld a legal requirement since 2003 that they must live with their employer, because it was not convinced the live-in rule significantly increased the risk their rights would be violated. However, that is another issue.
There is no question that cramped, expensive living conditions would make a couple think twice about having a child if they also needed a helper to live in and even more about having two children.
Cheung rightly said the authorities should review the live-in rule, noting that "many families have difficulties engaging helpers because of limited living space". The implications for the birth rate, which is well below that needed for natural population replacement, are clearly negative. That is just one instance in which Hong Kong is paying a price for failed land and housing policies.