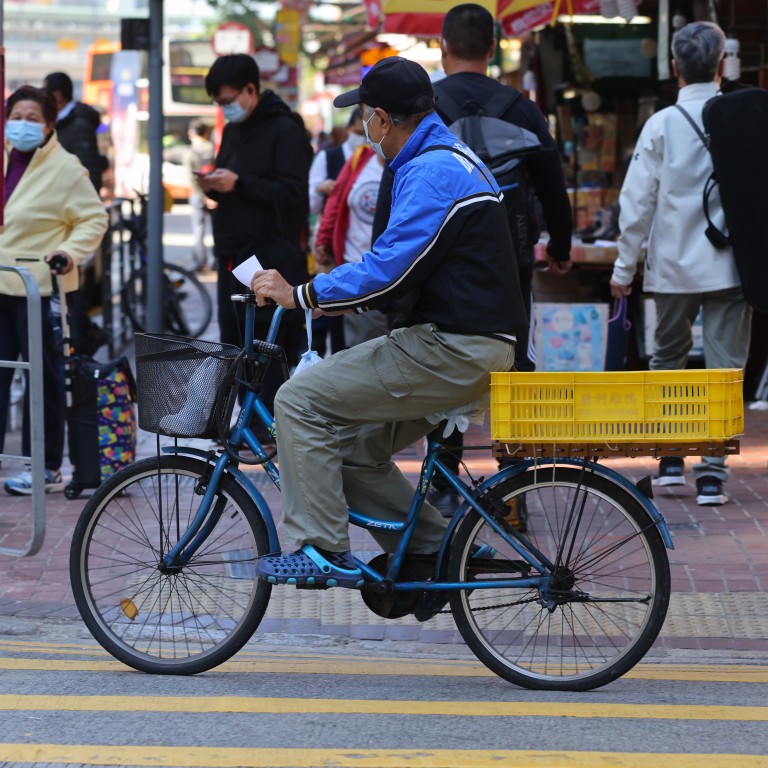 Hong Kong's poor and outsourced workers need better wages and protection
Outsourcing might be convenient and cost-effective for employers, but it comes at a high price for some of the city's most vulnerable workers
There is much to be gained by offering more generous wages and protection to these households, many of whom are single-parent or new arrivals
Outsourcing work can be an efficient way of operating for large corporations, and the practice has been widespread for many years. One thing that is often overlooked, however, is the
well-being of outsourced workers
.
While outsourcing can be cost-effective for employers, given its flexibility in employment practices, it can be detrimental to employees and relationships.
Given that it is only a short-term working arrangement, the relationship with workers might not appear to matter. In the long run, however, weak employment ties can have an adverse effect on the community.
Exploitation of outsourced workers and their lack of labour rights are long-standing issues in Hong Kong. Typically, these workers are paid only
the minimum wage
of HK$37.50 (US$4.80) an hour, which is among the lowest rates among developed economies.
The issue has come to the forefront once again in recent days after a local artist, Luke Ching Chin-wai, became an outsourced MTR cleaner to expose the harsh conditions faced by these low-paid workers.
The government has made some improvements, changing the scoring system of the tendering process so the lowest bidder is not necessarily awarded a contract. Even so, certain conditions still need to be met.
Government-outsourced cleaning services reportedly offer more benefits than those that outsourced by private companies. Ironically, many of these big shopping centre operators and the MTR Corporation have received community service awards, including for volunteering and caring for the poor and elderly.
These companies have worked hard to build up a positive image, enhance employees' sense of belonging and demonstrate their commitment to building an inclusive and harmonious society.
However, the people these corporations ought to care for – the poor and elderly – could well be the very people who are
working in these outsourced jobs
, suffering substandard conditions.
Why haven't they done more to provide better working conditions for their own cleaners and security staff? Considering that
the government owns
around 75 per cent of the MTR Corp, why is it not setting a good example as a responsible employer? It could do even more for the community by directly hiring these workers.
If outsourced cleaners were entitled to employment protections, and free MTR rides and benefits like other MTR Corp employees, this would enhance their quality of life, boost morale and
reduce presenteeism
.
Even if outsourcing is inevitable, the government can take steps to improve statutory protection rather than turning a blind eye to structural injustices in management practices.
In addition, the minimum wage review every two years neither reflects nor responds to the needs of low-skilled workers. The cost of living isn't subject to revision every two years, and people who rely on the minimum wage are no less affected.
Wouldn't it make more sense to have
yearly automatic adjustments
based on the annual consumer price index? At the very least, we should protect the wages of those who are vulnerable and most likely to be exploited.
If a business can afford it, there is much to be gained by offering better wages to these low-skilled employees: it would create tangible and intangible benefits for the community, while having a ripple effect to improve salaries for other workers.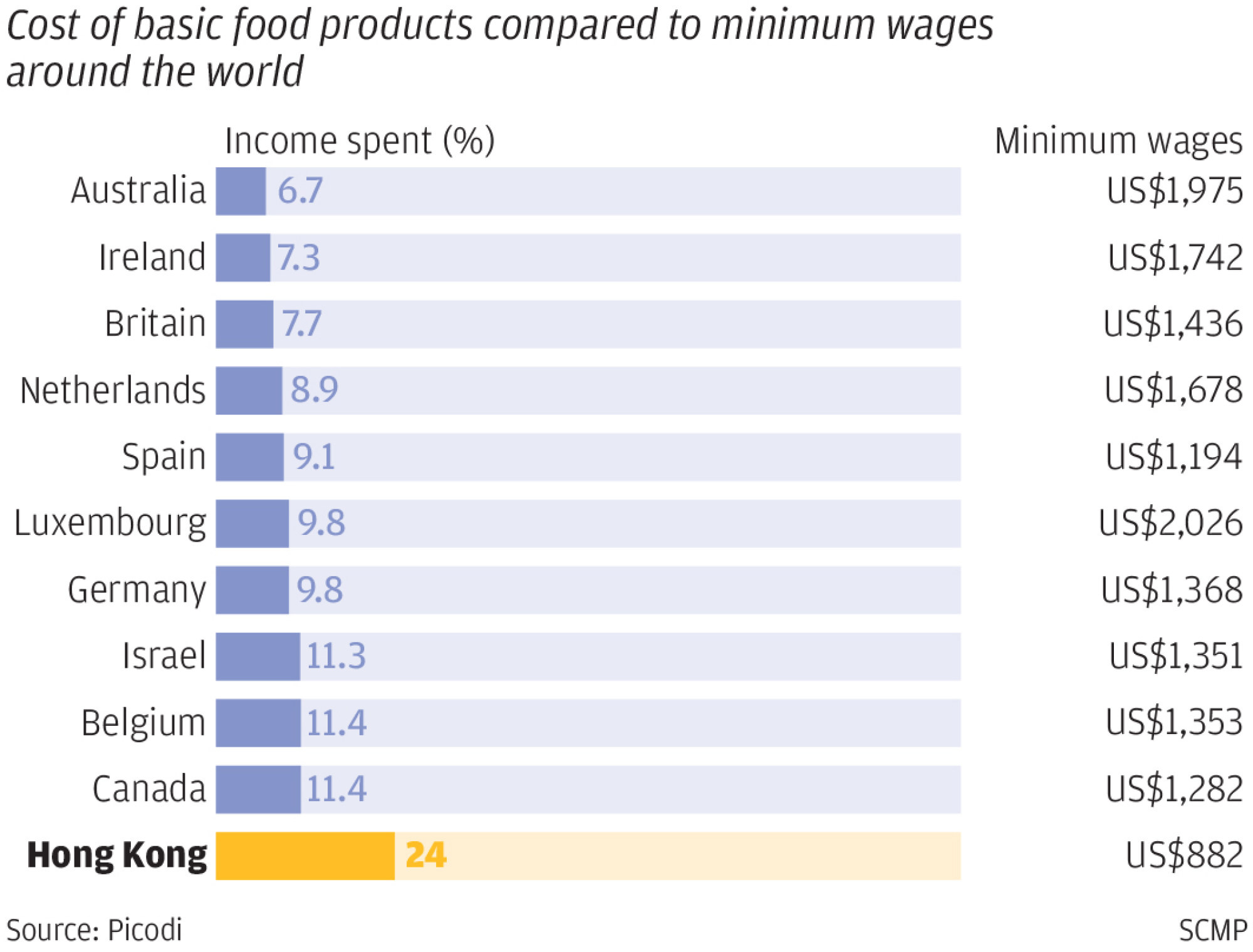 According to the 2020
Poverty Situation Report
, single parents and new arrivals face higher economic burdens than the average household. Most of these households had only one working member, but they had an average of 1.4 children, far higher than the overall working household average of 0.5 children.
There are around 55,500 working-poor households, making up 177,500 of the city's population. Among them are 2,700 single-parent and 3,800 new-arrival households. More than 40 per cent of both groups have an education level of lower secondary or below.
Given their circumstances, these households have little bargaining power and must often accept harsh working conditions at below the minimum wage. The recent strike by
Foodpanda delivery drivers
also highlights concerns over the welfare of workers who are self-employed and lack labour protection or benefits.
China's State Administration for Market Regulation, along with six other administrative departments – including the National Development and Reform Commission, the Cyberspace Administration of China and the Ministry of Public Security – has
issued guidelines
to enhance labour rights and ensure workers on the mainland receive basic social and medical insurance.
In Britain, the Supreme Court has
ordered Uber
to ensure all of its more than 70,000 drivers are covered by workers' rights and receive holiday pay. It is a significant change in the business model of a company which has long argued that its drivers are self-employed.
Outsourcing work does not mean outsourcing responsibilities. I hope the Hong Kong government can use its powers to improve the lot of disadvantaged groups in society and support them so they can make an independent living.
Outsourcing low-skilled labour in the hope that the free market will compensate for any shortcomings has lost its effect because of the structural problems inherent in the practice of outsourcing. This requires a serious review, followed by effective intervention.
Let's hope the new Legislative Council can help improve the welfare of these workers, offering a chance to improve the city's poverty situation, which has been getting worse in recent years.
It is the time to demonstrate our commitment to creating a more harmonious society by addressing the needs of outsourced workers.
Paul Yip is chair professor (population health) at the Social Work and Social Administration Department of the University of Hong Kong
David Dodwell is away