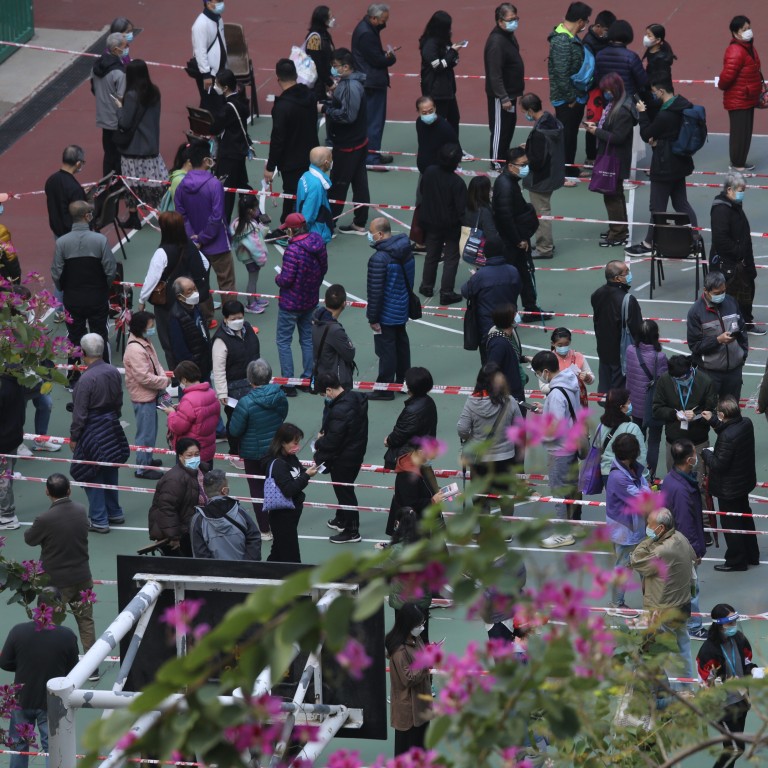 Opinion
Editorial
by SCMP Editorial
Editorial
by SCMP Editorial
Hong Kong's testing and quarantine strategy needs adequate capacity and proper facilities
While the relatively smaller scale of the Omicron outbreak owes much to the city's aggressive quarantine and testing regime, the lengthy queues and growing grievances show that the situation leaves a lot to be desired
Having battled four waves of Covid-19 community outbreaks over the past two years, the Hong Kong government has no shortage of weapons and experience in curbing the ever-mutating coronavirus. But the widening testing and quarantine measures also have serious impact, as reflected in the growing grievances expressed by residents inconvenienced by the arrangements over the past few days. While efforts are being made to enhance the capacities and logistics of the facilities, the situation leaves a lot to be desired.
We do not know whether the officials and lawmakers who are undergoing isolation and regular tests at Penny's Bay quarantine centre are also dismayed by the measures. But those who
stood in the queue for hours in Tuen Mun
and other districts for the tests can be excused for feeling outraged. Among them were elderly, children and workers caught by the compulsory testing notices issued by the authorities every day. Many came forward as they needed a negative test result in order to get back to their workplace. Others were just responsible citizens. Any person who fails to comply with the testing notices commits an offence and may be fined $5,000. Separately, the authorities are struggling to expand vaccination facilities because of a sudden surge in demand for the jabs. There were also reports of people in quarantine not being tested for days.
The sorry state of affairs stems from the city's aggressive regime in quarantine and testing. Since January 1, no fewer than 430 "high-risk" premises across the city have been named in the daily compulsory testing notices, resulting in many who have been to those places needed to be tested. Even though officials are content that the infections spurred by the Omicron variant are not increasing geometrically across the districts, the numbers of places affected keep expanding. The burden on testing facilities is obvious.
The painful experience in battling repeated virus spread has resulted in Hong Kong having one of the world's most stringent anti-Covid 19 regimes. Indeed, the current relatively smaller scale of outbreak owes much to the vigorous testing and quarantine strategy. While the measures have been serving the city well, there also needs to be adequate capacity and proper facilities to enhance compliance.