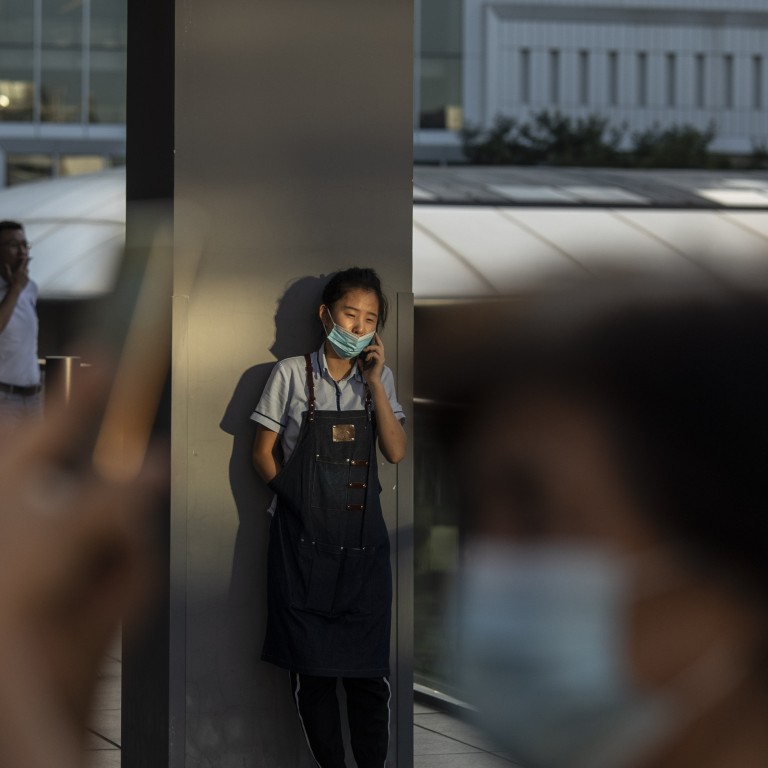 How China's 'lying flat' generation is driving the country towards common prosperity
Some dismiss them as lazy, but China's 'lying flat' youths are doing their share for society by drawing attention to the country's growing wealth inequality
The refusal to work long hours for a low wage or strive for empty success should not be criticised, but used to fuel the national drive for common prosperity
The Lunar New Year period can be a time of immense pressure, when young people are expected to show off their accrued status and wealth to friends and family. Some, however, are refusing to bow to this pressure by instead "
lying flat
".
Although at its most extreme, lying flat may lead to NEET (not in education, employment or training) status or even hikikomori (acute social withdrawal), these concepts should not be conflated. Unlike NEETs, "lying-flatters" may be gainfully employed. Unlike hikikomori, they may be socially integrated.
Lying flat is the type of social phenomenon that could only arise in an achievement-oriented East Asian society. In the affluent West, particularly in welfare states like Canada and Australia, many young people choose lifestyles which are less demanding.
Still, lying flat is a relative concept. A highly capable individual with the potential to become a tech titan may choose to lie flat by taking a less ambitious yet perfectly respectable job. Lying flat should not be seen as individual indolence, but as a collective reaction to a hyper-competitive "involuted" society.
Some lying flat may be involuntary, given graduates'
tough job prospects
. In the fourth quarter of last year, for example, hiring demand for new graduates declined by 11 per cent while the number of applicants increased by 38 per cent.
China's "Gilded Age" of unlimited wealth creation may be coming to an end. Amid retrenchments in private education and the tech sector, graduates are
foregoing
high-paid private-sector careers in favour of government jobs.
The path to such job security is through a very narrow door of ultra-competitive civil service exams. Yet even fixed employment is no guarantee against
pay cuts
. No wonder some choose to lower their expectations, ignoring the state's call for all to strive towards President Xi Jinping's Chinese dream.
While China's youth may be more optimistic than their peers in developed economies about their chances of living better lives than their parents, those from less-privileged backgrounds face many hurdles to social advancement as society becomes increasingly stratified. A Stanford study found that China ranks low globally for social mobility.
Those few who are accepted into elite universities may have a chance of social advancement, but even among this top tier, job opportunities can differ vastly depending on family connections. Meanwhile, the vast majority of China's 10 million graduates this year, who lack prestigious degrees, good connections or family wealth, face uncertain and limited prospects.
Beyond the narrowing path to social mobility, a more fundamental question is, why are we chasing this goal? Economic development in China has lifted most people above the level of basic survival.
China has arguably reached a similar level of affluence to the US in the middle of the last century. Most wants now are artificial, created by advertisers and social media.
Perhaps lying-flatters are wise enough to see through such consumerism and choose to pursue more authentic lives. Not everyone can have a fulfilling career. But some may choose to opt out of lives consumed by alienating work in the pursuit of things they don't need.
Lying flat can thus be seen in the context of a global rebellion against workism. The capitalist obsession with work has resulted in feelings of alienation. Work may be an important foundation for human dignity, but it should not be a prerequisite for it.
In fact, there has been a long history of lying flat in China, epitomised by the Seven Sages of the Bamboo Grove in the third century AD.
Many scholars during this time attempted to free themselves from the struggle to climb the mandarin bureaucrat's career ladder, preferring to spend time reflecting deeply on life and society. In the process, they composed some of the greatest literature in Chinese history. Without such works, Chinese civilisation would be greatly diminished.
Perhaps not all of today's lying-flatters can become literary geniuses. But who knows whether some might not achieve similar breakthroughs away from the mainstream?
As exemplified by YouTube star
Li Ziqi
, a retreat from the beaten path can be highly profitable. A school dropout, Li has become a global internet sensation with tens of millions of followers worldwide. She has perhaps given a bigger boost to China's soft power than some of the state's huge investments in international propaganda.
Behind the facade of an idyllic country life, however, is a well-oiled commercial machine promoting Li's image and monetising her huge following through advertising and merchandising. The narrative of a return to simplicity can be exploited to induce consumption.
There have been rallying calls for the tribe of lying-flatters to pull their weight in national development. But they have arguably made a greater contribution through their "silent protests" against China's worsening class rigidity.
China successful development is contingent on its adherence to meritocracy. While such a system prevails in big cities, some universities and the tech industry, elsewhere it has disappeared.
A generation after the country's economic reforms, class lines are clearly drawn and solidifying. Unlike the late 1970s or 1980s, far fewer poor students from rural backgrounds are now admitted to top universities.
A shrinking meritocracy does not bode well for China's aspirations for a national rejuvenation. Lying flat is a wake-up call for reforms towards common prosperity.
Winston Mok, a private investor, was previously a private equity investor