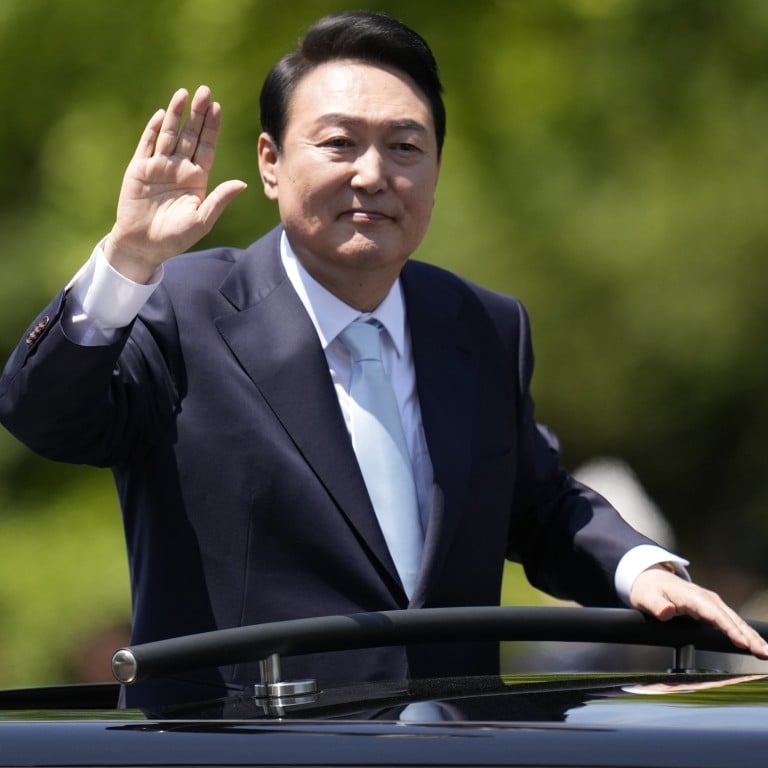 Opinion
Macroscope
by Erin Eunseo Choi
Macroscope
by Erin Eunseo Choi
South Korea's new president must keep his pledge for a bold switch to electric vehicles
Yoon Suk-yeol ran as a conservative, but his campaign promises include a progressive move to ban new internal combustion vehicles by 2035
Following through would make South Korea a climate change leader in Asia and create thousands of new jobs in the auto industry
Few expected South Korea's new president, who was inaugurated on Tuesday, to be a strong advocate for climate action.
Yoon Suk-yeol
is known for his hawkish foreign policy stance and conservative views on social issues.
Yet, buried within Yoon's campaign promises is a commitment that would set South Korea's auto industry apart as one of the most progressive in Asia. In his election pledge book, Yoon committed to ban the new registration of internal combustion engine vehicles by 2035.
A ban on the sale of petrol and diesel vehicles would have major benefits for South Korea's economy, auto industry and
climate diplomacy
.
If he keeps his word, Yoon's pledge would bring South Korea's fossil-fuel vehicle phase-out timeline in line with International Energy Agency (IEA) recommendations and would position the country as a leading force in the decarbonisation of road transport in Asia.
Canada, the European Union and California have each banned the sale of new internal combustion engine vehicles effective in 2035, and some governments such as Norway and the United Kingdom have set even earlier targets.
A recent study by Cambridge Econometrics and Greenpeace East Asia found that a ban on the sale of new combustion engine vehicles would reduce South Korea's emissions between 2020 and 2050 by an average of 26 million tonnes of carbon dioxide equivalent per year, on a par with Denmark's total annual emissions.
In the US, President Joe Biden has promised US$174 billion in government spending to promote the domestic EV market. His plan is intended to bolster domestic EV supply chains, retool factories to compete globally and create incentives to buy American-made EVs. The EU's 2035 ban on the sale of combustion engine vehicles likewise forces European carmakers to expand their EV production capacity.
Technological advances in Korea's auto and battery industries are also critical to its allies' transition to carbon neutrality, as well as for South Korea to realise its own 2050 net zero commitment.
A study from the European Association of Electrical Contractors found that the transition to electric vehicles would lead to the creation of twice as many jobs as would be lost in the phasing out of combustion engine vehicles, primarily from the installation, operation and maintenance of EV charging points.
Furthermore, the 2035 combustion engine vehicle phase-out target has received widespread support from auto union members in South Korea. Of a sample of over 1,000 workers at Hyundai Motors, Kia and GM Korea, four out of five said they supported a ban on the sale of new combustion engine vehicles by 2035. Nearly two-thirds said they believed the ban should be implemented by 2030.
It appears that at least some faction of Yoon's team has caught on to the benefits of a swift EV transition. On May 3, the presidential transition committee announced its 110 key policy tasks for Yoon's upcoming term, which included increasing supplies of electric vehicles and the creation of a zero-emission vehicle target by 2035.
However, it remains to be seen whether Yoon will enact a full ban on the sale of combustion engine vehicles from 2035. As he looks to secure his agenda and build global influence, the 2035 ban would be a boon for South Korea's economy, diplomacy and the auto industry, as well as urgently needed relief for the climate. However, it must be swiftly put into action.
Erin Eunseo Choi is a climate and energy campaigner at Greenpeace East Asia's Seoul office