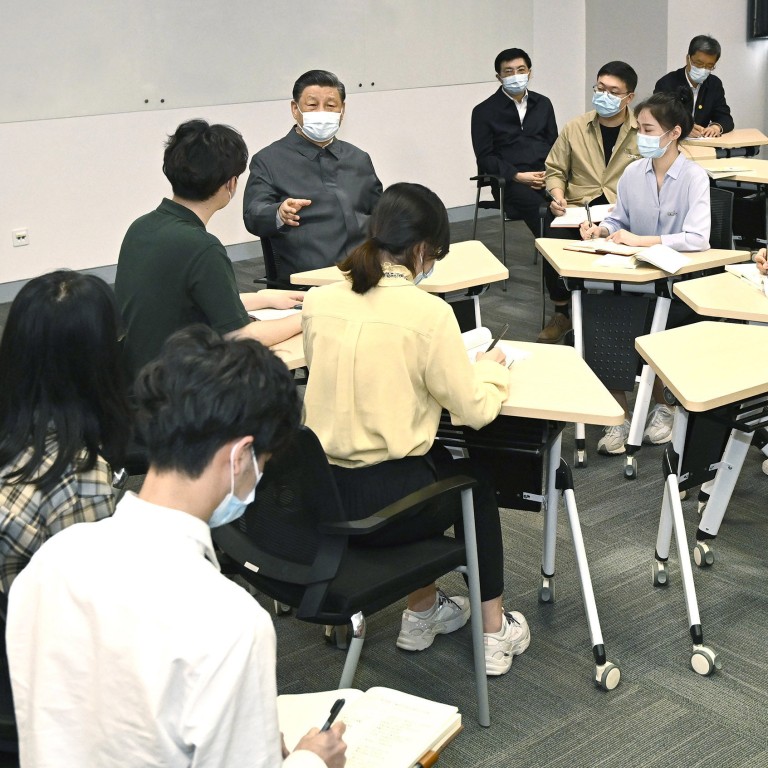 Opinion
Gerard A. Postiglione and Futao Huang
Gerard A. Postiglione and Futao Huang
Why some Chinese universities are opting out of global rankings
During a visit to Renmin University, President Xi Jinping called for Chinese universities to create an independent knowledge system and safeguard their independence
In addition, Chinese universities, having already gained global prestige from their rapid rise in the international rankings, may see little gain in settling for a plateau
World-class universities attract investment which can help diversify the economy and ensure future growth. China learned this early on and even charted its own rise by establishing an international university ranking agency, the Academic Ranking of World Universities (AWRU).
In 2016, two Chinese universities made the top 200 of the Times Higher Education rankings. There were seven in the top 200 of the same ranking
in 2021
, with Tsinghua University and Peking University in the top 25.
Last month, President Xi Jinping visited Renmin University, a leading research institution in Beijing. He suggested China's universities should not blindly follow foreign models. As Renmin specialises in the humanities and social sciences, Xi emphasised Chinese cultural traditions and called on universities to create an independent knowledge system and safeguard their independence.
Soon after, Renmin announced it would
opt out
of international rankings. This was one way to heed Xi's words. Nanjing University and Lanzhou University have
also opted out
of overseas rankings.
A larger trend of universities not participating in international rankings would be part of a strategic move for their long-term future.
China's universities have already gained global prestige from their rapid rise in the international rankings, and the international academic and business worlds have witnessed their upswing. With little chance of displacing the world's top 10 universities in the foreign rankings any time soon, there is little to gain by settling for a plateau.
The AWRU was established in 2003, a year before the Times Higher Education and QS world university rankings. It has a more attractive approach because it eliminates the possibility of bias from the "peer ranking" indicator used by foreign rating agencies. It leaves open the possibility of China's top universities displacing the current top 10 over time, and its data sources are publicly available and can be checked by users.
Beijing's massive investment in university
research and development
aligns with its aim to make China a highly ranked international centre for science and technology.
It intends to draw increasing numbers of leading scientists to serve on its editorial boards and publish in its journals, plus make tenure and promotion less dependent on publications in foreign journals. The humanities and social sciences will continue to be accompanied by a discourse about the rejuvenation of the academy as an institution of higher learning
with Chinese characteristics
.
Because foreign ranking agencies are private and for profit, they will still find ways to rank China's universities. In short, world rankings will continue as a global enterprise, but could lose some lustre if they fail to sustain China's attention.
In fact, the world's top 10 universities already pay little attention to their ranking. Astute university leaders know they should not use the ranking as the sole matrix for further development.
It is too early to say whether Renmin University, Nanjing University and Lanzhou University will be the thin end of the wedge, with many others following suit. In Renmin's case, the
STEM fields
that are central to China's progress in science and technology are less prominent.
Lanzhou University's ranking has left it little interest in participating. For Nanjing, which is already one of China's leading universities, with strengths across many academic and scientific fields, the answer to why it will opt out is less clear.
Tsinghua, Beijing, Fudan and Jiaotong universities have yet to change their position on supplying data for the ranking, even after Xi made a similar speech at
Tsinghua University
in April 2021.
The international ranking of universities by private agencies has become a large enterprise and given birth to an army of consultants who advise universities on how to raise their scores. It is not surprising China is against ranking agencies that are produced and operated by Western companies, especially those from the US and Britain.
It is uncertain whether the ranking of universities has had a negative impact on the formation of a knowledge system with Chinese characteristics. It is also uncertain whether Chinese universities could have risen so rapidly in the global ranking systems without learning from advanced Western countries.
In reality, middle-class households still pay attention to university rankings, even after private tutoring
has been banned
. There might be more bold decisions on higher education, as long as they do not slow China's rapid progress in innovating and leading in many areas of science and technology.
Gerard A. Postiglione is emeritus professor at the University of Hong Kong. Futao Huang is professor at the Research Institute for Higher Education of Hiroshima University, Japan