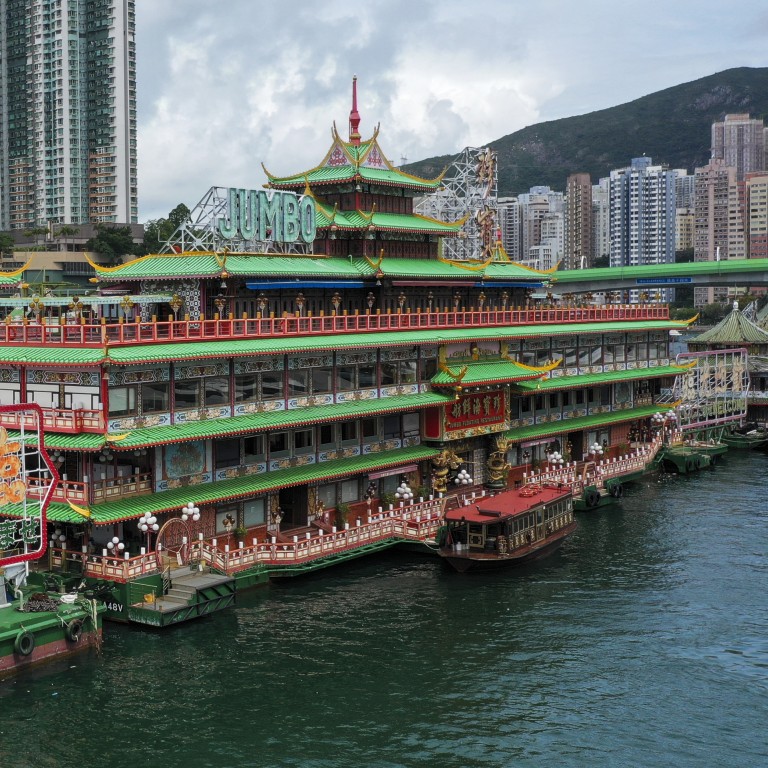 Opinion
Editorial
by SCMP Editorial
Editorial
by SCMP Editorial
Jumbo restaurant loss just a pity for city
In the end, the three-storey floating attraction in Aberdeen Harbour may have drawn tourists, but had limited appeal locally
The Covid-19 pandemic has inflicted many business casualties on Hong Kong, but perhaps none more iconic than the Jumbo Kingdom floating restaurants in Aberdeen's typhoon shelter.
Its immense size, imitation imperial Chinese architecture and elaborate decor made the attraction a renowned landmark and dazzling nighttime sight for decades. Coronavirus rules that have shattered the tourism industry and the high cost of keeping it afloat led to hopes that it could become part of nearby Ocean Park, but talks have floundered.
Jumbo Kingdom, comprising the three-storey Jumbo Floating Restaurant and its smaller and older sister restaurant, Tai Pak, has been one of Hong Kong's major tourist attractions since the 1970s.
Constructed on barges, it has lured a who's who of royalty and celebrities, the novelty being its billing as the world's biggest floating restaurant and, as a result of its rich decoration, a feast for the eye and camera lens.
That put it firmly on the itinerary of tour groups and Hongkongers usually less interested in the somewhat expensive seafood offerings than taking pictures as a memento.
Being more a novelty than a culinary experience, Jumbo Kingdom relied on the tourism industry for profitability. With mandatory hotel quarantine requirements for arrivals, the industry has been temporarily extinguished.
That has left the company behind the operation in a quandary; without certainty about when rules will be relaxed, it laid off staff two years ago and has been paying millions of dollars in upkeep and fees that are unsustainable. An offer to donate it to Ocean Park as part of the government's plans to revitalise Southern district have found no takers.
With no local buyers having been found and an absence of dry dock facilities for repairs and storage, it will be towed elsewhere to await a potential new owner. In the wake of the announcement, a 30-metre kitchen barge capsized.
The attraction graced postcards and featured in films. But unlike theme parks, those who visited it usually only went once for the experience. As such, its disappearance from Aberdeen Harbour will be more a pity than a loss.