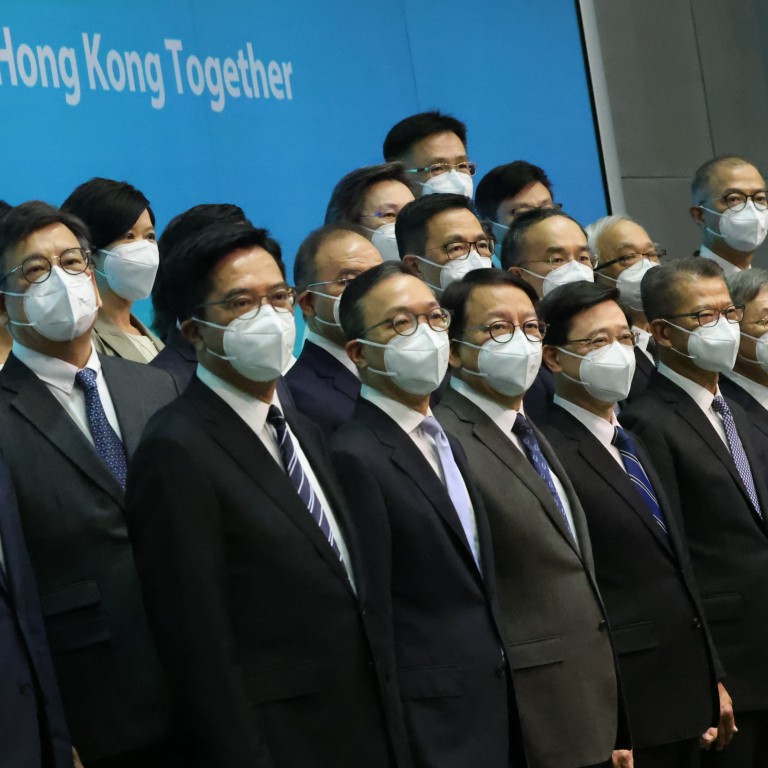 Opinion
Editorial
by SCMP Editorial
Editorial
by SCMP Editorial
The challenges for the new governing team have never been greater
Incoming chief executive John Lee and the key members of his new government face a daunting mission
They carry the high hopes of Beijing and the people of Hong Kong to improve governance and livelihoods, but the tasks ahead will not be easy
Starting a new chapter for Hong Kong together has been the campaign slogan of incoming chief executive John Lee Ka-chiu, and rightly so. The daunting mission will begin on July 1 following the formal appointment of the principal officials of the next government by the State Council yesterday.
The new appointees carry high hopes from Beijing and the Hong Kong community of improving governance and livelihoods in the coming years, though the tasks ahead will not be easy.
With only six incumbent ministers, the chief executive office director and two undersecretaries reappointed, the shake-up is one of the most sweeping. Yet the new ones are mainly drawn from the civil service, the legislature and the public sector in what is seen as a sign of continuity. There are also more female members.
Lee said his new team has diversities and strong execution ability. Whether the public is impressed by the line-up remains to be seen. The appointees have to prove themselves and deliver accordingly.
Beijing's expectations for the new government are reflected in the statements from the two offices in charge of Hong Kong affairs. The State Council's Hong Kong and Macau Affairs Office called for better efforts in five specific areas, namely implementing "one country, two systems" comprehensively; resolving issues like housing, wealth gaps, youth affairs and border reopening; enhancing education, healthcare, welfare and rights protection; promoting greater integration with national development and strengthening the city's international competitiveness.
In another statement, the central government's Liaison Office hoped that the expectations of different sectors will be met with concrete actions. These views are also the aspirations of the Hong Kong public.
The new leader has likened himself to the conductor of a new symphony, pledging to enable individuals in the orchestra to play their strengths for greater synergy. The appointees all have rich experience in their sectors. With just days to go before the five-year term begins, they need to quickly adapt to their new roles.
The challenges are daunting. This includes fighting a fluctuating coronavirus epidemic and putting the economy back on track. The outstanding to-do list inherited from the outgoing administration is also lengthening.
Much has been said about Beijing's new governance approach towards Hong Kong as the city marks the 25th anniversary of reunification with China. But the need for committed and capable leaders remains unchanged.
The city is entering a new phase under one country, two systems, and an array of deep-seated problems are still awaiting solutions. The challenges for the governing team have never been greater.