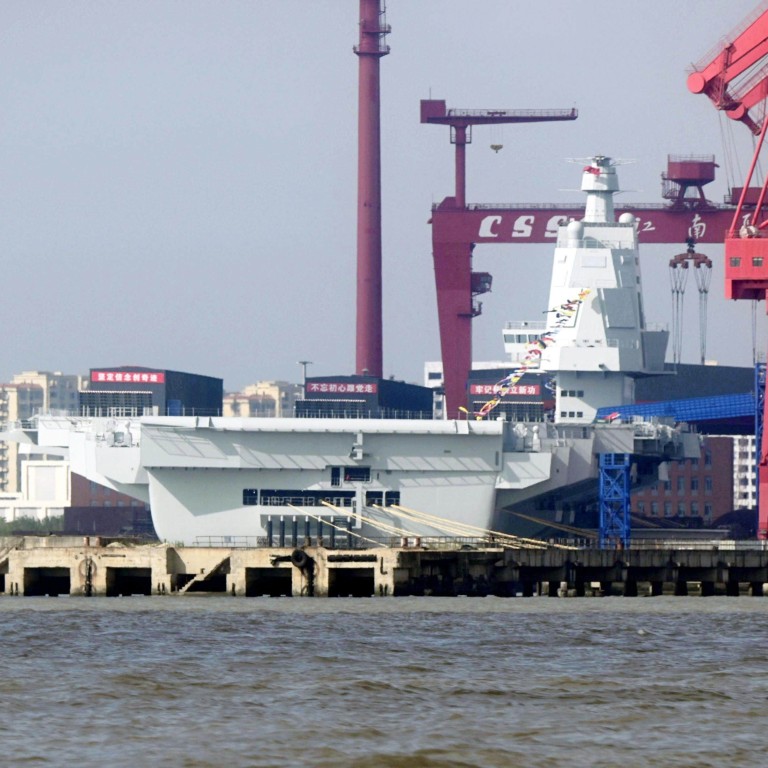 Opinion
Editorial
by SCMP Editorial
Editorial
by SCMP Editorial
New aircraft carrier will help defend China interests
Latest state-of-the-art warship adds to show of military might and will serve as a deterrent thanks to the message it sends to outsiders
The launch of China's third aircraft carrier, the Fujian, gives the nation its minimal maritime capacity to protect its territory. A successful anti-ballistic missile test conducted within the country's borders was similarly defensive in nature.
The United States and its allies contend such developments are provocative and justification for their militaries to step up naval and air patrols in the region. But their actions are raising tensions and ignore Beijing's right to defend core interests and sovereignty in all its forms.
Beijing's ambitions are to have at least six fully operational aircraft carrier battle groups by 2035. Each new vessel launched improves expertise and technology.
The first, the Liaoning, was half-constructed when bought from Ukraine and used for training after being commissioned in 2012, and the second, the Shandong, which became operational in 2019, was wholly built in China.
Fujian advances the process with a state-of-the-art electromagnetic catapult system to launch planes, allowing bigger payloads of fuel and munitions and enabling more sorties over longer distances.
Carriers are a show of military might and resolve and act as a deterrence due to the political message their presence sends to outsiders. Anti-ballistic missile systems are also about defence, shielding a country from potential attack by using projectiles to intercept incoming rockets.
China's latest test on Sunday is believed to be its sixth since 2010 and comes as neighbouring North Korea has stepped up missile launches, prompting warnings from rivals the US, South Korea and Japan. Beijing criticised Washington last month for deploying medium-range ballistic missiles in the Asia-Pacific region.
China needs to modernise its military and improve defensive capabilities to protect sovereignty and interests at home and abroad.
Goading of Beijing by the US and its allies through warship manoeuvres, particularly around Taiwan and in the contested waters of the South China Sea, and surveillance plane flights and weapons deployments, are bound to raise regional tensions.
Communication and diplomacy are the best ways for governments to lessen suspicion and build understanding. As China grows in strength and influence, the world has to appreciate its needs and responsibilities.