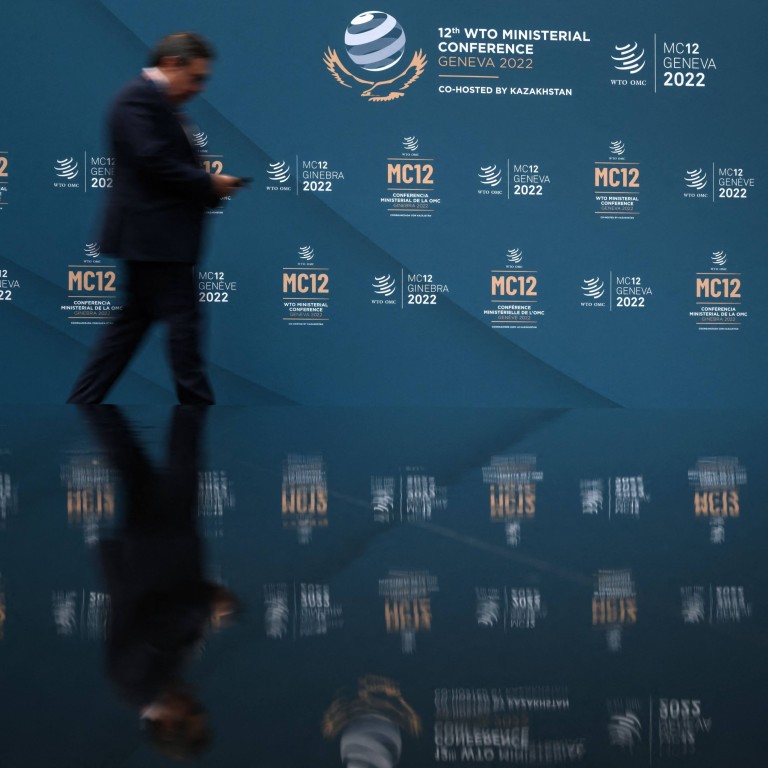 Opinion
Editorial
by SCMP Editorial
Editorial
by SCMP Editorial
Important deals show WTO remains best way to get job done
Results of the global trade body's ministerial meeting have been welcomed, giving the United States time to reflect on why it is obstructive and fails to offer unqualified support, like China
For all its flaws, the World Trade Organization is still the only international economic body with the authority to facilitate multilateralism and protect fair trade.
Some critics had warned the latest ministerial meeting, which took place in Geneva earlier this month, could be the last chance for the trade body to prove its relevance at a time of rising protectionism, unilateralism and intensifying rivalry between China and the United States.
It also shows that China, as one of two superpowers, has consistently offered near unqualified support for the trade body, rather than relentless criticism and obstructionism. WTO statistics on disputes under its adjudication prove this, and paint a rather different picture than the one by Washington. Since joining the WTO in 2001, China has been a complainant in 22 cases, and a respondent in 49 cases of trade and tariff disputes.
In fact, complaints against China have fallen from four or five a year in 2008 to just one or two annually since 2020. This is prima facie data showing China's willingness to adhere to WTO rules. Meanwhile, as a complainant, China reached a record during former president Donald Trump's tenure, filing a record six cases against the US between 2018 and 2019 for various tariffs.
Today, globalisation is under threat. The US is working to form its own trade and security blocs in Europe and Asia. It is therefore important the world speaks with a loud and clear voice that the WTO remains the most viable platform to set fair trade rules and resolve disputes.
It also offers developing countries the best chance for a fair hearing against more powerful and richer nations. That is one reason Washington has worked to undermine it, such as by blocking the nomination of new appeal court judges, leading to ongoing paralysis.
The latest overhaul of rules will go some way to re-establishing the WTO's authority. The agreement to limit fishing subsidies is only the second multilateral deal on global trading rules struck under the WTO in its 27-year history and is far more ambitious than the first, which aimed to cut red tape.
The limited waiver for developing countries to manufacture some Covid-19 vaccines is also seen as a political success, despite the resistance of international pharmaceutical companies. All in all, it has been a most productive time for the global economy.