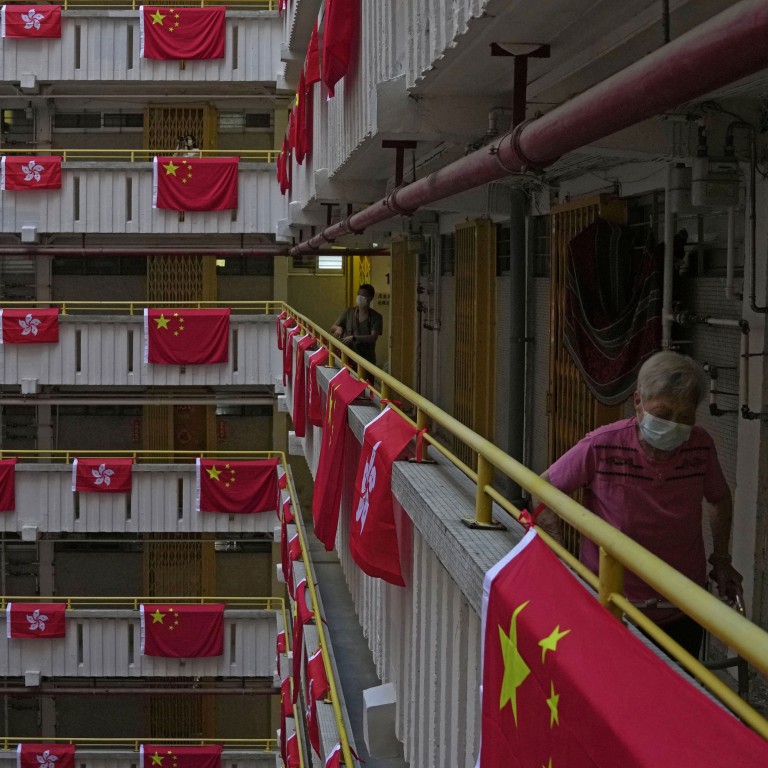 Why we should be proud of Hong Kong's evolution into a dynamic, prosperous city over the past 25 years
The city has matured considerably despite being new to governing itself following the handover in 1997
If Hong Kong continues to play a key role in serving China's interests, there is no reason one country, two systems cannot extend beyond 2047
I vividly recall the handover ceremony on July 1, 1997 as an ordinary citizen of Hong Kong. No one knew how "
one country, two systems
" would work out, as it had never been tried before. As with any new adventure, I felt a sense of anticipation and excitement over being masters of our own fate, but also a bit of trepidation about the unknown.
Different people had their own interpretations of the meaning of two systems under one country. Many felt the two systems were segregated and completely separate unto themselves and that things would never change. Others felt the two systems were connected and linked by borders, people and country.
In 1997, Hong Kong was new to governing itself. While
the Basic Law
laid out the fundamentals, as with anything else, governance requires actual practice rather than just learning theoretically.
Since I became a lawmaker in 1998, I have had the privilege of taking part in governance and leadership together with my fellow colleagues in government. We learned a lot in the ensuing years.
Hong Kong has developed considerably over the past quarter of a century. Its maturation has seen tranquillity interspersed with drama.
The city
has aged
in the past 25 years. In 1997, 14.5 per cent of the population was over 60; by the middle of last year, that figure was almost 28 per cent.
This exceptional place – which is unusual in its embrace of local and foreign – has gone from strength to strength in wealth and prosperity. Hong Kong's
per capita GDP
has increased from around US$27,000 in 1997 to over US$46,000 in 2020, more than quadruple the global figure.
We have become more connected to the mainland over the years. Our rapid transit system, the MTR, has expanded from three lines in 1997 to 10 lines and 98 stations with some direct
connections to Shenzhen
. A high-speed rail link and new bridge also link Hong Kong with the mainland.
More than 1.5 million mainland Chinese have immigrated to Hong Kong since the handover. They now make up about 20 per cent of the population.
There is a notion that China "pushed" itself onto Hong Kong, but in reality Hong Kong "pulled" China in. When
the economy
was struggling in 2003, during the severe acute respiratory syndrome outbreak, then chief executive Tung Chee-hwa flew to the mainland to seek help in reviving our economy. Mainland consumers started arriving in Hong Kong soon after, and integration with China sped up economically and socially.
Mainland companies now account for almost 80 per cent of Hong Kong's stock market and the majority of its IPOs. Economically, the mainland has been Hong Kong's largest trading partner since 1985 and has long been our largest supplier of goods.
Hong Kong is a
premier financial centre
and home to the world's largest offshore renminbi market. Before the Covid-19 pandemic, hundreds of thousands of commuters and
28,000 students
travelled back and forth daily between Hong Kong and the mainland.
Hong Kong has changed significantly in 25 years, though the essence of one country, two systems remains the same. We still have our special trade status, independent judiciary and free flow of currency and information.
Going forward, Hong Kong and its 7.4 million people can play a key role in serving the interests of China and its 1.4 billion people. If it does so, there is no reason the model of one country, two systems cannot extend
beyond 2047
. We have overcome many challenges in the past, and I know we can tackle any that lie ahead.
The Greater Bay Area has been China's laboratory for
economic reform
and opening up, much of it through market-driven interactions with Hong Kong. We can play the role of testing ground for transforming institutions, rules, regulations and standards.
As a global financial, trade and business powerhouse, Hong Kong can spearhead China's further integration into the global market. Hong Kong has long acted as a gateway and the bridge between China and the rest of the world.
As with any 25 year old, there are still some kinks to iron out, but overall I would say that Hong Kong has flourished and grown into a dynamic, prosperous society we can all be proud of.
Bernard Chan is a Hong Kong politician and businessman and a former Executive Council convenor