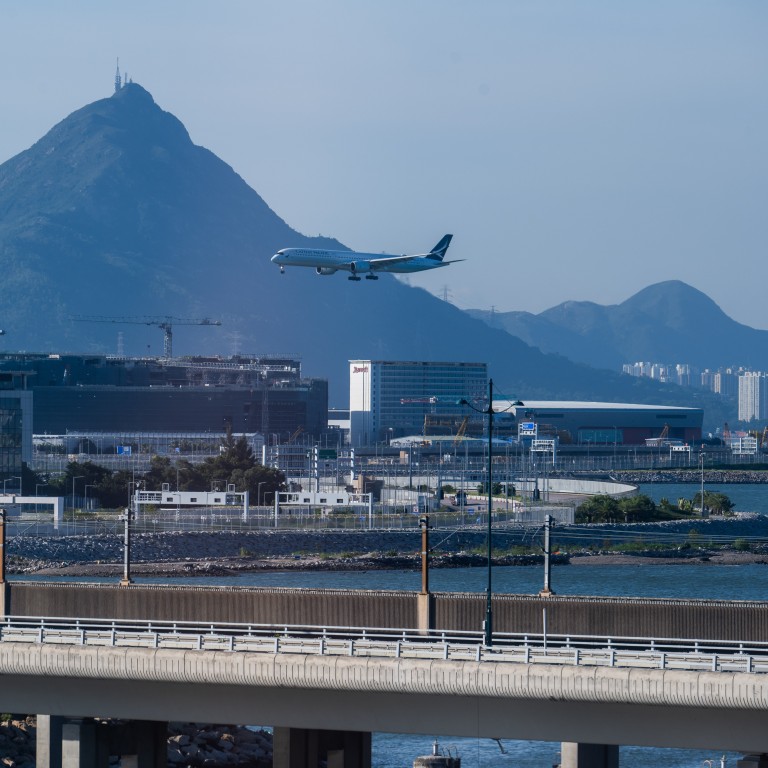 Hong Kong is now better equipped to deal with Covid-19 and open up to the world
The city's new health secretary has pledged to use scientific, effective and precise measures to achieve maximum results
For Hong Kong, the best measure would be to map a science-based exit path from the pandemic, as befits a global financial centre
It is encouraging that the
new chief executive
is considering options to reopen our borders. This is critical to maintaining Hong Kong's multiple roles as an international financial centre, aviation hub and a super-connector.
In the US, where Covid-19 has killed more than 1 million people, the discord between then president Donald Trump and public health scientist Anthony Fauci demonstrated that putting politics ahead of science costs lives.
Hong Kong is lucky to have many world-class public health academics. Even if they don't unanimously agree on any public health measure or strategy, their majority view should form the basis for the government's decisions. Thus, the
new health secretary's
pledge to use scientific, effective and precise measures to achieve maximum results at minimum cost is welcome.
It is clear that Hong Kong has lost a lot of talent and business opportunities recently, as a result of our well-intentioned "dynamic zero Covid" policy. Major push factors have included
forced separation
of infected children from parents in hospitals,
suspension
of school classes, and the flight suspension mechanism, which has caused misery to passengers booked on abruptly cancelled flights.
The fact is that once people relocate to other cities with fewer or no pandemic restrictions, find schools for their children and settle down, they are very unlikely to come back, given the high cost of relocation and their bad memories of the city's Covid-19 policy.
Now that Hong Kong has brought the fifth wave under control, it is time to show that the city still enjoys a high degree of autonomy by opening up to the rest of the world now.
Hong Kong's hard-earned
hybrid immunity
, through a combination of vaccination and Covid-19 infection, is demonstrable by the steady and low case numbers, following Easter and subsequent long weekends. Even with the recent rebound, the number of severe Covid-19 cases and deaths has remained low.
While Covid-19 is not just flu, two freely available vaccines (three shots of either Sinovac or BioNTech are 98 per cent effective against severe disease or death), two recently available
oral antiviral drugs
(Paxlovid and molnupiravir) and our much increased "surge" capacity means Hong Kong is now better equipped to cope with a resurgence of Covid-19.
Of course, Hong Kong should remain vigilant and maintain the capability to control the risk of any virulent variant being introduced, and to respond with scientific, consistent and proportionate measures which the sensible majority will support – such as promoting frequent rapid antigen testing by distributing free kits and taking targeted measures to mitigate any community outbreak.
These measures should never include locking down Hong Kong to conduct universal testing, which is not a cost-effective strategy for the Omicron variant that tends to cause mild illness in triple-vaccinated individuals. Besides, given that Covid-19 is likely to return in ever more transmissible forms, how many times could we afford such an exercise?
Our health officials should articulate public health policies based on science, which is telling us that maintaining a zero-Covid policy indefinitely is extremely difficult. It's also costly: Hong Kong's economy
shrank by 4 per cent
year on year in the first quarter of 2022, even as Singapore's grew by 3.7 per cent. Meanwhile, the net population outflow from Hong Kong was more than 140,000 for the first half of the year.
The authorities should warn the public to proceed on the assumption that they will catch Covid-19 sooner or later; thus, getting three shots of either vaccine is safer than simply hoping they will not catch coronavirus.
The fully vaccinated majority should not be held hostage by the minority, who should take responsibility for their own choices. The fact that more than 12 billion vaccine doses have been given worldwide means that the initial misinformation about vaccines is just that.
The rise in vaccine uptake induced by the latest
vaccine pass deadline
is proof that coercive policies work. The government should set a timeline for further easing Covid-19 restrictions and opening up, to forewarn the unvaccinated. There are still too many eligible residents who have yet to have a third shot.
Currently, most daily new cases are local. The import of variants can be prevented by pre-travel and on-arrival PCR testing, plus a three-day home quarantine. Those who test negative on Day 4 could go out but continue to self-monitor for another four days.
This process is evidence-based, given the
short incubation period
of Omicron. University of Hong Kong virologist Malik Peiris has even proposed dropping mandatory quarantine for inbound travellers, while HKU epidemiologist Ben Cowling is of the view that quarantine can delay but does not ultimately prevent local outbreaks.
Each jurisdiction must decide what is best for its population. It is clear that Hongkongers desire an exit path from the pandemic to be mapped out, as befits a global financial centre.
Of course, it would be perfect if Hong Kong could reopen the borders with the rest of the world and the mainland at the same time, but opening the mainland border is beyond our control and we shouldn't let perfect be the enemy of the good.
Having just celebrated the 25th anniversary of Hong Kong's return to the motherland, the new administration should start with the low-hanging fruit and open up to international travel first. This should pose no additional risks to the mainland as long as there are transmission controls at our northern border, and may even serve as an example of how to return to normality.
Dr Nelson Wong is vice-chairman of The Business and Professionals Federation of Hong Kong