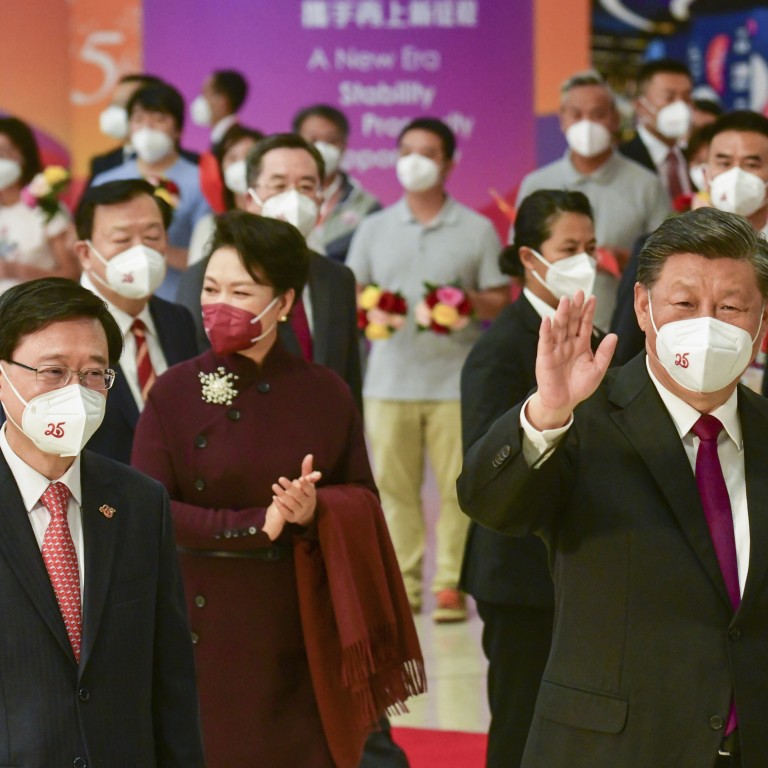 Xi Jinping's July 1 speech offers Hong Kong room to transcend petty politics
Taking the long view on 'one country, two systems', President Xi Jinping essentially set the path for the formula to continue beyond 2047
In addressing Hong Kong's uniqueness in his speech, he allowed us to understand there is room in the city for differences
Last Thursday, the Legislative Council conducted a six-hour debate on
President Xi Jinping's July 1 speech
, mulling over how to implement his instructions. Thus, in addition to scrutinising legislation and putting questions to government officials, the council is going to roll up its sleeves and take part in delivering on Xi's instructions.
It was also revealed by Legco president Andrew Leung Kwan-yuen that there would be monthly executive-legislative meetings, as proposed by the new chief executive, John Lee Ka-chiu, to facilitate collaboration and discussion. These "antechamber chats" would allow in-depth discussions on policies and public sentiment on key issues before they become official Legco business.
And with this, hopefully, the relationship between the Executive Council and Legislative Council will no longer be dysfunctional. Before the revamp of Legco, there was endless drama and very little got done; after the revamp, Legco has had to battle the perception that it is a
rubber stamp
. Given this context, it is a good idea to give lawmakers a chance to contribute to policymaking in more meaningful ways.
Leung was very clear about what their enhanced role would require, saying: "Legco members must work with the new administration through thick and thin and seek as much common ground as possible throughout the policymaking process. Through an ethos of mutual accountability and collaboration, we must seek truth from facts and never fall short of the expectations of the nation and the people of the [special administrative region]."
The proposed antechamber chats up the stakes for the two councils, which are expected to not only play nice but also develop a working relationship. The government must consider the lawmakers' input, giving them a bigger role in the policymaking process, and both sides can hash out their differences early on.
But what about ordinary people like us? What message did the president have for us?
While he reiterated the central government's comprehensive jurisdiction over Hong Kong and the need for the comprehensive and accurate implementation of one country, two systems, he also devoted a good part of his speech to addressing and articulating what he saw to be this city's uniqueness. And he took the time to address our struggles and challenges.
Given that President Xi sees one country, two systems as a formula for inclusiveness, we should understand there is room in Hong Kong for more differences. One country, two systems need not be one country versus two systems; at the same time, the workings of this principle cannot and will not always be seamless.
Alice Wu is a political consultant and a former associate director of the Asia Pacific Media Network at UCLA