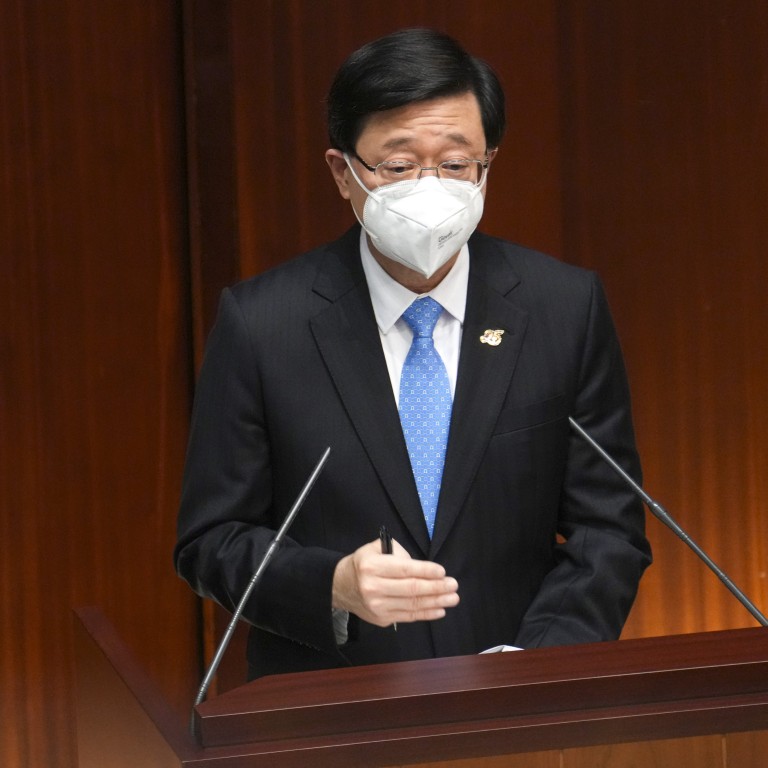 Opinion
Editorial
by SCMP Editorial
Editorial
by SCMP Editorial
People need to feel the benefit as John Lee appears to make decent start
There is more to good governance than just working together to get things done. Hong Kong's new chief executive has to enhance the city's development and citizens' livelihoods
Barely 11 days into office, John Lee Ka-chiu has sought to distinguish himself as an action-oriented leader. With
four high-level government working groups set up
to tackle key problems and a commitment for regular informal exchanges with lawmakers, the chief executive's first question and answer session at the Legislative Council appeared to have got off to a good start. But as Lee stressed, what matters is the outcome. The initiatives should be followed by detailed action plans and, ultimately, better development and livelihoods for the people.
The new leader has set the right tone by emphasising a strong accountability culture. Specifically, the four groups will be led by the chief secretary, the financial secretary and their deputies, focusing on lifting disadvantaged students out of poverty, enhancing land and housing supply, coordinating district affairs and steering public housing projects. All ministers are also required to submit targets on designated projects by next month. Separately, a "chief executive's policy unit" will be established to assess the international outlook and ensure government policies are in tune with public aspirations as well as the national development interest.
Previous governments employed different mechanisms to tackle poverty, housing and other issues of public concern. The new leader is entitled to put in place the structure he sees fit. Whether the initiatives can deliver better solutions will be closely watched.
To enhance the working relations with Legco, Lee said his team would hold monthly talks with members inside the antechamber. We trust the regular short and full question and answer sessions for the chief executive will continue. They are important occasions for the public and the media to keep tabs on the interaction between the executive and the legislative branches.
Hong Kong's new chapter, Lee said, was underpinned by a constructive working relationship with lawmakers. However, questions have been raised as to whether a council devoid of an opposition bloc will become a rubber stamp. Even though the electoral revamp is said to have enhanced political representativeness and diversities, some people think their voices cannot be reflected. It is important for the new government and the legislature to reach out to the wider community.
There is more to good governance than just working together to get things done. Cooperation aside, the checks and balances stipulated under the Basic Law must not be compromised. It is good that the principle of the executive and the legislature discharging their constitutional roles respectively is also upheld by Beijing. The ultimate goal is to enhance the city's development and people's livelihoods. Hopefully, a lot more will be achieved.