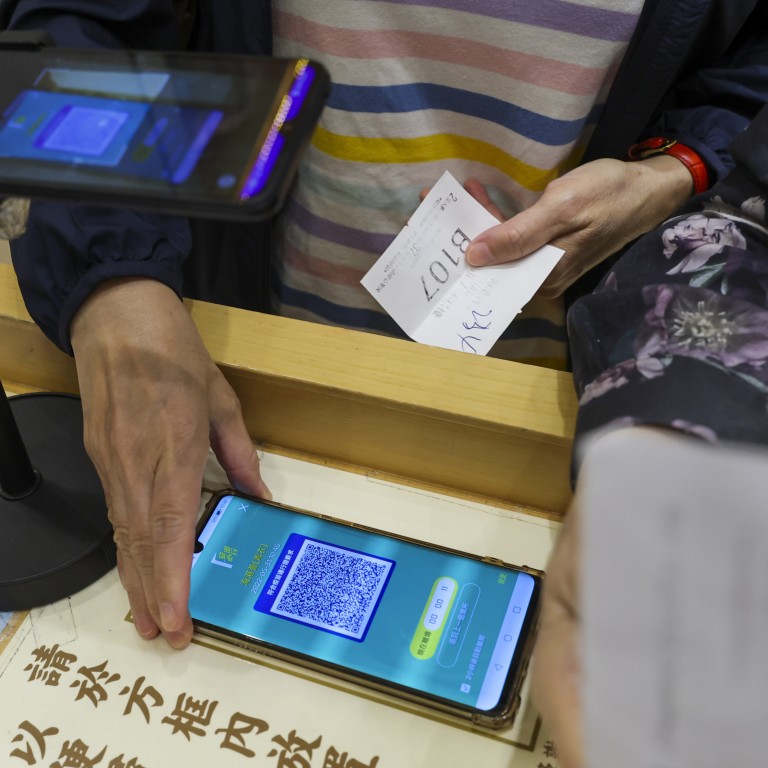 Opinion
Editorial
by SCMP Editorial
Editorial
by SCMP Editorial
Fears must be eased before Hong Kong code system is given the green light
Controversial mainland-style measure soon to be imposed on city in fight against Covid-19 has fuelled scepticism and opposition among the public
From traffic lights to rainstorm warnings to travel alerts, the use of colours has long been part of Hong Kong life. A mainland-style colour-coded system will soon be imposed in yet another controversial step to combat the prolonged Covid-19 pandemic.
Understandably, its use in limiting access to premises has fuelled scepticism and resistance. With the daily number of cases stubbornly high and the way forward unclear, the public needs to be convinced that such a restrictive measure fits the wider strategy and can effectively bring lives back to normal.
Based on health-risk assessment, the "Leave Home Safe" risk-exposure app will show red and yellow codes that deny users access to specific places. The government said only patients and those in quarantine will be targeted initially, but conceded it may be adjusted in light of the pandemic situation.
The upgraded app will also introduce new identification functions, such as a real-name registration that enables access to users' personal information.
It remains to be seen how the measure will effectively curb the virus. The two initial target groups are supposed to be confined to hospitals, hotels and quarantine centres or be at home anyway.
Notwithstanding punishment for non-compliance and a new safeguard requiring patients under home isolation to wear a wristband with tracing functions, officials argue that the system is still needed to stop those who are irresponsible from infecting others.
The neighbouring city of Macau is also using such a system to fight the pandemic and, while its wider application may to a certain extent help stop patients and those at high risk from infecting others, the casino hub is struggling to contain a widening community outbreak. The mainland has also suffered resurgences in infections from time to time.
In any case, the system cannot curb invisible transmissions by many who may not even be aware that they are carrying the virus. Those who self-test positive through the use of rapid antigen test (RAT) kits but do not report to the health authorities will not be caught by the code system either.
The new government has pledged to tap people's views when formulating policies and legislation. The sensitivity involved in the introduction of the system makes public engagement all the more important.
The concerns are not only about real-name registration and access to personal details, but also the potential wider application that may result in the tracking of personal movements, more restrictions and further inconvenience to one's way of life.
The government needs to better address such worries and show how the new measures can be included in a clearer and more effective strategy to help curb the contagion.