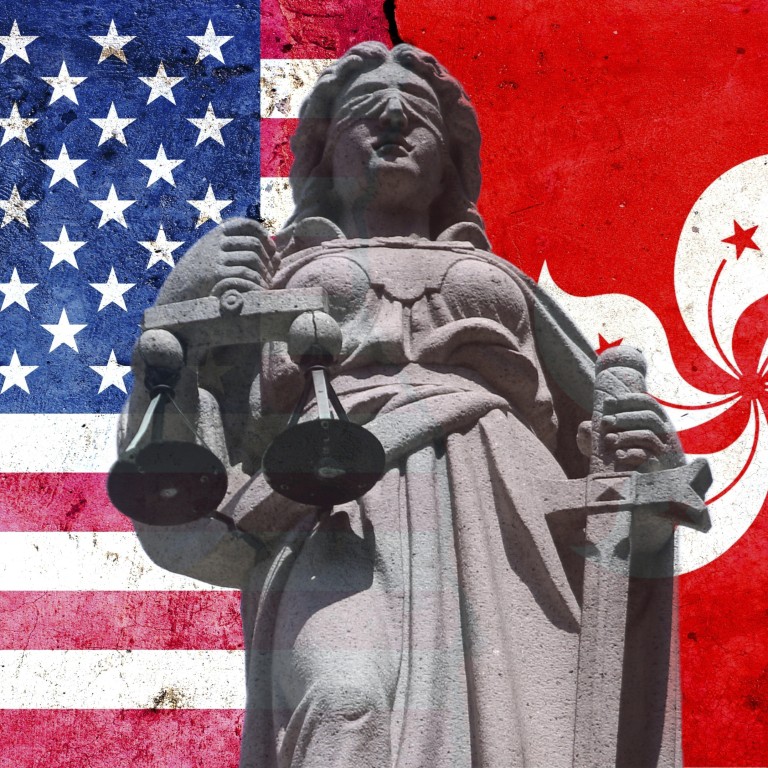 Hong Kong's prosecutors will not bow to intimidation amid threat of US sanctions
Call by US lawmakers to punish the justice secretary and 15 prosecutors for their work on national security and protest-related cases is a shocking violation of international norms and an affront to criminal justice
The US Congressional-Executive Committee on China (CECC) was established in 2000, after the normalisation of trade relations with China. It purports to monitor human rights and rule of law issues in China. As China's world role has expanded, the committee has become
increasingly hostile
, as its July 12 "staff research report" shows.
It comprises 17 commissioners, drawn from the US Senate and House of Representatives. They include Marco Rubio, who once
urged the Nobel Peace Prize Committee
to give its cherished award to the leaders of Hong Kong's protest movement, and Vicky Hartzler, who made headlines last May when, with six other Republican Congressional members, she urged President Joe Biden to
sanction Hong Kong judges and prosecutors
involved in handling national security cases.
The committee has now called for Secretary for Justice Paul Lam Ting-kwok and 15 of his public prosecutors to face punitive measures because of their involvement in prosecuting individuals suspected of committing national security and protest-related crimes.
The CECC has sought to intimidate them even though they are neither lawmakers nor politicians. Although this is a violation of international norms and an affront to criminal justice, it is not the first time the US has threatened independent prosecutors in recent times.
On September 2, 2020, then-president Donald Trump imposed sanctions on the prosecutor of the International Criminal Court, Fatou Bensouda, and her deputy, Phakiso Mochochoko, because he objected to their
investigation
into whether American personnel had committed war crimes and crimes against humanity in Afghanistan.
Although Bensouda, by virtue of the UN's Rome Statute, was required to pursue this investigation, Trump imagined he could bully her and her staff into desisting. This, of course, was grossly improper, and once Biden became president, he rescinded the sanctions. He will also hopefully disregard the CECC's latest report, as he did the earlier request by Hartzler's group of seven.
In all common law jurisdictions, prosecutorial independence is an integral part of the rule of law, and attempts to subvert it are deplored by civilised governments, and are often also prosecutable crimes.
In 1990 in Cuba, the 8th UN Congress on the Prevention of Crime and the Treatment of Offenders adopted its "Havana Declaration", which provides that: "States shall ensure that prosecutors are able to perform their professional functions without intimidation, hindrance, harassment, improper interference or unjustified exposure to civil, penal or other liability". It is this that the CECC seeks to violate.
In Hong Kong, prosecutorial independence, previously a convention, is now guaranteed by the Basic Law. To seek to interfere with the decisions of prosecutors is not only constitutionally proscribed, but may also amount, for example, to attempting to pervert the course of public justice.
Since 2001, Hong Kong's Department of Justice, through its prosecutions division, has been an organisational member of the International Association of Prosecutors (IAP).
The association's "standards of professional responsibility and statement of the essential duties and rights of prosecutors" stipulate that: "The use of prosecutorial discretion, when permitted in a particular jurisdiction, should be exercised independently and be free from political interference."
As this can only mean interference from any quarter, local or foreign, it must be hoped that the US Department of Justice, which is headed by attorney general Merrick Garland and is also an IAP organisational member, will ensure that prosecutorial independence in Hong Kong is duly respected, and the CECC report stopped in its tracks.
Although Hong Kong's prosecutors may be alarmed over the CECC's intimidatory tactics, they are men and women of honour, and will not buckle. As professionals, they adhere to the traditions of the common law world, and only prosecute suspects when this is justifiable, having regard to the law and the evidence.
As their prosecution code states: "A prosecutor is required to comply with and promote the rule of law". Everybody may be reassured that, like Bensouda and her staff, they will not be deflected from this sacred duty.
On July 11, in his farewell speech to the American Chamber of Commerce, outgoing US consul general Hanscom Smith
reportedly denied
that there had been any foreign interference in Hong Kong affairs. He will, therefore, have been blindsided by the CECC's report the following day.
When, however, he returns to Washington, he will hopefully explain to the CECC that Hong Kong's rule of law is intact, that independent prosecutors faithfully uphold criminal justice, and that criminal suspects are only ever convicted if their guilt has been proved beyond reasonable doubt in a court of law.
Grenville Cross SC is a criminal justice analyst