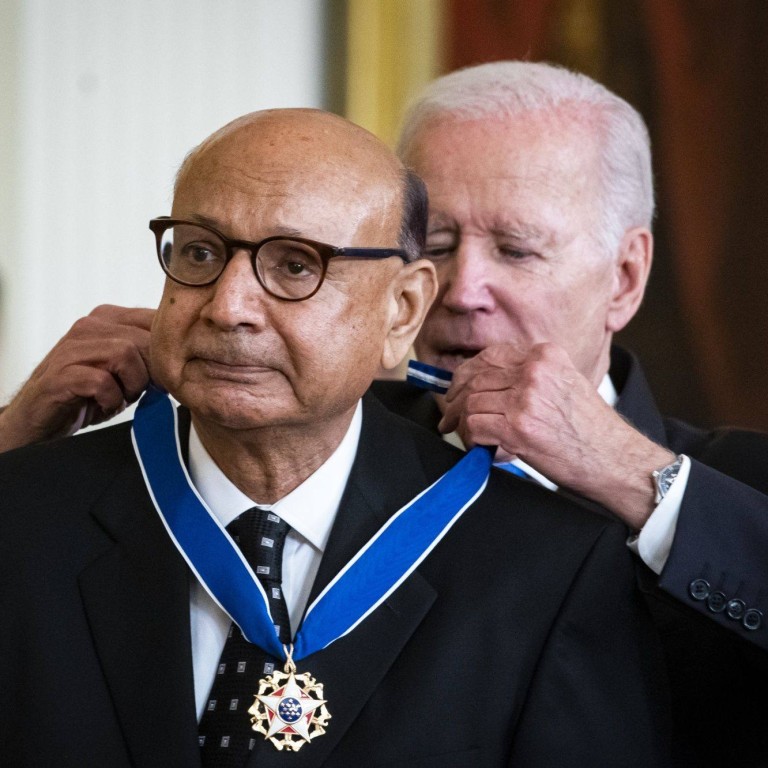 Biden's Medal of Freedom picks a reminder of US lack of regard for Asian-Americans
In the nearly 60 years since the establishment of the highest civilian honour in the US, only 11 Asian-Americans have been chosen among almost 700 recipients
Addressing this underrepresentation would be a meaningful way for Biden to show he is sincere when he says he cares about Asian-Americans
When US President Joe Biden handed out his first Presidential Medal of Freedom awards last week, he said "this is America" in reference to the diverse array of people to receive the nation's highest civilian honour.
In many respects he was correct, as the recipients were diverse in race, gender, age and sexual orientation. But, just as Biden's promise to appoint a cabinet that "looks like America" fell short of
inclusion for Asian-Americans
, members of the community were also under-represented as recipients of the award.
President John F. Kennedy established the Presidential Medal of Freedom in 1963 to recognise contributions to "the security or national interests of the United States, or world peace, or cultural or other significant public or private endeavours".
Recipients have included luminaries in film, music, athletics, academics, government, journalism and science. Biden's list included gymnast
Simone Biles
, actor Denzel Washington, late Apple founder Steve Jobs and the late Republican Senator
John McCain
.
Over the years, many of the most recognisable names of the 20th century have been honoured, such as poet TS Eliot, civil rights leader Martin Luther King Jnr, astronaut Neil Armstrong, athletics star Jesse Owens, actress Audrey Hepburn and singer Aretha Franklin.
Biden himself
received the medal
from president Barack Obama in 2017. While a president can award the medal at any time, typically the announcement of recipients is made around July 4 with the awards distributed soon thereafter.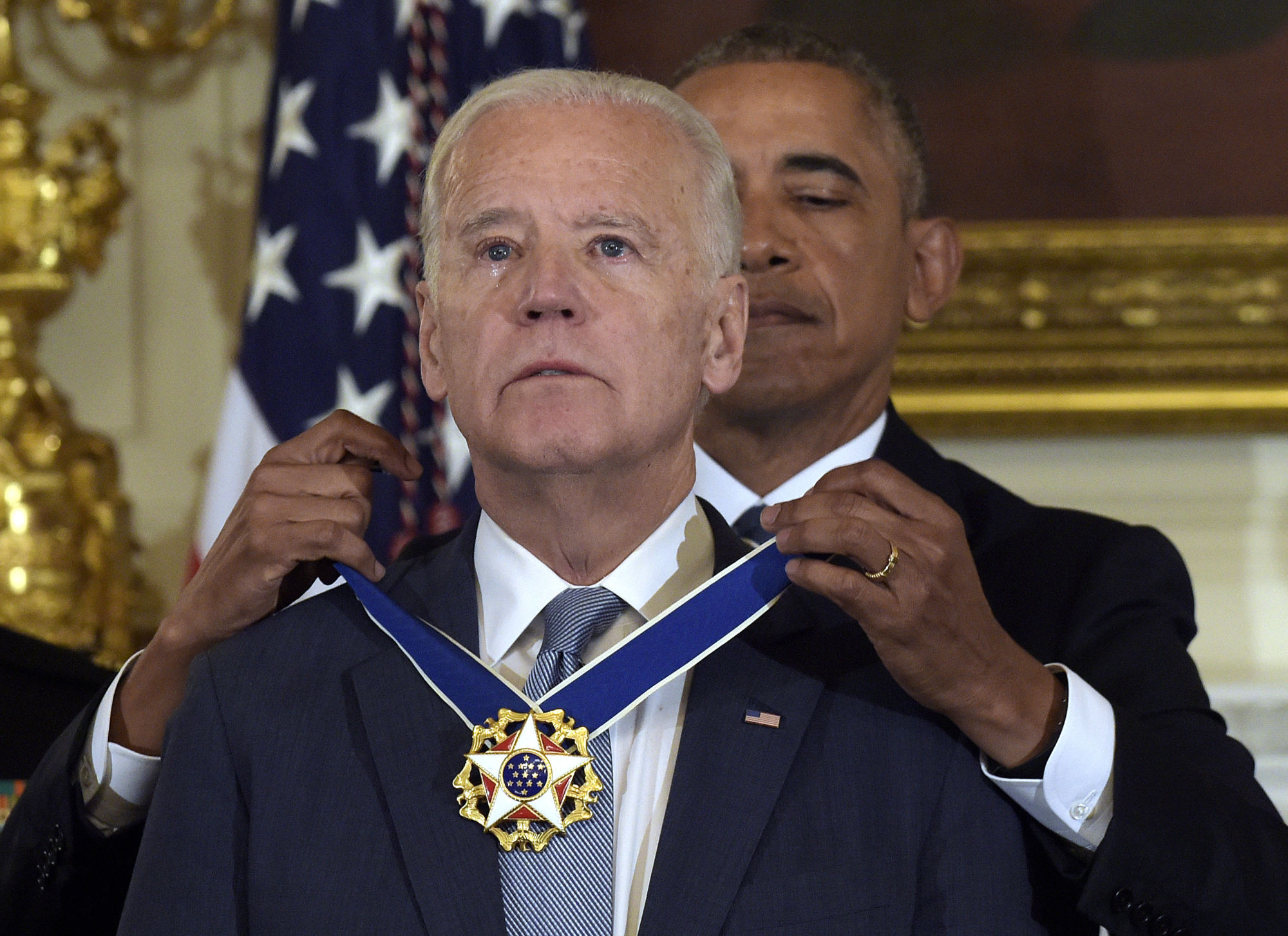 The Presidential Medal of Freedom is not limited to US citizens. Former British prime ministers Margaret Thatcher and Tony Blair received the award, as did German chancellors Helmut Kohl and Angela Merkel, former Australian prime minister John Howard and Colombian president Álvaro Uribe.
But despite the
long-standing alliances
with Japan and South Korea, no leader or official from either country has received the medal. President Bill Clinton awarded the medal to democracy activist Aung San Suu Kyi, then under house arrest, in absentia in 2000.
A petition has since circulated to rescind her medal following criticism of her government's policies towards the Rohingya. No provision exists to revoke a Presidential Medal of Freedom, though, as the Obama administration said after calls to rescind the medal awarded to comedian Bill Cosby, following
sexual assault allegations
against him.
Given the scope the president has, it stands to reason that the list of awardees should be
diverse and representative
of US society. However, just 11 out of nearly 700 medals have gone to Asian-Americans in the nearly 60 years since the award's establishment.
None of Kennedy's intended recipients were Asian. Presidents Lyndon Johnson, Richard Nixon, Gerald Ford and Jimmy Carter awarded nearly 200 medals, but no Asians were among the recipients.
The first Asian-American to receive the award was Chinese-American computer scientist An Wang, whom president Ronald Reagan honoured in 1986. President George H.W. Bush gave the award to renowned architect
IM Pei
in 1992.
Clinton recognised Japanese-American activist Fred Korematsu in 1998 in recognition of his activism against
Japanese internment
during World War II.
George W. Bush presented the medal in 2006 to Norman Mineta, a Japanese-American who served in Congress before becoming the nation's first Asian-American cabinet secretary.
Obama presented by far the most Medals of Freedom to Asian-Americans. He posthumously recognised four Japanese-Americans – anti-internment activists Gordon Hirabayashi and Minoru Yasui, World War II veteran and former US senator
Daniel Inouye
and former Congresswoman Patsy Takemoto Mink.
He also gave the award to two Chinese-Americans, cellist
Yo-Yo Ma
and
Maya Lin
, who designed the Vietnam War Memorial in Washington. Donald Trump awarded 24 medals, but none to Asian-Americans. Biden's first group of recipients included one Asian-American:
Khizr Khan
, a Pakistani-American who advocates for religious freedom and families of service members killed in action.
Underappreciation of Asians is nothing new in the US. Their underrepresentation among Presidential Medal of Freedom honorees highlights their lack of opportunities in the upper echelons of American society.
This does not mean there is a lack of worthy Asian and Asian-American candidates. Several accomplished Asian-American scientists deserve consideration, including Chien-Shiung Wu, a Chinese-American nuclear physicist. In sports, there is Apolo Anton Ohno, the most decorated US Winter Olympian, and
Ichiro Suzuki
, who looks likely to be inducted into the Major League Baseball Hall of Fame.
Activists such as the late Grace Lee Boggs and photographer Corky Lee likewise deserve greater recognition. Worthy candidates from the entertainment industry include filmmaker
Ang Lee
, the first non-white person to win an Oscar for directing, and actor
George Takei
, who has advocated for Japanese and Asian-Americans as well as the LGBT community.
Recipients need not be limited to the 20th century. An award should also be considered for
Wong Kim Ark
, a Chinese-American who sued for citizenship rights and helped created the precedent for birthright citizenship, as well as his great-granddaughter Sandra Wong, whose family story is a testament to this legacy and to Asian-Americans' struggle for acceptance in US society.
I am disappointed not to see more Asian-Americans included among Biden's recipients for the nation's highest civilian honour. Presenting medals to Asian-Americans is not going to undo all the damage done to the community, but it would be an important and meaningful way for the president to show he is sincere when he says he cares about Asian-Americans.
Chi Wang, a former head of the Chinese section of the US Library of Congress, is president of the US-China Policy Foundation