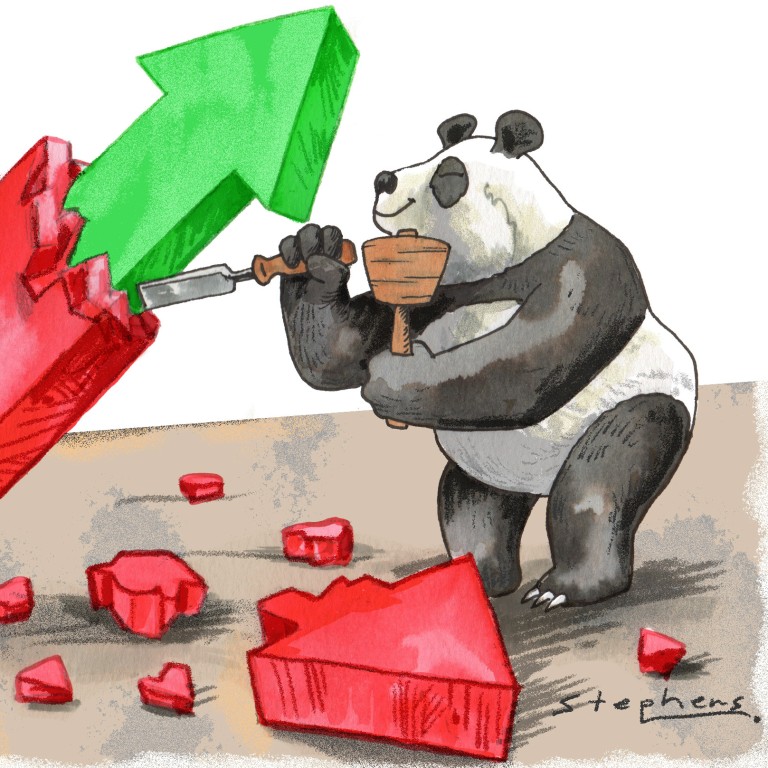 Why there is good cause for optimism about China's economy over the next decade
Beijing has accepted that a slowing economy is the price to pay for quality growth and saving lives
The economy looks set to return to normal for the rest of 2022, and then grow at an average annual rate of 5.5 per cent for at least another decade, even with a number of uncertainties
Beijing set the target for economic growth at around 5.5 per cent for 2022, the
lowest in decades
. This is because of a shift in emphasis from quantity to quality of growth. However, improving the quality of growth, for example through providing clean air and water for all, frequently results in negative value-added at market prices, and will therefore reduce the GDP growth rate. The Chinese government is perfectly willing to make such a trade-off.
Unfortunately, in the second quarter, a wave of Covid-19 led to extensive lockdown measures across
Shanghai
. Even though Shanghai's shares of China's gross domestic product and industrial value-added are relatively small, at 3.78 per cent and 2.88 per cent respectively, the city is pivotal to the economy because most major domestic and international
supply chains
pass through it.
If Shanghai stops, the rest of the country struggles to continue. As a result, second-quarter GDP growth fell from 7.9 per cent a year ago to
0.4 per cent
. One lesson to be learned from the Shanghai experience is that a full, parallel and independent domestic supply chain should be developed outside the Shanghai region, perhaps in Chongqing, to avoid a recurrence of the disruption.
For the first half of 2022, the Chinese economy grew by 2.5 per cent. To achieve the 5.5 per cent target for 2022, growth will have to reach an average of 8.5 per cent for the second half, which does not appear possible.
However, the economy will return more or less to normal in the third and fourth quarters, and China should achieve 5.5 per cent growth for the second half, and thus 4 per cent for 2022 as a whole. The economy will still be doing better than many developed economies, which are heading into
recession
.
There may well be efforts to catch up in the last two quarters. The 20th Party Congress will be held later this year. That should focus the attention of provincial and regional leaders, plus the heads of large state-owned enterprises, on achieving a good economic recovery.
With extra efforts, the 2022 growth rate could conceivably reach 4.5 per cent, implying 6.5 per cent for the second half of the year.
One could say this reduction in the real GDP growth rate also represents a trade-off between quality and quantity. As of mid-July, cumulative Covid-19 deaths in mainland China numbered 3.7 per million people, compared to 993.5 per million for the rest of the world.
In other words, one has to decide whether saving lives is worth slower real GDP growth.
Beyond 2022, the Chinese economy should be able to grow at an average annual rate of 5.5 per cent for at least another decade. There are, however, a number of uncertainties. First and foremost is whether there will be sufficient aggregate demand.
China is a surplus economy; as long as there is demand, there will be supply. The economy is no longer export-oriented, and is mostly driven by internal demand –
household consumption
, public goods consumption and gross fixed investment – with gross fixed investment the most important.
Two major components of gross fixed investment are infrastructure and real estate investment. Infrastructure investment is needed to mitigate climate change and for environmental protection, as well as in communication, transport and power. Other areas include the construction of schools, universities, hospitals and elderly care homes.
Real estate investment could be affected by the failure or
insolvency of developers
, which would in turn affect the construction and building-materials sectors that are major parts of the Chinese economy. However, residential property investment can be supported not only by owner-occupied housing but also rental housing.
Beijing could promote rental housing as a viable alternative to owner-occupied housing, thus maintaining the demand for housing and hence for the construction and building-material sectors. Ultimately, of course, the total residential housing demand would be the same, but there could be a different equilibrium between renting and owning. In German cities, for example, a significant proportion of residents rent.
Another major uncertainty concerns pandemic control and whether new viruses emerge. The truth is that it is simply not possible to return to business as usual. We have to adopt new public health and social practices.
Meanwhile, US-China strategic competition is likely to be the new normal for the next decade or so. The
trade war
is unlikely to end soon. However, US tariffs on Chinese exports to America have had only a marginal effect on the Chinese economy and the removal of some would also have a minimal impact.
US export controls on hi-tech do indeed slow some sectors of the Chinese economy, but they have no affect on essential national projects, such as the construction of supercomputers, for which the cost per se is not an important consideration. Chinese supercomputers are today built with domestically produced components,
including semiconductors
.
Some decoupling between the Chinese and US economies is inevitable. While it will cause both economies some transitional problems, once a second source of a product or service is developed or found, both economies will be better off.
On balance, US-China strategic competition is unlikely to result in a hot war because the casualties and losses would be unthinkably high on both sides; there would be no winners, only losers. I remain optimistic that rationality will prevail on both sides, just as the former Soviet Union and the US managed to avoid a war in the last century despite their rivalry.
Lawrence J. Lau is the Ralph and Claire Landau Professor of Economics at the Chinese University of Hong Kong, and the Kwoh-Ting Li Professor in Economic Development, emeritus, at Stanford University