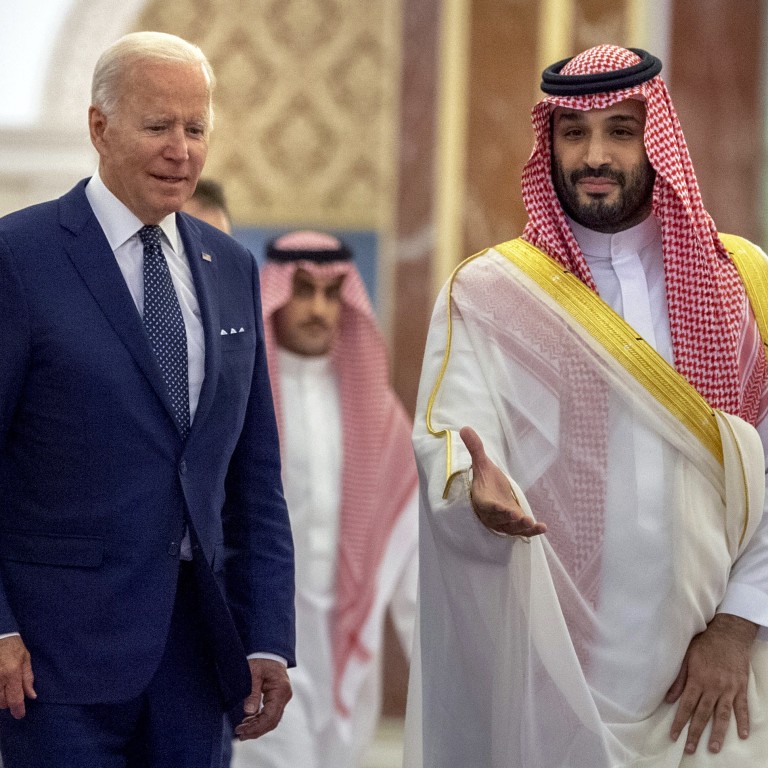 Opinion
Editorial
by SCMP Editorial
Editorial
by SCMP Editorial
Middle East does not need alliance rivalry
Recent tour of region by US President Joe Biden spurred by demand for oil and aim not to leave 'vacuum' of influence that could be filled by China
United States President Joe Biden's recent tour of the Middle East had an abiding domestic political context. Without a reversal of both higher petrol prices in the US and his plummeting popularity, the coming midterm polls threaten a significant electoral setback for his Democratic Party.
The two factors are inseparable, and play into the wider context of the tour, which was to shore up American relations with the region, particularly Saudi Arabia and its de facto ruler, Crown Prince Mohammed bin Salman, both previously held responsible by Biden for the horrific murder of The Washington Post journalist Jamal Kashoggi in 2018.
The ultimate aim is not to leave a "vacuum", to use Biden's term, to be filled by China, Russia or Iran. However, the immediate aim of resetting relations with Riyadh is to get the Saudis to pump more oil to counter disruption of the market by the Ukraine war and take the pressure off US petrol prices.
The US side said the Saudis would "support global oil market balancing". Just how much more oil will be pumped by Saudi Arabia and its allies in the United Arab Emirates will be part of a wider decision by the Organization of the Petroleum Exporting Countries+ group in August.
The initial consensus of analysts is that Biden's trip was neither a success nor a failure, and not just on the oil issue. Even at home, many had difficulty reconciling Biden's reaching out to the Saudi leaders with his vow to make the country a "pariah" over the Kashoggi killing, and the US claim to be acting from the moral high ground.
The US president referred to a vacuum of influence at a summit with a number of Middle East leaders in the Saudi capital, but more cooperation with the US ought not to involve taking sides in external geopolitical rivalry – or, in Saudi Arabia's case, affect its interest in deepening ties with China.
As state media observed, the US may remain Riyadh's main partner in many areas, but China is also an important trading partner, energy market and investor. Saudi Arabia doesn't believe one is exclusive to the other.
The Middle East remains fraught with a lack of trust and conflicting goals. Cooperation between China and the US to promote the region's development and stability, not rivalry for alliances, is the best recipe for stability.