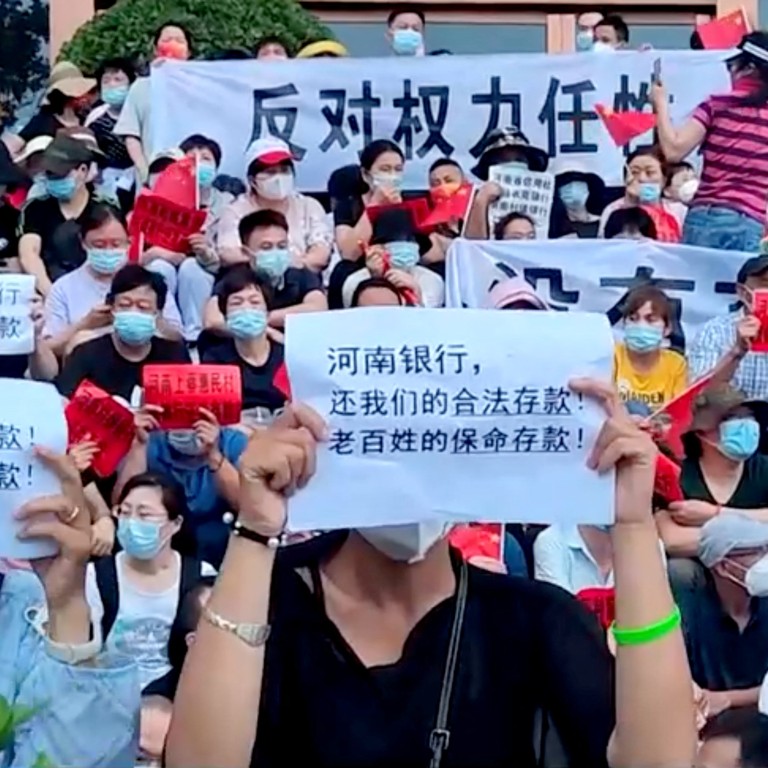 Opinion
Editorial
by SCMP Editorial
Editorial
by SCMP Editorial
Resolution of bank and property crises a priority for Beijing
Both issues are seen as threatening stability and the real economy, and come ahead of the 20th Communist Party national congress later this year
Central government officials have repeatedly reminded local cadres to ensure social and political stability ahead of the 20th Communist Party national congress later this year. No doubt they had the containment of Covid-19 in mind.
But it is a local bank scandal, or the failure of indebted property developers to deliver homes to buyers, which could pose the greater risk.
Threats to the stability of the real economy prompted the banking regulator, the China Banking and Insurance Regulatory Commission (CBIRC), to vow to address both issues, by handling risks and ensuring finance for homes delivery.
More than 1,000 savers have taken to the streets of Zhengzhou, capital of Henan province, to protest against the freezing of their deposits in five small banks since April.
About 40 billion yuan (HK$46.5 billion) belonging to depositors around the country is missing. Henan police say a criminal gang has controlled four banks in the province since 2011.
What sets this scandal apart is that it does not involve an investment product entailing a degree of risk. It is about the security of deposits in banks approved for deposit-taking by the regulator.
This is paramount to confidence in the banking system. The scandal may be confined to four small banks in Henan and another in Anhui province, but it is the tip of the iceberg of poor management at local government level.
In terms of financial risk, analysts say, its impact threatens to snowball if regulators fail to bring it under control.
It is when China's economy slows, as it has under Covid-19 restrictions, that the risk of excessive debt at the local level is most likely to rear its head. During good times, poor management and other problems tend to be out of sight, out of mind.
The CBIRC response is welcome but overdue. Beijing needs to handle this local banking scandal unambiguously and transparently to set an example to other provinces and reassure the public.
On the property front, overleveraged developers were already facing a crisis after a central bank ban on new financing combined with a slowdown in sales to leave them unable to refinance debt and complete homes.
Now tens of thousands of borrowers are defaulting on payments for the non-delivery of flats. The CBIRC has instructed local authority banks to step in with the necessary financial support so developers can finish properties promised to buyers.
The commission may have taken different remedial measures, but ultimately the two crises both expose a lack of oversight by local banks and authorities. They are becoming an international headline.
The property issue has the potential to create knock-on effects on the real economy and stability of the financial system. Resolving it has to be a priority for the government in the run-up to the party congress.