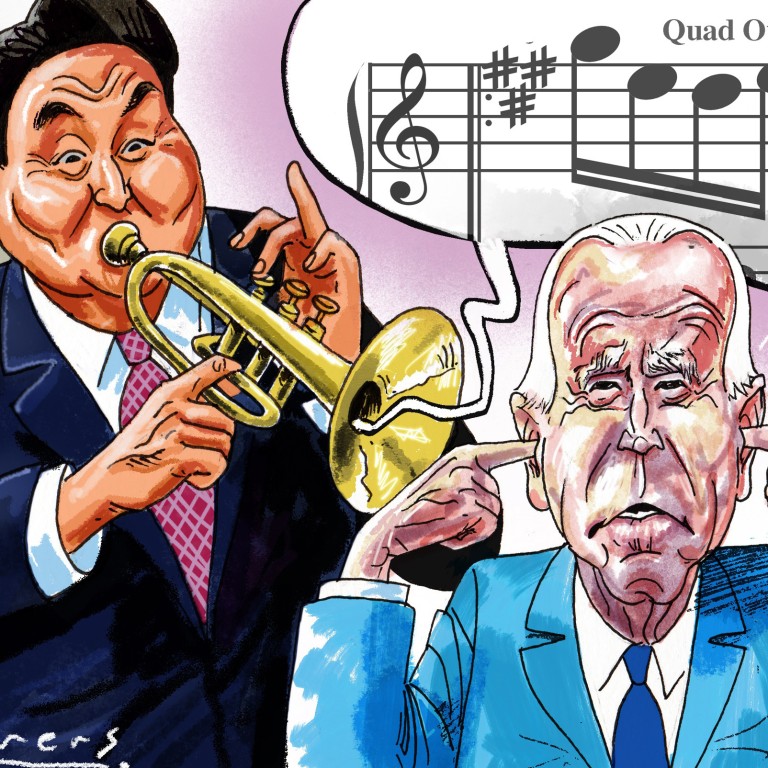 Why South Korea's Quad overtures are falling on deaf ears
South Korea's new president has ambitions for his country as a 'global pivotal state' and is courting closer defence ties with the West
But the Biden administration is wary of letting South Korea join the Quadrilateral Security Dialogue, which could aggravate relations with China
In an essay published in February, South Korea's President Yoon Suk-yeol said: "This is a moment of change and flux in international politics. It calls for clarity and boldness, and for a commitment to principles."
A presidential candidate at the time, Yoon argued that his country should become no less than a "global pivotal state", which advances "freedom, peace, and prosperity through liberal democratic values and substantial cooperation" with like-minded powers.
When he was
inaugurated in May
, he noted South Korea's emergence as one of the world's leading economies and called on his country to "take on a greater role befitting our stature as a global leader". He said South Korea "must take on an even greater role in expanding freedom and human rights not just for ourselves but also for others. The international community expects us to do so."
In a major departure from his predecessor's cautious foreign policy, Yoon has
courted closer defence ties with the West
while signalling a tougher stance against North Korea and China. Last month, he attended a Nato summit, where he spoke of closer cooperation among democratic powers from the Atlantic to the Indo-Pacific.
Yoon's tilt towards the West is significant when some in Washington are calling for the establishment of a "Pacific Nato" to counter a resurgent China. So far, however, the Biden administration has resisted adding South Korea to the Quad, perhaps to avoid escalating the cold war in Asia.
Quite apart from its rising geopolitical profile, South Korea faces major strategic challenges closer to home, namely rising tensions on the Korean peninsula as well as unresolved historical issues with Japan.
In many ways, Yoon's foreign policy assertiveness is at once a departure from the long-established tradition and a reflection of his country's new-found stature. In recent decades, various South Korean administrations, whether liberal or conservative, have largely adopted a multi-vector foreign policy in the interests of maintaining cordial and fruitful relations with all major powers.
In other words, contemporary South Korean leaders largely preserved the foundations of their country's post-war alliance with Washington while pursuing warm ties with Beijing.
South Korea's pragmatic foreign policy enabled the country to maintain robust economic ties with China and preserve a semblance of stability in its own neighbourhood. It also allowed the Northeast Asian country to gradually build up its own military-industrial complex.
In recent years, South Korea has become one of the world's 10 largest economies, and the eighth biggest exporter of defence hardware. This year, its arms exports are expected to top US$10 billion, as clients in Europe, the Middle East and Southeast Asia invest in its cost-effective and high-quality armaments.
South Korea's strategic assets make it a crucial node for the US' "integrated deterrence" strategy in the Indo-Pacific. This matters when hawks in the US have been proposing a Nato for the Pacific. In the words of US Senator Ben Sasse, America's "main foreign policy work" is to corral "a new military alliance centred far out into the Pacific" against China.
The White House, however, has insisted that "the Quad will remain the Quad", emphatically shutting down discussion of an expanded security grouping or alliance in the region. There are three reasons behind the Biden administration's scepticism about Yoon's Quad ambitions.
To begin with, South Korea has yet to resolve a major crisis in its own backyard. Tensions on the Korean peninsula are once again on the rise, with the failure of the Moon administration's peace initiative towards Pyongyang.
Although Yoon has extended an olive branch by proposing a summit with Japanese Prime Minister Fumio Kishida, domestic politics could once again derail hopes for a more robust US-Japan-South Korea alliance. Conservative forces in both Seoul and Tokyo remain largely opposed to a definitive resolution of either the maritime disputes or the bitter legacy of World War II in northeast Asia.
As Indian External Affairs Minister S. Jaishankar told me earlier this year at the Munich Security Conference, the Quad is not an Asian Nato, but instead "a grouping of four countries who have common interests, common values, a great deal of comfort, who happen to be located at four corners of the Indo-Pacific".
So far, the United States and the other Indo-Pacific powers have included South Korea in a Quad Plus initiative in the non-traditional security realm of pandemic management. But expanding the Quad, or even creating a Pacific Nato, still seems a step too far, even in the eyes of the Biden administration.
Richard Heydarian is a Manila-based academic and author of "Asia's New Battlefield: US, China and the Struggle for Western Pacific" and the forthcoming "Duterte's Rise"