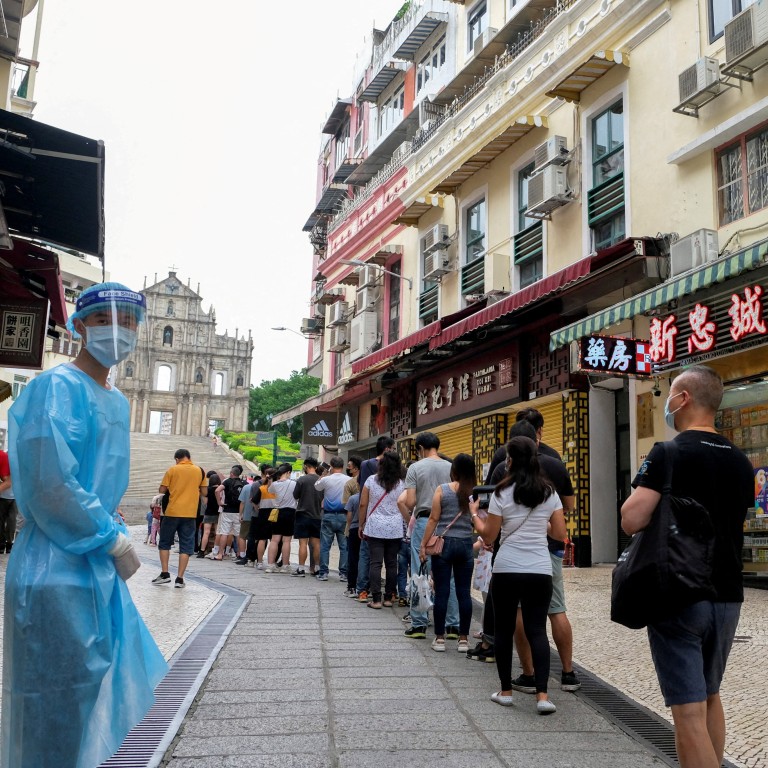 Macau's costly two-week Covid-19 lockdown holds a lesson for Hong Kong
It has taken Macau numerous rounds of mass testing and weeks of lockdown to bring the latest outbreak under control
In Hong Kong, we have to wonder if we can continue to afford stringent pandemic controls when even Beijing has indicated it is adjusting its measures
Macau is emerging from a two-week lockdown, with the reopening of some businesses over the weekend. This is the
second time
the world's largest gambling hub has had to close its casinos due to Covid-19. While gaming isn't an essential activity, for Macau, it's an essential business. A business that can bring in gross revenue of 300 billion patacas (US$37 billion) in a good year for a city of some 600,000 residents is vital, to say the least.
It's also important to remember that, before late June, Macau had managed to keep total cases below 100 for more than two years – an incredible feat.
Once upon a time, we were desperate to open our border with Macau.
Last summer
, Hong Kong had finally achieved 14 consecutive days of zero local infections and chief executive Carrie Lam Cheng Yuet-ngor geared up for talks with her Macau counterpart.
However, Macau suddenly moved the goalposts and said it would require Hong Kong to achieve 28 days of zero infections. From that point on, it has been clear that the two special administrative regions are on two distinct paths.
While Hong Kong continues to seek border reopening with the mainland, we have learned that we are in a special purgatory reserved for an international city in China, struggling between belonging to a zero-Covid country and staying connected to the rest of the pandemic-ravaged world.
Macau's priority has always been to remain open to the mainland. Reopening casino doors, however, doesn't mean visitors will come back. The stakes were high in Macau's recent lockdown. The city's economy had contracted by 54 per cent in 2020, and it had yet to recover fully before it was disrupted again this summer.
Analysts have been sounding the alarm for months, in fact. Back in April, the International Monetary Fund pointed out Macau's vulnerability to resurgences of Covid-19.
How many rounds of testing and weeks of lockdown could this city of 7 million bear? At this point, if we are to maintain our status as an international financial centre, we need to manage not only the pandemic but also our containment measures: for example, make our quarantine requirements less stringent.
The pandemic has taken a tremendous toll on China's economic health and the world's second-largest economy does need to recalibrate its pandemic measures and mitigate the damage.
Both cities top the world's vaccination rates, so residents have done their part. It's up to our governments to put us on the right path in a world that will not be Covid-19-free.
Alice Wu is a political consultant and a former associate director of the Asia Pacific Media Network at UCLA