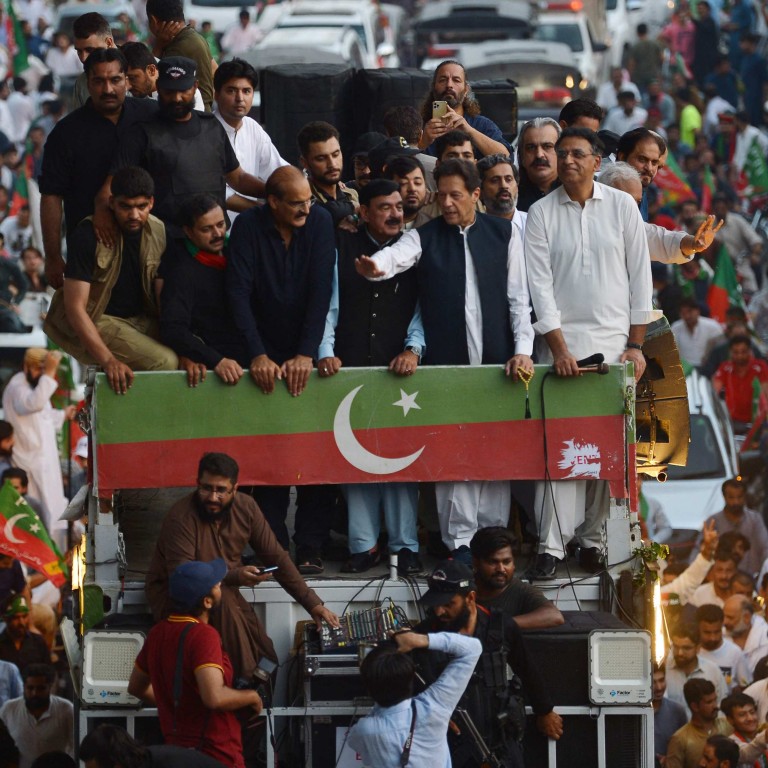 Opinion
Eye on Asia
by Syed Fazl-e-Haider
Eye on Asia
by Syed Fazl-e-Haider
Political pressure is crippling efforts to stave off an economic crisis in Pakistan. Will it become the next Sri Lanka?
Political stability is central to getting Pakistan's economy back on track with IMF assistance and avoiding a debt default
Ousted prime minister Imran Khan is pushing for early national elections as he taps into growing public anger amid soaring prices and acute shortages of fuel, food and other essentials
Pakistan currently sits at No 4 in Bloomberg's Sovereign Debt Vulnerability Ranking, a composite measure of a country's default risk. The county's debt stands at 71.3 per cent of GDP. Will Pakistan be the
next Sri Lanka
?
While the alarming economic numbers increase Pakistan's chances of a default, the fractious political environment following the ousting of former prime minister
Imran Khan
in April has further increased the risk. Political stability is key to Pakistan's economic agenda, even if it is dictated by the International Monetary Fund (IMF) with harsh conditions.
A coalition government – comprising a dozen disparate parties with conflicting political and economic objectives, and enjoying a thin majority in parliament – is tasked with handling the daunting economic challenges.
Can a weak government handle the economic crisis being exacerbated by the effects of the war in Ukraine, amid a wave of potential defaults? Hence, Pakistan's real default risk lies on the political rather than economic front.
Pakistan's external debt and liabilities had risen to US$128 billion at the end of March. It will have to pay US$21 billion to international lenders for external debt servicing in the current financial year, which began on July 1.
This significant rise has also increased the price of essential food items and other commodities because of increased transport costs. Pakistanis are reeling under 21.3 per cent inflation and bearing the brunt of soaring commodity prices and frequent power blackouts.
The government is managing the economy under the IMF's direction, but it is difficult to make unpopular decisions with national elections set for August next year. People reeling under poverty, power blackouts, rising joblessness and rampant inflation are growing increasingly frustrated and angry.
More than a dozen political parties, both small and mainstream, have joined the security establishment in opposing Khan's claims. Yet, the people are buying into the narrative, rejecting what they see as an imported government.
Khan has warned of mass protests across the country and a march by thousands towards Islamabad if fresh elections are not announced soon. Pakistan's risk of default has thus increased because of the rising political temperature.
Political uncertainty is likely to put much-needed multilateral assistance on hold, as well as discouraging foreign investors. Politics will continue to hold the economic stabilisation programme hostage, as Pakistan follows in Sri Lanka's footsteps, getting ever closer to defaulting on its debt.
Syed Fazl-e-Haider is a contributing analyst at the South Asia desk of Wikistrat. He is a freelance columnist and the author of several books including "Economic Development of Balochistan"