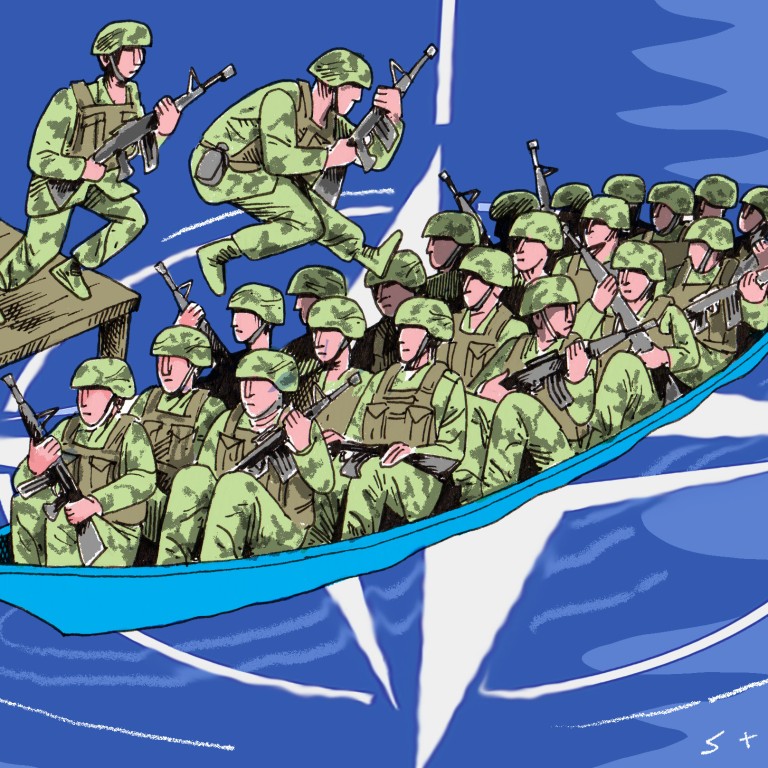 Nato's latest expansion plan could be beginning of the end as waning West targets 'Russia threat'
The Ukraine war is just a continuation of the Cold War as Nato and Russia vie for spheres of influence
The conflict has bolstered Nato solidarity for the time being, but as the West continues to decline, the transatlantic alliance will wane
When the audience at a concert hears a singer hitting the highest note, they know the song is probably coming to an end. And Nato's future will be much the same: when
Sweden and Finland
join – a sure thing in the near future – the 32-member transatlantic alliance may well have reached the end of its expansion.
Of the other three candidates on the waiting list for Nato membership, Georgia and Ukraine's requests appear doomed by Russia's warring response. It remains to be seen whether Moscow would react as it has warned if Bosnia and Herzegovina takes steps towards joining Nato, but the alliance might also think twice after seeing what has occurred in Ukraine.
The Cold War in Europe never really ended with the fall of the Soviet Union. The battlefield in Ukraine is a stage of continued rivalry for
spheres of influence
between Nato and Russia.
Military alliances survive on "threats". If they fail to find one, they will create one. But for a juggernaut such as Nato to survive, it needs to constantly expand.
But no threat is bigger and more useful than a "Russia threat". Yes, Russia is not the Soviet Union, but who looks most like the Soviet Union? Only Russia. Both Mikhail Gorbachev and Boris Yeltsin expressed interest in Nato membership for Russia, but unsurprisingly they were rejected. Russia's membership in Nato would render the alliance meaningless and dissolve it from the inside.
For European allies of the US, too much focus on China risks diverting the alliance from the real threat: Russia. China and Nato are too far away from each other. It's inconceivable that China would one day send troops to fight against a European country. Likewise, it's hard to imagine that Nato would get directly involved in a potential conflict in the Taiwan Strait.
Even though Nato invited leaders from non-allied partners Japan, Korea, Australia and New Zealand to attend this year's summit for the first time, an "Asian Nato" is unlikely to take shape. In the Indo-Pacific, even the closest ally of the US might not wish to be seen as a member of the anti-China club.
China's carefully calibrated neutrality might not be what Europe wants, but it should be acceptable to Europeans who are nervous about a potential Sino-Russian alliance. The fact that China hasn't provided military assistance to Russia should be a relief.
If small nations get together for self-defence, it is understandable. But if the largest alliance on Earth wishes to expand, it is not about defence but enforcing its own values on others with a big stick. No alliance will last forever. As long as the West continues to decline though, Nato will be on the wane. French President Emmanuel Macron called Nato "brain dead", but perhaps it looks more like a zombie that is still walking.
Senior Colonel Zhou Bo (ret) is a senior fellow of the Centre for International Security and Strategy at Tsinghua University and a China Forum expert