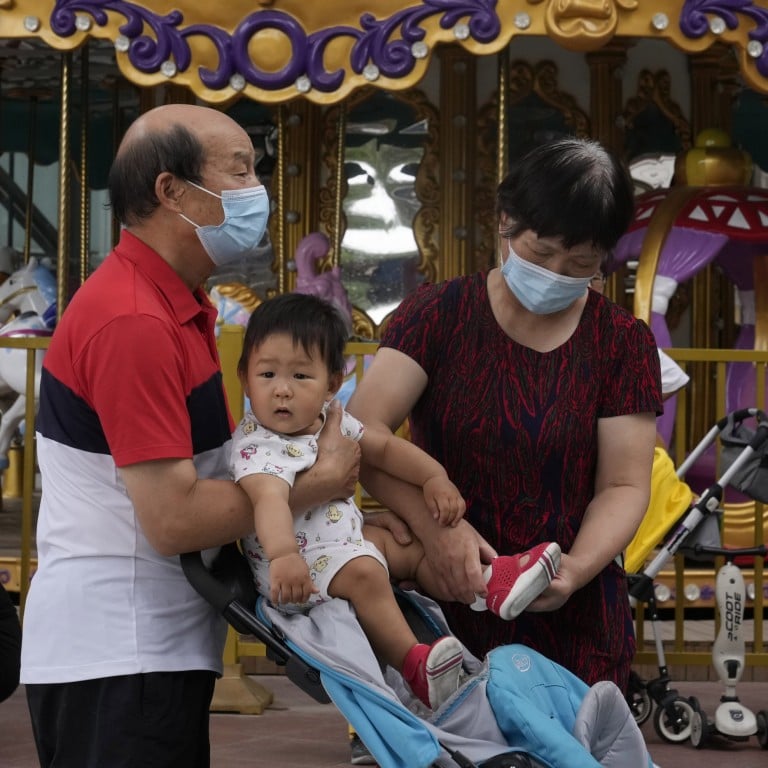 Opinion
Macroscope
by Marcella Chow
Macroscope
by Marcella Chow
From China to the US, spending on healthcare, housing and education must rise
Ageing societies and the pandemic-induced shock to the medical system will drive spending to address capacity shortfalls and improve long-term care services
Meanwhile, a growing middle-class population and the rising cost of living call for greater spending on affordable housing and education
The pursuit of a better quality of life amid a growing but
ageing population
and social inequality exacerbated by the Covid-19 pandemic has led to vast demand for improved social infrastructure.
An important component of infrastructure-spending proposals relates to the upgrading of medical infrastructure. A key reason for this is the uptick in old-age dependency ratios. The effects of a growing "silver generation" and falling fertility rates mean the proportion of old-age population relative to the working-age population has increased significantly.
The old-age dependency ratio in China rose from 12.7 per cent in 2010 to 18.8 per cent in 2021, and in the same period it rose from 21.8 per cent to 29.5 per cent in the United States. As average life expectancy continues to rise and
fertility rates
remain stagnant, increasing old-age dependency ratios will put extra strain on existing healthcare systems and elder-care service providers.
Despite this, healthcare-related spending has risen at a modest pace. China's spending on healthcare as a percentage of its gross domestic product rose just 0.4 per cent, while in the US it rose by a mere 0.2 per cent.
Most recently, however, the outbreak of Covid-19 has exposed the fragility and lack of capacity in existing medical systems and supply chains, highlighting the urgent need for greater investment in medical infrastructure. With only 2.9 hospital beds per 1,000 people globally as of 2017, this lack of capacity could pose long-term systemic risks and potentially crowd out vital healthcare services if left unaddressed.
News emerged in the past month that the Biden administration was seeking more than US$88 billion in funding to improve pandemic preparedness in the US. The funding is aimed at bolstering the healthcare system in vaccine development and dissemination as well as enhancing public access to medical care. Improved
broadband internet infrastructure
, a critical part of Biden's infrastructure spending package, will also expand the scope for online medical consultations and e-health platforms.
Last year, China released a five-year plan targeted at refining the management and performance of the country's hospitals and reinforcing the building of healthcare-related infrastructure. The plan for the health sector envisions broad-based primary care services and an integrated medical system within its various municipalities and provinces, underpinned by "
high-quality hospitals
".
The digitalisation of the medical space will be carried forward by the ubiquity of mobile phone users. China has more than 1.6 billion mobile phone subscribers, around 298 million of whom already use health-related apps and services.
The long-term structural shift towards an ageing society and the pandemic-induced shock to the medical system will demand further spending to address medical capacity shortfalls and improve the affordability and accessibility of long-term care services.
Meanwhile, a growing middle-class population and rising cost of living call for greater spending on
affordable housing
and education. Estimates suggest the global middle-class population could reach 5.5 billion people by 2030, a sharp rise from 3.5 billion in 2017. The infrastructure supporting a more affluent population will have to adjust to shifting lifestyle needs and wants.
An estimated 1.6 billion people across the world lack adequate housing, and the impact of
high inflation rates
in many countries is only exacerbating the high cost of housing. In addition, the pandemic has made social inequality worse. For example, the share of people in the US who live below the poverty line of US$26,695 for a family of four reversed its downward trend in 2020, rising to 11.4 per cent from 10.5 per cent a year earlier.
Addressing the need for more affordable housing will be critical to maintaining sustainable socioeconomic growth. There is also a pressing need for greater investment in childcare and education-related infrastructure. In the US, households where both parents work full time are on the rise, up from 30 per cent in the 1980s to just under 50 per cent in 2021.
This increases the need for day care centres in convenient locations for families as well as transport upgrades to help optimise commute times. A larger middle-class population will also demand a more robust educational environment for their children, equipped with digital infrastructure and equipment like those used in modern society.
As society shifts towards a population that is ageing and more middle-income, the government and the private sector will increasingly have to prioritise upgrading medical, social and educational infrastructure to mitigate the negative consequences of the
rising cost of living
.
Building and upgrading the infrastructure needed to support affordable healthcare, housing and education in a timely manner will be essential to avoid further deepening social inequality and growing government budget deficits in the future.
Marcella Chow is a global market strategist at J.P. Morgan Asset Management