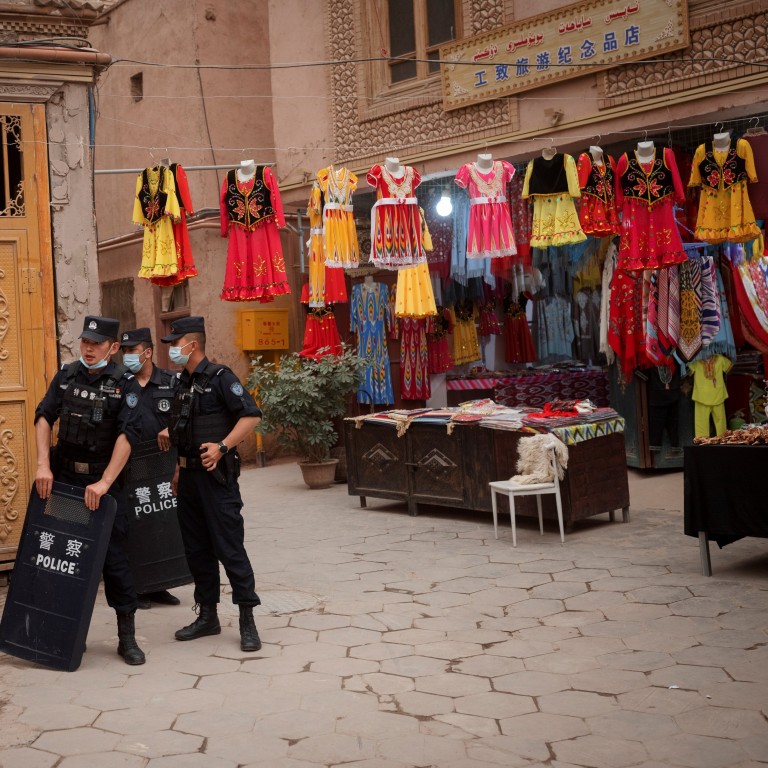 Why jihadists of the world won't unite against Chinese action in Xinjiang
China declines to designate militant groups like Hezbollah and Hamas as terrorist organisations, despite Western insistence on the same
In seeking an antidote to Western antagonism, these groups are inclined to stay silent on Xinjiang and keep Beijing on their side
In recent years, China has found itself in the cross hairs of jihadist groups. When a
suicide bomber
attacked a mosque in northern Afghanistan last year, Islamic State Khorasan linked the attack to China's repressive actions against Uygur Muslims. This comes on top of the attacks that Uygur militants under the umbrella of the East Turkestan Islamic Movement have launched on Chinese. Could China be in danger of becoming the next big jihadist target globally?
At the same time, the animosity towards China is by no means unanimous among the world's militant groups. In 2020, for instance, Hassan Nasrallah, head of the Lebanese Shiite group Hezbollah, called for closer relations with the Asian superpower.
Back in 2019, Hamas, the Palestinian militant group proscribed by many Western actors as a terrorist organisation, praised China for its stance on the Israeli demolition of Palestinian homes in Jerusalem. Moreover, China declines to designate either of the two groups as terrorist organisations, despite Western insistence on the same.
Clearly, China has different relations with different Jihadist groups. Some of the main motivating factors behind China's stance on groups like Hezbollah and Hamas include trade and anti-US posturing.
In the case of Hezbollah and Lebanon, the fact that two Lebanese ports in the cities of Tripoli and Beirut are well placed to connect the Middle East to Europe makes the country an attractive place for Chinese investment.
This cordiality stems from China's intention to draw attention to the two-faced nature of US criticism of Chinese actions in Xinjiang. While Washington often condemns Beijing on international platforms for oppressing Uygur Muslims, the US has also supported Israel for decades and blocked UN resolutions condemning illegal Israeli annexation of the occupied West Bank.
In bringing up the Israeli-Palestinian conflict, China seeks to show that the US' concern for Muslims globally is more political than sincere, given the plight of Palestinian Muslims.
Chinese bonhomie with groups such as Hezbollah and Hamas is a two-way street. Hezbollah has long faced Western opposition for its military actions against Israel, which counts the US as its closest ally.
In recent years, Lebanon's economic crisis, characterised by soaring unemployment and inflation, has weakened Hezbollah significantly. And as the US issues new Hezbollah-related sanctions, Beijing has come to be seen as a countervailing political and economic force against Washington.
Similarly, from Hamas' perspective, China has been one of its few allies in a region where Israel enjoys not only support from the West but also, in recent years, from parts of the Arab world. In 2009, when Beijing stationed troops in Xinjiang following unrest, a Hamas official uttered perfunctory words of hope that the Chinese government would treat Muslims well, instead of making any sustained criticism.
Lastly, it is instructive to note that China has a policy of non-interference with regard to countries' internal matters.
Unlike the conventional understanding, not all jihadist or militant Islamist groups share a hatred of China for its treatment of Uygur Muslims. While some regional and transnational groups have attacked or criticised China, groups like Hezbollah and Hamas – which have something to lose economically – are relatively friendlier to China.
China's cordiality towards these groups is part of its pragmatic foreign policy that values superpower status and economic benefits, instead of accepting Western norms and labels of terrorism.
The above-mentioned jihadist groups' earnestness towards China is rooted in their own economic weakness and a desire to have a superpower on their side, to offset the US' and other Western nations' antagonism. Ultimately, this suggests that solidarity with the rest of the Muslim ummah, or community, is limited somewhat by political and economic calculations.
Mohammed Sinan Siyech is a doctoral candidate at the Islamic and Middle East Studies Department at the University of Edinburgh and a non-resident associate fellow at the Observer Research Foundation, New Delhi