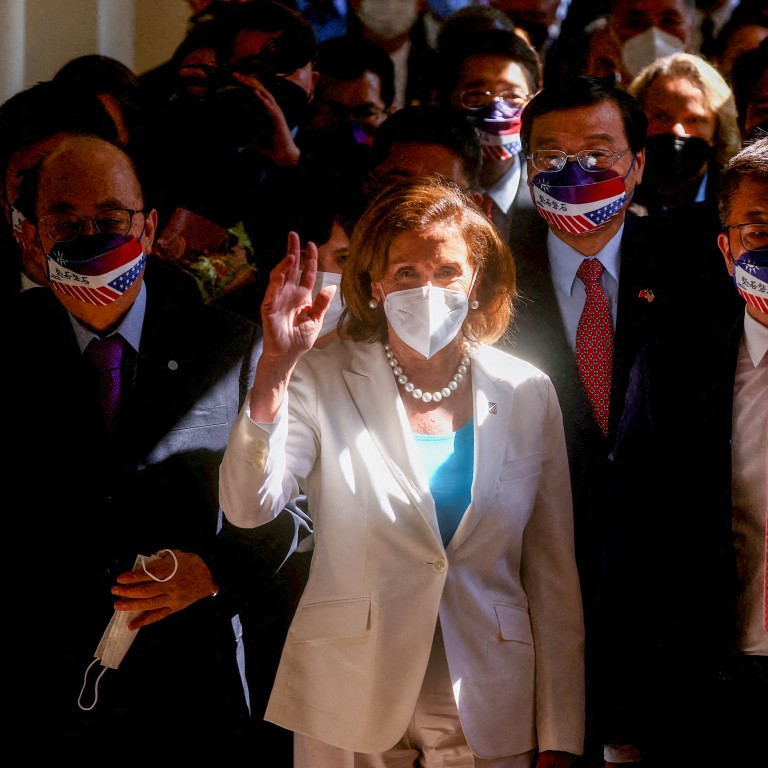 Opinion
Editorial
by SCMP Editorial
Editorial
by SCMP Editorial
Short-sighted Taiwan visit by Nancy Pelosi makes strait a more dangerous place
Trip to Taiwan by US House speaker has violated China's sovereignty and shaken the political foundation of Sino-American ties, with potentially dire consequences
Trust between Beijing and Washington has been dangerously eroded by US House of Representatives Speaker Nancy Pelosi's visit to Taipei. Each step and speech during her stay on the island appeared aimed at provoking China.
That will be to the detriment of relations across the Taiwan Strait and between the world's two leading economies. Sovereignty and internal integrity have been violated and the political foundation of Sino-American ties shaken, with potentially dire consequences.
Pelosi, the highest-ranking American official to visit the self-ruled island since 1997, said her stopover as part of an Asian trip was as a private citizen, a claim echoed by US Secretary of State Antony Blinken and other officials. President Joe Biden tried to distance himself from it by saying on July 20 that "the military thinks that it's not a good idea right now".
The secretive nature with a flight from Malaysia avoiding the disputed waters of the South China Sea seemed aimed at diplomatic expediency. But while she, the American leader and others have repeatedly stressed the United States adheres to the one-China principle and supports maintaining the status quo across the strait, actions are not matching words.
From her meeting with Taiwanese leader Tsai Ing-wen to a speech to parliament and talks with officials, Pelosi trampled long-standing agreements between the US and China that the island is sovereign Chinese territory that will be eventually peacefully reunified with the mainland. She indirectly supported Taiwanese independence, speaking of a "thriving partnership grounded in our shared values of self-government and self-determination".
Coming from a lawmaker who is second in line to the presidency, from the same political party as Biden and accompanied by five members of Congress, these are incendiary words. Amid rivalry with Beijing, they follow actions by Biden and predecessor, Donald Trump, to strengthen ties with Taipei.
Beijing's condemnation of the visit was to be expected and came after repeated warnings. Calling it a "serious violation" of the one-China policy, promised retaliation was swift, with the People's Liberation Army mobilised around Taiwan for exercises that included live-fire artillery rounds and missile test-launches.
Drills from now are likely to be closer to the island and more intense. Trade suspensions were expanded to include sand exports and more agricultural products.
Good relations between Beijing, Taipei and Washington require trust and understanding. Pelosi, with the tacit backing of the Biden administration, has taken much of that away with her short-sighted venture.
In doing so, she has put at risk peace and stability across the Taiwan Strait.