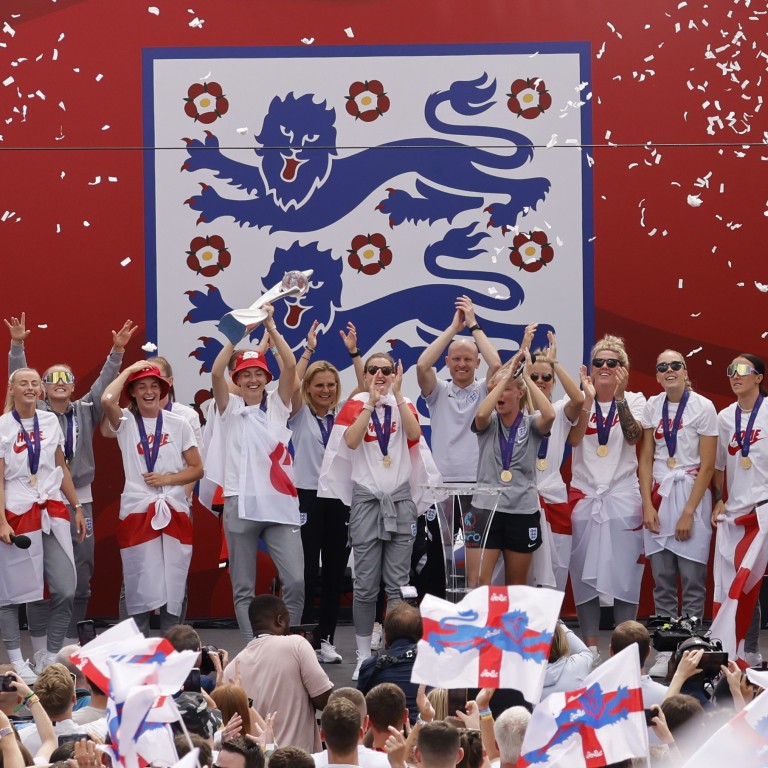 England's Lionesses won Euro 2022, but the battle for gender parity in sport has just begun
The clearest indicator of how much women's sports are valued comes from remuneration
For all the talk of England women's historic win, true progress might not be made until there is pay equity and real investment in women's sports
It goes without saying that England is riding high on the women's football team winning the
Euro 2022 final
. But behind the viral clips of the euphoric Lionesses gatecrashing their coach's post-match press conference and the articles dissecting the minutiae of their victory, the reactions to the win reveal a very different – and less heart-warming – reality.
Following the Lionesses' victory, British radio shows were flooded with calls from women who felt vindicated, after being told over the years that "girls cannot and do not play football" and that "you don't understand football – you're just a woman". Naturally, this issue goes far beyond football. When WNBA star Sabrina Ionescu wanted to play basketball in middle school in the United States, she was told that she should be playing with dolls. Eventually, she overcame this resistance by finding enough girls to put together a team.
That a girl in her early teens could show such initiative is definitely praiseworthy. But despite the feel-good element to this story, we should not lose sight of the real possibility that had she not persisted, Ionescu might not be where she is today.
Also, Ionescu had the good fortune to have been mentored by NBA superstar Kobe Bryant. How many other girls and women can say the same?
In women's sports, even getting proper venues and equipment can be a challenge. After the Lionesses' victory, former British football star Alex Scott noted: "In 2018 we were begging people to host in their stadiums a women's game for these Euros. So many people said no."
Last year, the National Collegiate Athletic Association, which oversees student athletics across the United States, Canada and Puerto Rico, was called out on a lack of amenities, notably workout equipment, at the women's basketball tournament compared with the men's event.
How bad was the gender inequity? Evidently, it was bad enough for an investigation to find that that the NCAA treated its Division I men's basketball programme better than its women's programme in almost every respect.
Probably the clearest indicator of how much women's sports are valued comes from remuneration. Despite their success, the Lionesses are set to receive just £1.7 million (US$2 million) in prize money, and only a bonus of £1.3 million. It may seem odd to speak of such large amounts of money this way, but their male compatriots would have received a bonus of £5 million if they had won last summer's Euros. Furthermore, Italy's men's team received £28.5 million in prize money after winning the men's Euros last year.
Even more established female athletes are not immune. In 2019, the US women's national football team filed a gender discrimination lawsuit against US Soccer, their employer and the governing body of their sport. The team is one of the most accomplished in the history of international sports, with four World Cup titles and four Olympic gold medals. Despite their success, the women were paid less than the men's national team – 89 cents to a male counterpart's dollar, to be exact.
Still, the women's team received overwhelming support for their cause and ultimately
reached a settlement
this year. While one of the arguments made against the American women's team was that the men drew better television ratings, the record viewership for the Lionesses' Euro final should make clear that there is an audience for women's sports.
For all the talk of the "history" the Lionesses have made and the "legacy" they will leave, the true test of progress in gender parity in sports begins now. Hearteningly, questions about equal pay and such are already being asked around the world and in a range of sports.
But without real investment in women's sports at every level, the question we will be left asking is: how many? How many talented female athletes like the Williams sisters has the world missed out on because girls are told a sport isn't for them, and they are expected to fit preconceived aesthetic notions of how women should be? How many fine female athletes – of
Eileen Gu's calibre
, for instance – will the world never see because girls and women don't have the chance to discover and develop their gift?
Jennifer Lee is a production editor at the Post and a member of Lunar, an initiative that highlights key issues related to women and gender equality in Asia