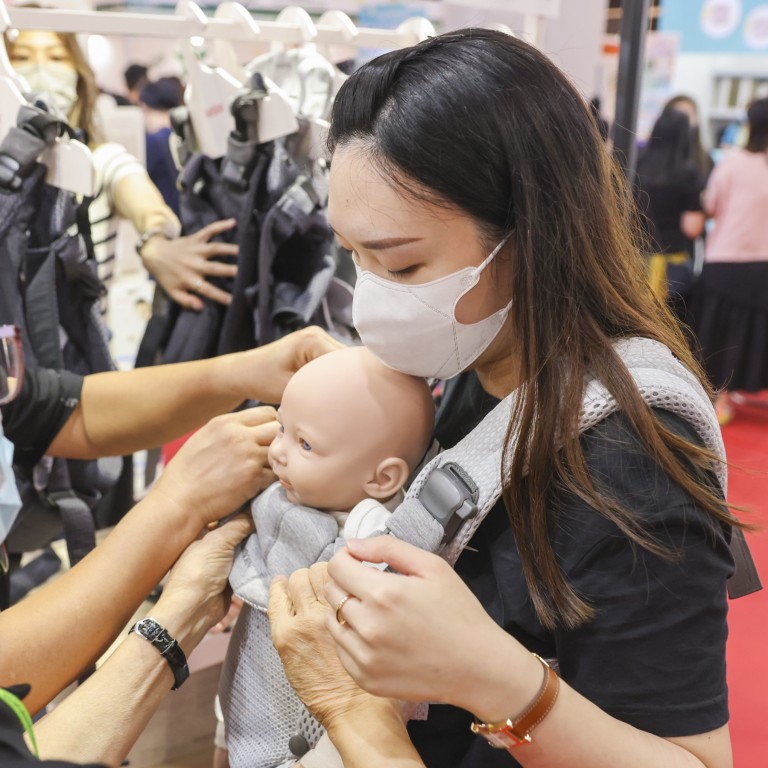 Opinion
Editorial
by SCMP Editorial
Editorial
by SCMP Editorial
Hong Kong in need of hope if birth rate is to rise
With the number of marriages and babies born plummeting, the government should instil confidence in the public and provide more incentives to raise children
With the Covid-19 pandemic still gripping Hong Kong, it is hardly surprising that people are putting back marriage and birth plans.
Temporary as it may be, the phenomenon has implications on population and public services in the longer term. Indeed, the trend, aggravated by high living costs and political and economic gloom, emerged long before the onslaught of the coronavirus.
It should be addressed in the wider context of social development by the new government.
Even without the on-and-off restrictions on wedding banquets over the past 2½ years, it would take the most eager couple to tie the knot under the prevailing atmosphere.
The crude marriage rate – the number of marriages per 1,000 in the population – hit 30-year lows of 6.7 for women and 8.0 for men last year.
Both women and men also married later, with the median age at first marriage rising to 30.6 for women and 32.2 for men. The number of live births dropped by almost two-fifths from 60,856 in 2016 to 36,953 last year, also the lowest in three decades, according to the government.
That people would hold off on major decisions in times of hardship and uncertainties is just natural. But for Hongkongers, there have been more factors for consideration.
Some may still remember a television commercial 16 years ago, saying a child would cost parents a total of HK$4 million (US$510,000) from birth to university education. The bill has jumped by 50 per cent to HK$6 million today, according to the same bank behind the estimate.
While many low-income families with children get by on a much tighter budget, the high cost is probably one of the reasons why the city's birth rate has been among the world's lowest.
Adding to the concerns is the perception of the city's development. The political turbulence in recent years has prompted more young families to emigrate.
There could be a significant impact on education, manpower and social welfare in the longer run when fewer people get married and raise families.
It is incumbent upon the government to give hope and confidence for citizens and provide more incentives to raise children through policies and measures.