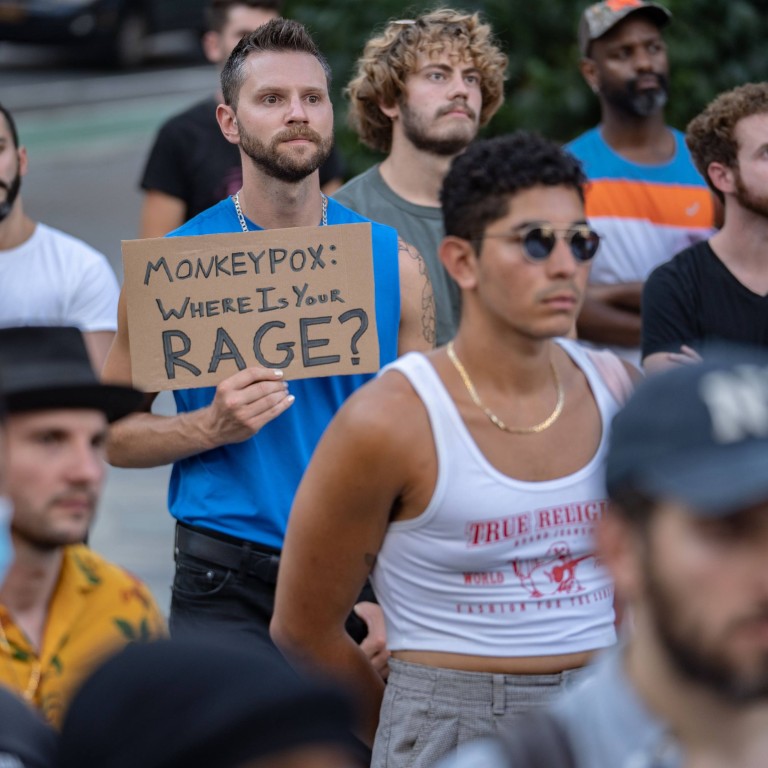 Monkeypox outbreaks increase the urgency of the fight against homophobia
Government mixed messaging recalls the early years of the Aids crisis, when the disease was seen as affecting only the 'gay community', resulting in insufficient deployment of resources
In Asia, where gay sex is outlawed in several countries, the fear of stigmatisation and worse is preventing people from coming forward to be tested
"Monkeypox is not a gay disease": these are the words that Andy Seale, a World Health Organization adviser and other health experts, have had to repeat over and over again in the past weeks.
Since May, more than
30,000 people
have contracted the
monkeypox virus
. While it can spread to anyone through all kinds of close contact, most of the cases reported outside Africa were spread within the LGBTQ community, and particularly among gay and bisexual men. Experts have also noted that during the current outbreak, the virus is spreading primarily spreading through close physical contact during sex.
While the WHO is putting much effort into preventing stigma against those most affected, governments have failed to do so.
Since the first cases of monkeypox were reported in Europe in May, the virus has been deployed as a political weapon against the LGBTQ community, with anti-LGBTQ conspiracy theories and misinformation spreading online.
In the United States, the country with the largest number of known monkeypox cases, at least two far-right politicians suggested on social media the only reason children were infected by the virus was because they had been molested by gay men. This dangerous narrative was quickly debunked, and the World Health Organization has stepped up efforts to better educate the population. But the harm was done.
Monkeypox has not been classified a sexually transmitted infection. Many are drawing comparisons to the early years of the HIV/Aids pandemic. In the 1980s, gay and bisexual men were blamed as the main cause of HIV spread, even though heterosexual sex, contaminated blood products and needles, and mother to child transmission were also modes of transmission. Governments' failure to address the epidemic on time, and a lack of investment in prevention resulted in a heavy stigmatisation of the community.
As Aids activist Rae Lewis-Thornton said in an op-ed in The Washington Post, "The sad truth is that while humans discriminate against people, viruses do not."
Monkeypox is reviving this traumatic memory. Despite slight improvements, governments still have difficulty distinguishing between warning and stigmatising. As a result, most governments do not put the resources necessary into prevention and treatment of the virus.
In the United States and Europe, authorities' mixed messaging about how to prevent the virus from spreading and on how people should protect themselves has been criticised. The shortage of vaccines and testing sites, coupled with calls for sex-abstinence, didn't sit well with the LGBTQ community.
In July, Senator Mélanie Vogel asked the French government why resources and clear guidances haven't already been made available despite lessons drawn from the Covid-19 pandemic: "Does it bother you to spend a lot of money on 'these people' that, for now, only infect each other?" she asked.
Indeed, it isn't hard to believe that if monkeypox were mostly spreading through heterosexual sex, things would be drastically different.
In countries where homophobia is rife, people
might not seek help
, fearing discrimination or criminal sentences. WHO director general Dr Tedros Adhanom Ghebreyesus warned that this might make "the outbreak much harder to track, and to stop". Those infected might be reluctant to provide information about their contacts unless a trusted relationship with the health authorities has been established.
As the first monkeypox cases are arriving in Asia, non-judgmental public health campaigns are crucial to help persuade people to come forward for testing.
Gay sex remains illegal in some countries, such as
Singapore
, Malaysia, Bangladesh, and in some parts of Indonesia where same-sex intercourse can be punished by fines, caning or prison sentences. In India, where gay sex was decriminalised in 2018, two men
refused to get tested
after their sexual partners caught monkeypox because they were more afraid of discrimination than of the virus in itself.
This underlines the urgency of fighting the stigma against the LGBTQ community: fear can prevent some from getting tested, it gives a false sense of security to heterosexual people, and gives the authorities an excuse not to unlock resources to fight the outbreak.
Salomé Grouard is production editor, social media, at the Post and a member of Lunar, an initiative that highlights key issues related to women and gender equality in Asia