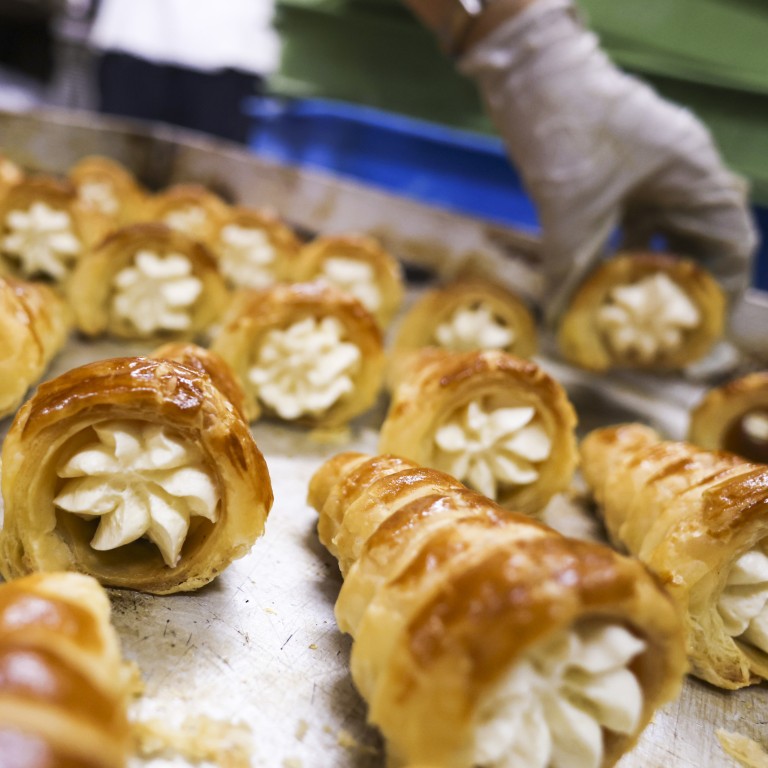 When Hong Kong loses small stores like Happy Cake Shop, we lose a sliver of our soul
One by one, these little shops are going. Local culture is eroded a little more, as is the social network and a communal lifestyle
The failure to save these small shops, as opposed to historic buildings, will leave us with only a skeleton of cultural heritage – not the soul
Early in August, long-time patrons lined up to bid farewell to
Happy Cake Shop
, a 45-year-old bakery in Wan Chai, and to get some of their favourite deep-fried buns, chicken pies and egg tarts from the shop for the last time. In the city, the mood was less than happy. Across various media outlets, tributes were pouring in for the bakery's signature nostalgic treat, the cream cone. Nobody expected to see this old-fashioned, cream-filled pastry in this neighbourhood again.
The cream cone's fade-out is just one small part of a gradual trend. There are other traditional foods, which are a reminder to Hongkongers of their sweet childhood, that are slowly disappearing from one neighbourhood after another: red bean puddings, pluchea indica cakes, and
piggy biscuits
.
This week, the list of culinary casualties got a little longer when
Lin Heung Tea House
, one of the city's oldest dim sum restaurants, announced its decision to shut its doors. After surviving two close calls, the teahouse finally stopped serving its
selection of old-time items
– including pig's tripe siu mai – that are hard to find at newer dim sum places.
We are witnessing a slow death of Hong Kong's traditional heritage. The disappearing snacks are the most obvious victims. Whenever a small shop closes down, it takes something near and dear from the neighbourhood. The not-so-obvious casualties are the unique ways the shops made these foods, and the history behind the traditional signs and particular styles of decor.
And the most precious things we lose are the day-to-day intimate connections between the shop owners and their customers, and the community focal points that provide affordable everyday food.
Unlike the
Jumbo Floating Restaurant
, an iconic attraction that was recognised worldwide, these small shops have never tried to impress with their decor or price tags. Also, while the Jumbo mainly offered a tourist experience, these small shops provide neighbourhoods with convenience and value every day.
They welcome residents from all walks of life and have something for everyone. Over decades, they have constituted an inconspicuous social network that is localised, relatable, widespread, ordinary and welcoming. This is why they have become part of millions of people's collective memories.
One by one, these little shops of Hong Kong are going. With each disappearance, local culture erodes a little more, as does the social network that provides invisible emotional support in the community.
It is necessary to make an effort to save these small shops, precisely because they are always being overlooked. A bid to rescue them will not make headlines, unlike big heritage projects such as the
HK$500 million makeover of Central Market
.
However, those big projects have not saved anything as precious as a communal lifestyle. Rather, they often focus on saving the building itself. In the case of Central Market, six different types of stalls that once sold fish, poultry and so on were preserved to help the public imagine what the former wet market was like. This is the mere appearance of heritage. Sadly, it is easier to preserve the appearance than the real thing.
As long as we keep pouring in money, we can preserve historic buildings or clusters of stalls – we can even mass-produce cream cones. But we would not be bringing them back to life. This would require a far more complex process, involving more stakeholders. Yet, failure to act will leave us with a city that has only a skeleton of cultural heritage – not the soul – and some token allusions to the past.
We need to start thinking about how to preserve small things like a cream cone, as well as their context and environment. Not only must we keep Hong Kong's traditional heritage, we should also preserve the connective tissue and social cohesion that makes Hong Kong unique and colourful.
In the third year of the pandemic, we have a golden opportunity to do this. The strict policies have had consequences: tourists are gone, along with
luxury stores
. There are empty shops everywhere.
If some of these spaces could be utilised to bring back traditional foods or handicrafts that can be enjoyed by neighbourhoods, we may have a Hong Kong that is once again rich in cultural heritage.
And when Hong Kong finally exits the pandemic, more nuanced and valuable local experiences will be available to ourselves and tourists.
April Zhang is the founder of MSL Master and the author of the Mandarin Express textbook series and the Chinese Reading and Writing textbook series