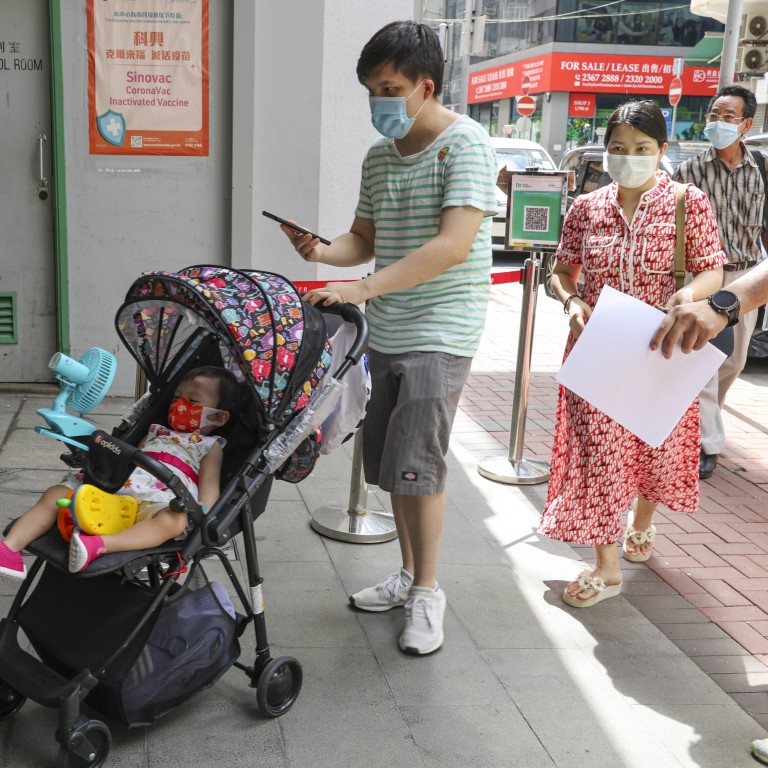 Opinion
Editorial
by SCMP Editorial
Editorial
by SCMP Editorial
Jabs for infants the safest route for all in Hong Kong
The lowering of the vaccination age for children from three years to six months has received a poor response when the number of severe Covid-19 cases is rising
Children are no less vulnerable to being infected with Covid-19 than adults. Hong Kong officials understandably took the advice of health experts two weeks ago and lowered the age of immunisation from three years to six months. But barely more than 3,000 have since received jabs, leaving in excess of 100,000 at risk of illness. A 27-month-old boy in hospital in intensive care is the latest case highlighting why parents should not delay.
The boy was not vaccinated and developed a fever and then shortness of breath. He tested positive for Covid-19 and when taken to hospital, was found to have croup, a viral infection that causes swelling in the throat. A 22-month-old girl with the coronavirus died the day the vaccination age was lowered after developing acute brain inflammation. She was the second infant under three confirmed of having the disease to die since August 3 last year, during which time there have been more than 14,000 infections recorded in that age group of which several dozen have required hospital treatment.
While children usually have milder symptoms, authorities have noticed an increase in severe cases, leading to concern about new variants and their impact on the unvaccinated or those who have not had the recommended three jabs. Only the Chinese-made Sinovac vaccine is presently available for children under five years of age; authorities are trying to obtain lower-concentration doses of the adult version of the other jab available in the city, the German-developed BioNTech. Sinovac has been determined by health experts to provide a substantial level of immunity against infection and to stave off severe illness. Although it uses a less-advanced technology than BioNTech, the method is similar to that for polio and hepatitis A shots.
Everyone is at risk of being infected with Covid-19 and symptoms can be serious at any age. Vaccinating young children lessens the chance of them getting sick and spreading it to family members, friends and kindergarten classmates and teachers. It reduces the possibility of short- and long-term health complications and helps shield vulnerable people. All in the community have an obligation to protect themselves, their families and others through getting fully vaccinated.