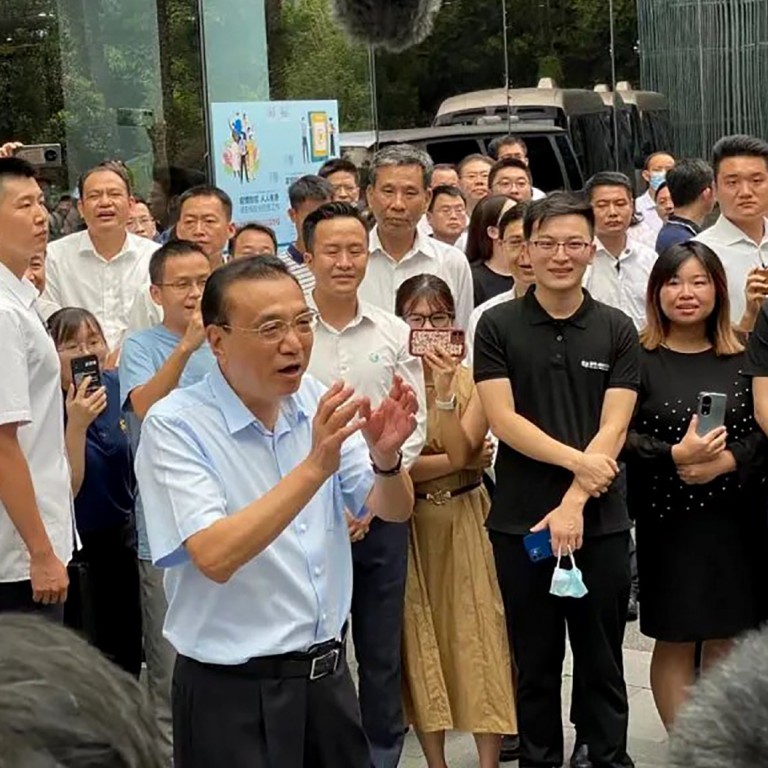 Opinion
Editorial
by SCMP Editorial
Editorial
by SCMP Editorial
Fragile economy calls for robust response from Beijing leaders
China's recovery lacks momentum and is over-reliant on exports while badly needed healthy domestic consumption is lacking
China's uneven economic rebound this year has finally prompted the central bank to support recovery with a 10 basis point rate cut in one-year medium-term bank lending – the first such cut since January.
Premier Li Keqiang has followed up with a visit to the tech hub of Shenzhen where he called upon some of the country's most dynamic areas to take the lead in stabilising the economy.
A week after it reported a trade surplus for July of US$101 billion, including an 18 per cent rise in exports, Beijing reported industrial output and domestic consumption, the other two big drivers of growth, fell below market expectations. Economic recovery is still very fragile, lacking momentum and over-reliant on exports.
The record trade surplus reflects a resurgence in demand for Chinese products as major economies emerge from pandemic restrictions. But, amid forecasts of slowing global economic growth from now on, experts warn the export surge will not last forever and cannot be relied on to keep the nation's recovery on track.
The National Bureau of Statistics says industrial production, a gauge of activity in the manufacturing, mining and utilities sectors, rose by 3.8 per cent in July from July last year, below expectations of 4.6 per cent and down slightly from June's 3.9 per cent.
Retail sales rose by 2.7 per cent in July, well below an expected 5.3 per cent and down from 3.1 per cent growth in June. Fixed-asset investments, which Beijing relies on to cushion downturn risks, slowed from 6.1 per cent in the first six months to 5.7 per cent in the first seven.
Analysts put softening consumer demand down to Covid outbreaks in many cities and worsening sentiment in the property market, where reluctance to buy homes flows on to less demand for home durables and furnishings.
Given that the external economic environment is becoming volatile and complex for China, domestic consumption should be the most important engine of growth. It is a key element of the dual circulation strategy for reducing the degree of dependence on exports and investment.
If the country wants to cushion itself against external uncertainty and geopolitical tension it needs healthy domestic consumption now to drive the economy forward. The latest data shows this is not happening. There is no question that anti-Covid-19 measures remain a restraint on recovery, particularly in retail consumption.
Signs of flexibility in pandemic policy are welcome. But a more precise and scientific approach to Covid control could yield economic dividends, and needs to be put in place.
Li's trip precedes a Politburo meeting at the end of the month where the inner leadership circle will discuss the biggest challenges facing the country, with faltering growth foremost among them.