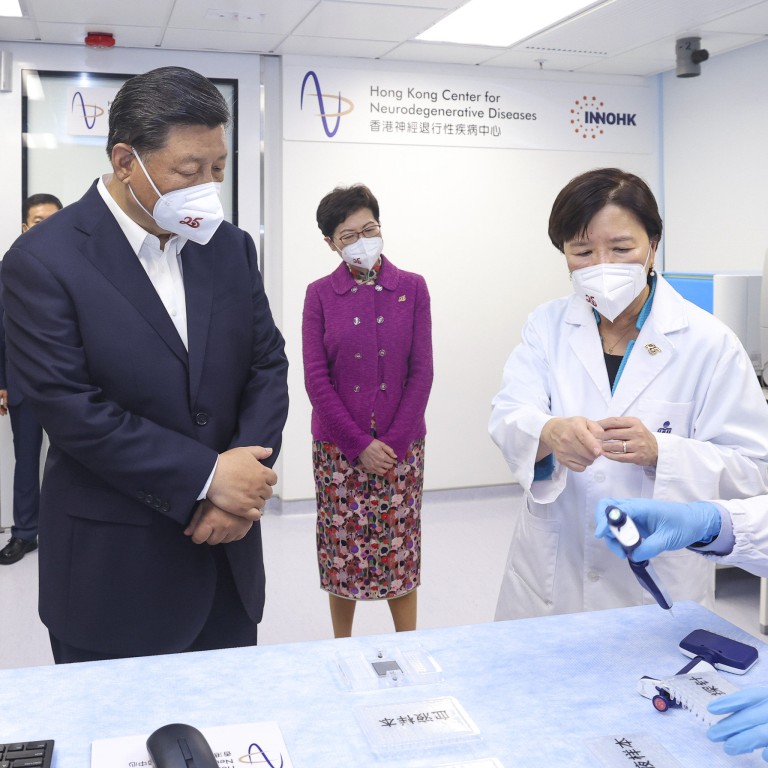 Hong Kong's I&T ambitions will need to be powered by a triple helix of collaboration
Attractive policies are urgently needed to stem the tide of talent flowing to Singapore and Shenzhen and to nurture an industry-ready local talent pool
Dialogue between academia and industry must be enhanced to commercialise university research outcomes
The hype around innovation and technology (I&T) development in Hong Kong went into overdrive following President Xi Jinping's
visit
to the Science Park in Tai Po. His visit highlighted the country's strong support for the city developing into an international I&T hub as part of the vision for the Greater Bay Area to become a global science and technology innovation centre under China's
14th five-year plan.
From I&T officials to leading scientists and academics, much has been said about how we can achieve this goal. At the Global Innovation and Technology Summit last week, organised by the Greater Bay Area Association of Academicians, Chief Executive John Lee Ka-chiu
vowed to fight
for global talent while Secretary for Innovation, Technology and Industry Sun Dong stressed the government's role in providing a clear industry road map.
That's all well and good, but as someone who's been working on the ground in academia and industry for years, with a good understanding of its landscape and environment, I feel strongly that there's one obvious missing link we need to address now – an incomplete ecosystem. While a complete one would take time to build, we should focus on building human capital as a short-term measure to tackle our tech talent crunch.
We currently face an I&T talent war, with our regional competitors,
Singapore
and
Shenzhen
, eating our lunch. In fact, we have a brain drain that has worsened considerably, as reflected in the biggest drop in the labour force in 40 years, especially serious in the specialised workforce in industries such as technology.
To stem the tide and win this talent war, the government must up the ante with attractive talent policies. It needs to ensure strong talent stays in the city, lure the best and brightest to our shores, and entice overseas multinational corporations to set up and hire staff in Hong Kong.
In the long term, building an industry-ready local talent pool is crucial. As an adjunct associate professor, I see that university students need more comprehensive on-the-job training through different
internship arrangements
that would equip them with the essential industry know-how when they start their career.
Aside from building students' capacity, we must go one step further by fostering collaboration between universities and the industry. As it stands now, academia is more focused on upstream activities such as research and idea creation, which it does well, but lacks the wherewithal to bring to life.
It is essential to commercialise inventions to bring new products and services to market that positively impact society and improve people's livelihood, as well as generate economic value.
So far, the government's support for the industry leans heavily towards funding academic research. To bridge this gap between invention and commercialisation in the I&T ecosystem, the government needs to develop policies that include industry input.
Cohesive university-industry collaboration is advantageous as both parties have complementary skill sets and capabilities to bring to the table that enable research and development outcomes to be translated into viable business opportunities.
I want to share a real-life example to illustrate this point. In 2020, world-leading microbiologists and infectious disease experts from a local university developed a highly specific design that recognises unique viral RNA sequences in Sars-CoV-2. The institution had no concrete plans to mass produce and commercialise this; thus, the community would not benefit.
Knowing this, I approached the professors and proposed using the design to further develop the reagent that could help fight Covid-19. We completed development of the reagent, mass-produced it locally and launched a community polymerase chain reaction (PCR) testing service that has served millions of Hong Kong residents.
What we did to bring this invention to market – from product development and prototyping, manufacturing and marketing, to opening a lab to demonstrate the invention's efficacy – goes way beyond the university's purview. This collaboration is just one example demonstrating the importance of commercialisation and of collaboration between academia and industry.
Much more needs to be done to unleash the cross-sector collaboration potential. The government must accelerate the development of policies that enhance the dialogue between academia and industry and facilitate knowledge transfer. It also needs to provide more funding support to develop and apply I&T.
With timely and strategic action, this triple helix of university-government-industry collaboration is the way to increase Hong Kong's competitiveness and drive economic growth, fulfilling our role as an international I&T hub.
Ricky Chiu is a biotech innovator, entrepreneur and industrialist