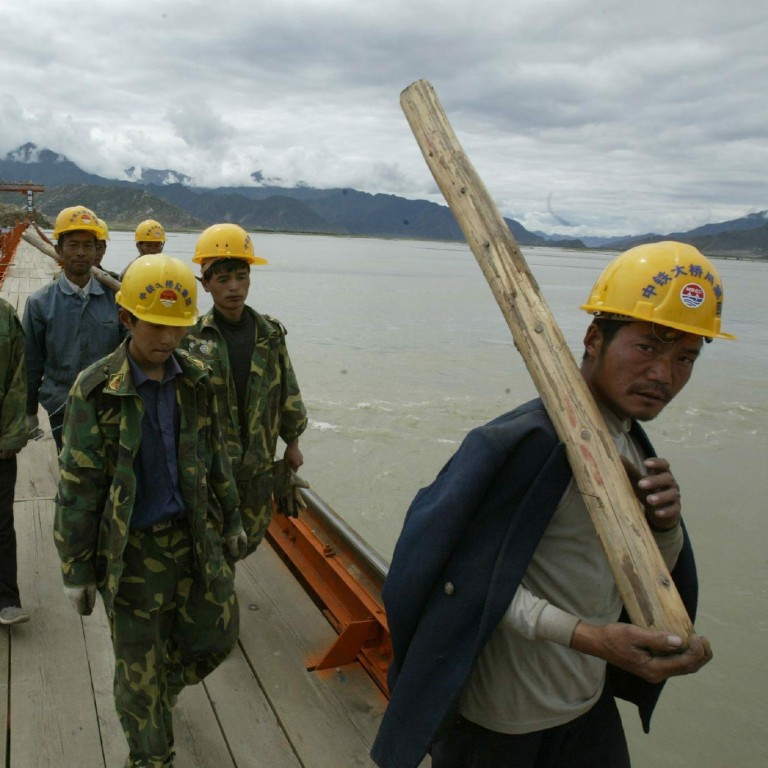 Opinion
Editorial
by SCMP Editorial
Editorial
by SCMP Editorial
Tibet to Nepal rail line a daunting challenge for China
Proposed link faces geological, geopolitical and technical problems, and would join a long list of China's engineering marvels if completed
China's history since ancient times of architectural and engineering marvels means that no project can be considered a non-starter.
Construction of a railway line from Tibet to Nepal is a decades-old wish for leaders on both sides and just 121km (75 miles) of track remains to be built.
A recent meeting between State Councillor and Foreign Minister Wang Yi and his Nepalese counterpart in Shandong province raised hopes by giving the go-ahead for a feasibility study by surveyors.
But distance is the least of the problems; geological, geopolitical and technical challenges have to be surmounted.
The railway would cross the Himalayas from the southern Tibetan city of Gyirong to Kathmandu, more than 98 per cent involving tunnels and bridges through complex geographical conditions and protected areas.
As the region is one of the most seismically active in the world, earthquakes are commonplace and landslips, rockfalls, high ground temperatures and water erosion are construction challenges.
Climate change adds a complication through causing an ever-faster melting of glacial ice and snow. About 79 per cent would be of a gradient so steep that it would cause operational dangers for constantly braking trains. Cost is a further daunting factor, estimated at US$30 million a kilometre.
But Nepal has signed on to China's Belt and Road Initiative and the railway would significantly boost trade and investment. Goods are presently mostly carried by trucks along narrow roads through a few border crossings easily closed by snow.
If the project gets the green light and regional integration can push ahead, it may become part of a wider rail network extended to India. Flows of goods and the prospects for infrastructure construction and development would be enhanced throughout southwest China, Nepal and northern India.
China's list of engineering achievements is astonishing, starting with the Great Wall and Grand Canal through the Three Gorges Dam, high-speed rail network, world-beating buildings, bridges, tunnels and roads, to the Tiangong space station.
If the Tibet to Nepal line wins approval, construction is expected to take nine years. Beijing's ambitions know no bounds; every effort will be made to overcome challenges to turn a fanciful idea to reality.