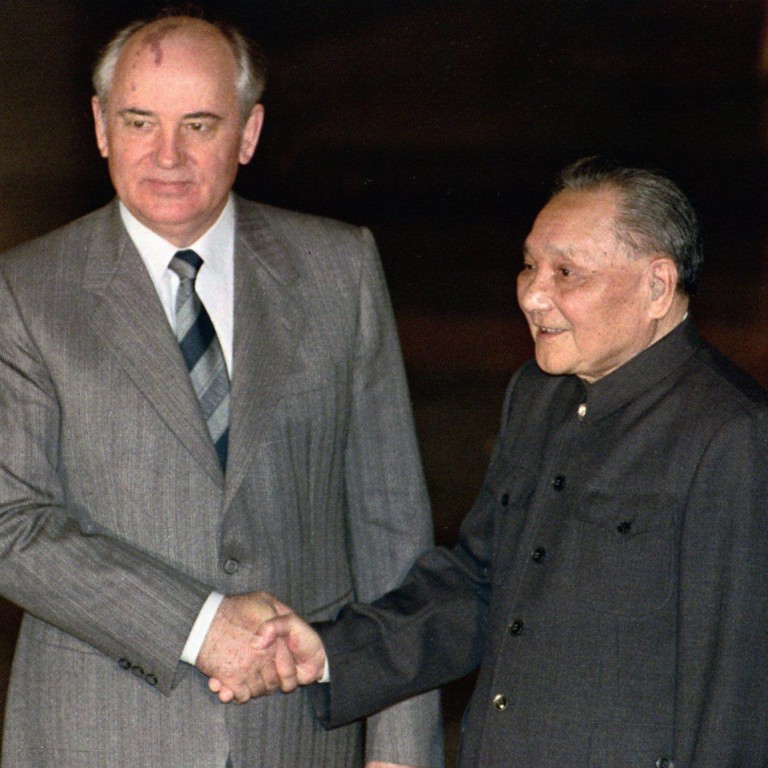 Opinion
Editorial
by SCMP Editorial
Editorial
by SCMP Editorial
Mistakes made by proud Gorbachev avoided by China
Chaos following the break-up of Soviet Union left Deng Xiaoping determined to strengthen Communist Party's grip on power
Nowhere is the ideological divide between the East and West more apparent than in the reaction to the passing of Mikhail Gorbachev, the last leader of the former Soviet Union.
In the West he is revered as having helped slow the arms race with the United States and end the Cold War, for which he was awarded the Nobel Peace Prize.
But in Russia, where he died on Tuesday aged 91, he is widely viewed negatively, being blamed for the collapse and breaking up of what was once a world power.
In China, he stands as a lesson that no matter how necessary reforms are, they have to be implemented gradually with a focus on stability and continuity.
Gorbachev broke the mould of most previous Soviet leaders, being charismatic and outgoing in nature. He was no less a believer in communism, but saw how it was failing people as a result of a stagnant economy, inefficient bureaucracy and weak political system.
Shortly after taking power in 1985, he began implementing reforms to create a market economy, restructure the government and introduce freedoms. Summits with then US president Ronald Reagan led to the signing of a treaty to limit missile deployment.
Relations between China and the Soviet Union also improved; during a visit to Beijing in May 1989 amid student protests, Gorbachev agreed with paramount leader Deng Xiaoping to end decades of mistrust and lay the foundations for cooperation. But Deng also wanted to avoid the Soviet leader's mistakes and strove to strengthen the Communist Party's hold on power.
Gorbachev's reforms were carried out with undue haste. Democratic elections diluted the communists' power and led to the toppling of Soviet-controlled governments in central Europe, the fall of the Berlin Wall and creation of one Germany and the beginning of Nato expansionism. The Soviet Union was dissolved at the end of 1991, and Gorbachev resigned as president.
Politicians often boast of their achievements when they leave office. Gorbachev had good reason to be proud; he made the world safer. But as the unravelling of arms control treaties between Washington and Moscow and perceived threats to Russian security that led to its invasion of Ukraine show, legacies can be fragile.